So many records, so little time. Seven Days gets more album submissions than we know what to do with. And, given the ease of record making these days, it's difficult to keep up. Still, we try to get to every local release that comes across the music desk, no matter how obscure or far out.
To that end, here are four albums that likely flew under the radar of your average local music fan. In some cases, they represent the outermost boundaries of local music. Others simply slipped through the cracks. But each is worth a listen.
The Blind Continuum, Soliloquist's Dilemma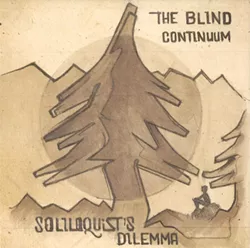 (Self-released, CD, digital download)
The Blind Continuum are an alternative hip-hop duo from Charlotte, rapper John Tatlock and guitarist Aidan Powell. Their debut three-song EP, Soliloquist's Dilemma, is an unusual experiment in that it contains no beats, loops or samples. Instead, Powell provides the sonic foundation on which Tatlock mounts his verbal attack solely with electric guitar. The lack of a single beat inspires an interesting question: What is hip-hop without a backbeat? The answer: basically slam poetry with a more consistent rhythmic cadence.
The lack of one of hip-hop's most fundamental elements makes for a jarring listen, at least initially. On one hand, Tatlock deserves credit for rhyming sans metric framework. And he proves to be a nimble rapper — perhaps a necessity given his tendency toward philosophical wordiness. But it's hard not to feel like there's something missing, even in the scant span of the recording's nine minutes. Crescendos in Tatlock's tone and Powell's licks lack punch without the ballast of a good backbeat.
Still, it seems unfair to judge a recording based on what it doesn't offer, rather than what it does. Though he could stand to spend less time with his thesaurus, Tatlock spits with fire and impressive technique. And Powell offers creative soundscapes throughout. Those things alone, not to mention the outside-the-(beat)box approach, make Soliloquist's Dilemma worth a spin.
Modern Nature, What Color
(Self-released, CD, digital download)
On their 2013 debut, Meet Modern Nature, Shelburne-based Modern Nature introduced themselves with a record composed mostly of classic-rock covers. It was a little bit of a head scratcher. Their versions of tunes by the likes of the Beatles, John Hiatt and the Velvet Underground were certainly well chosen and competently played. But Modern Nature didn't bring enough to those songs, in terms of creative new arrangements or exceptional performances, to justify nearly an entire album. However, the record did contain three original tunes that suggested there might be more to Modern Nature than just good taste in covers.
That proves to be true on the band's sophomore effort, What Color. The record is entirely composed of original material, 10 songs in all, that pays dutiful homage to the band's formative influences and offers plenty of jangly pop-rock charm. Songwriting is roughly split between guitarists Mark and François Bouchett, with occasional assists from drummer Mark Wetmiller. They're a solid team, churning out lean pop-rock tunes that should especially please fans of the VU and Big Star.
Simón! Dutiful Daughter
(Self-released, CD, digital download)
Camille Collins Lovell is a native of Swanton and St. Albans who is now based in Honduras, where she writes and performs with her band Simón! Dutiful Daughter is that group's debut and, though it was originally released in 2013, it only recently made its way to listeners in Collins Lovell's home state.
Collins Lovell is a splendidly strange songwriter. For example, on the record's opening cut, "Letters From Berlin," she laments the end of a show and facing the mundane tasks of daily life — brushing teeth, watching TV, etc. With a delivery that echoes Regina Spektor's, she offers one oddball line after another, culminating in a bit about watching a Bob Dylan interview in which she sing-speaks in a passable Dylan imitation. If it sounds weird, it is. What's weirder is that it works.
The worldly singer takes a similarly unconventional tack throughout the album, acting as something like a musical tourist and stamping her passport with sonic destinations ranging from punk to folk to electronic pop and Tropicália. All in all, it's quite a ride.
Blabpipe, 6 Pack
(Self-released, CD, digital download)
New Hampshire/Vermont trio Blabpipe might not be well known to audiences west of their native Upper Valley. But those with an affinity for grungy pop-punk would do well to check them out. Agreeably loose and scruffy, the band's fifth recording, 6 Pack, harks back to the genre's late-1990s heyday when bands such as Blink-182, Sum 41 and Good Charlotte ruled airwaves. But it injects a harder edge with nods toward the likes of Alice in Chains.
That's not to say the record sounds particularly dated, however. While Blabpipe exist more on the pop end of the pop-punk spectrum — and boast typically bratty, nasally vocals — there's more than enough snarl and ingenuity here to avoid dismissive comparisons to past-their-prime bands. "Hot Chocolate," for example, is a zippy, smirking cut with some real muscle. "Lets Pretend" is an explosive number that veers into heavy alt-rock. "Surviving" is an album standout that cranks the guitars way, way up. And then there's the closing track, whose title pretty much says it all: "I'd Rather Be Cool Than Hip."