So many records, so little time. Seven Days gets more album submissions than we know what to do with. And, given the ease of record making these days, it's difficult to keep up. Still, we try to get to every local release that comes across the music desk, no matter how obscure or far out.
To that end, here are four albums that likely flew under the radar of your average local music fan. In some cases, they represent the outermost boundaries of local music. Others simply slipped through the cracks. But each is worth a listen.
Transitory Symphony, The Human Condition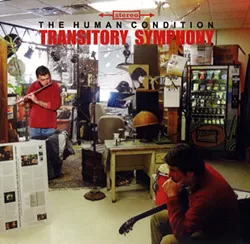 (Self-released, CD, digital download)
Transitory Symphony debuted in 2014 with the eclectic and deeply weird record modern music for voice, guitar & keyboard. Rooted in pop constructs, the album was a hodgepodge of sounds and styles that mirrored the offbeat musical curiosity of band architects Tom Haney and Jim Heltz. Now the two are back with a follow-up, The Human Condition. Like its predecessor, the new album comprises a diverse array of genres. Unlike that 2014 album, however, a distinct thematic thread ties The Human Condition together: relationships.
Haney and Heltz explore a variety of relationships, from romantic ("Help me find her," "This is the way love's supposed to be") to platonic ("Where's Eddie?," "Late night with Sandip") to their relationship with a certain local political hero ("Run, Bernie, Run"). And they do so while touching on a range of styles including country rock, folk ballads, blue-eyed soul, pop rock and New Wave. One number could pass for an outtake from Blue Valentine-era Tom Waits ("The day I fell in love").
The Human Condition is easily Transitory Symphony's most cohesive work — though that's certainly relative. Those with the temerity to parse its contrasting aesthetics may well find some sage wisdom on their own emotional condition.

transitorysymphony.bandcamp.com

Bob Devins, My Destiny

(Self-released, CD, digital download)
In the liner notes of his debut album, My Destiny, songwriter Bob Devins likens creativity to a radio. "Put up your antennae and Listen," he writes. He adds that, while on an evening walk, his receptors picked up the signal that would inform his eight-song record.
Devins sets the tone of cosmic artistic predetermination with opener "The Creativity Radio." It's a serene, contemporary acoustic guitar track that reveals Devins to be a tasteful and talented player. "Something That You Said" follows with blues-rock swagger. Devins has a gentle, boyish vocal delivery that complements his understated lyrical style.
"Something About the Song" is a seven-plus-minute guitar-fueled jam on which Devins proves as deft on electric as he is on acoustic. The song follows a fairly straightforward jam-rock template, but the dude can clearly play.
"Just What Did I Expect?" is a rolling pop-rock tune that stands as the album's finest, bearing shades of Phosphorescent-esque melancholia.
"Skye's Wind" closes the record on a rootsy, windswept note that evokes early Calexico or maybe even a (very) young Neil Young. It's a strong finish to a promising debut.

robertjdevins.bandcamp.com

Mystic Titans of Ju Ju, Brand New Party
(Jelly Roll Records, CD, digital download)
Mystic Titans of Ju Ju are composed of three Washington, D.C., expats, Bubba Coon, Evan Johns and Peter Bonta. The trio is presently scattered across the globe — Bonta in Italy, Johns in Austin, Texas, and Coon in Vermont. But on those rare occasions when the Mystic Titans are in the same place, they're capable of some ass-kicking rock and roll, as evidenced by their latest record, Brand New Party.
This is the third Mystic Titans album, and it is, indeed, quite the party. From the opening title track through album closer "Merry Christmas," it offers a master class on barroom blues, rock and country that is both raw and refined.
In particular, the record benefits from the unique talents of Johns, who is widely respected in Texas songwriting circles (guitarist Bill Kirchen raves about him in the album's liner notes). Johns writes with fearless wit and whimsy. Coon is no slouch, either; he penned three of the record's liveliest tracks, including "Hummingbird." That's one of two cuts featuring guest vocalist Nicole Nelson of Dwight & Nicole.
Given the musicians' distance from each other, Mystic Titans live shows are few and far between. But Brand New Party is more than adequate consolation.

cdbaby.com/cd/mystictitansofjujuevanjo

Dan Weintraub, 1000 Songs, 1000 Days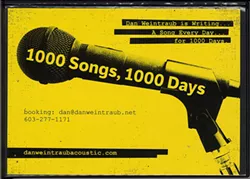 (Self-released, CD, digital download)
On January 1 this year, Vermont songwriter Dan Weintraub embarked upon an arduous challenge: writing one song a day for 1,000 days. (Eat your heart out, Ryan Adams.) Earlier this year, he released the first batch of songs from that project, a double album titled, fittingly, 1000 Songs, 1000 Days. The two-disc collection features 32 songs — presumably taking him through early February. Hey, only 968 songs to go!
Obviously, when creating at such a deliberately intense pace, not everything produced can be songwriting gold. But, somewhat amazingly, Weintraub's output so far is remarkably consistent. There aren't many showstoppers among those 32 cuts, but there are precious few clunkers. Weintraub's stream-of-consciousness style of writing lends itself well to leaving the creative faucet on. And, though he could benefit from some lyrical pruning here and there, Weintraub's guitar and vocal ditties are pleasant and catchy. At the very least, when he's finished the project, the odds are extremely good that he'll have at least one or two albums' worth of truly strong material. So, mark fall 2018 on your calendars.

danweintraubacoustic.com