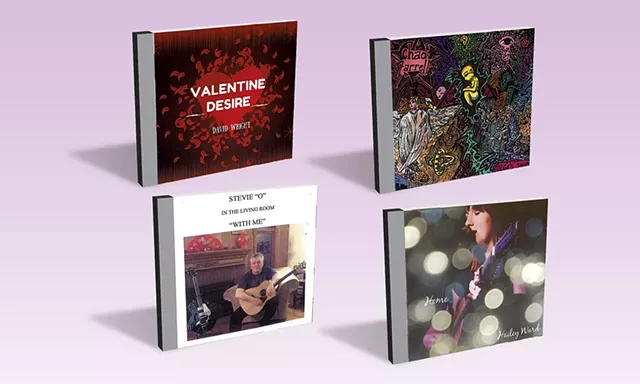 So many records, so little time. Seven Days gets more album submissions than we know what to do with. And, given the ease of record making these days, it's difficult to keep up. Still, we try to get to every local release that comes across the music desk, no matter how obscure or far out.
To that end, here are four albums that likely flew under the radar of your average local music fan. In some cases, they represent the outermost boundaries of local music. Others simply slipped through the cracks. But each is worth a listen.
David O Wright, "Valentine Desire"
(Self-released, digital download)
David O Wright was born in Baltimore and lived in Texas before recently settling with his family in Vermont. Wright is a military veteran and devout Christian whose primary musical background is as an indie hip-hop producer. On his debut single, "Valentine Desire," he steps out from the control panel and into the vocal booth for the first time. And the results are promising.
"Valentine Desire" is a smoky slow jam with a laidback bounce that suggests Wright has a firm command of R&B archetypes. He's also not afraid to work outside established genre boundaries. While the springy backbeat is set high in the mix, lush acoustic guitar and shimmering synth coat the cut in a warm haze, setting the tone for Wright's seductive vocal turn.
Wright sings with a dusky, emotive rasp seemingly patterned after the likes of Luther Vandross. That's not to say Wright compares to the late "King of the Bedroom." Few do, and Wright's timbre is a notch or two lower. But the man knows his way around a seductive ballad. And "Valentine Desire" makes one yearn for more from this talented vocalist.

cdbaby.com/cd/davidowright

Chad Farrell, Olga's Ship
(Dizzy Bear Records, CD)
In the liner notes of his latest album, Olga's Ship, Chad Farrell advises — or maybe warns: "I know this album is confusing, especially for people who've known me from '94. But it all makes sense in the end."
That leads us to think that the album is a bridge of sorts from the Rutland rocker's most recent albums, the 2013 faux "greatest hits" collection Famous Secrets and a 2014 follow-up, What the Fire Burned and the Rain Couldn't Wash Away, and whatever he has in mind next. Viewed in that context, the harsh strains of Olga's Ship might seem a little less obtuse. Or not.
Both his 2013 and 2014 records charmed with scuzzy grit. But Farrell takes that no-fi pop-rock attack to a new level here, bordering on belligerence. On his earlier works, there were definitive lyrical threads to be teased out. And when fully unraveled, they revealed a poetic, if disturbed, worldview. But on Olga, if those strands even exist, they are so frayed and tangled in the gnashing guitars and fuzz that they become all but impossible to find. This is dense, unyielding stuff, mirrored by the album's intricately rendered but ominously cluttered album art.
So if Olga's Ship is a bridge — or maybe more accurately a ferry — to Farrell's next artistic phase, the question is: Where does it lead? As Farrell himself notes, we might just have to wait until the end to find out.

To order Olga's Ship, email Chad Farrell.
Stevie "O," In the Living Room "With Me"
(Self-released, CD)
Stephen Saunders was active in the local scene in the 1980s with a band called Arrow. But when his brother and bandmate, Doug, died in 1991, he all but abandoned performing. He did not, however, stop writing music. Between 1995 and 2013, Saunders claims to have penned more than 200 songs. And in the past few years, he's set about recording and releasing them, in honor of his late brother. The latest batch comes under the nickname Stevie "O" on In the Living Room "With Me."
As on several previous releases, both as Stevie "O" and Stephen Saunders and the Starlighters, Saunders is somewhat constrained by the limits of his home studio. But on his latest effort, he's starting to overcome that hurdle. In the Living Room is easily the best-sounding record he's released. In no small part that's because he's finally ditched his drum machine for the real thing — or has found a drum machine that fooled my ears. Saunders plays most instruments himself, with occasional help from others such as guitarist Richard Crabtree and harmonica player Billie Brown. And though he could still benefit from recording in a proper studio, the recording has a sense of immediacy that was missing on earlier works.
With earnest, uncomplicated prose and sticky melodies, Saunders again proves his songwriting prowess. He's well schooled in pop-rock by way of the Beatles and the Rolling Stones. It makes one wonder what he might accomplish if he graduated to a recording studio befitting his talents.

To order In the Living Room "With Me," email Stephen Saunders.

Hailey Ward, Home
(Self-released, CD, digital download)
Hailey Ward is a Vermonter currently studying at the McNally Smith College of Music in Minnesota. The 19-year-old Williston native is enrolled in the school's songwriting and composition program. But if her 2015 EP, Home, is any indication, she might as well be a professor. Her knack for explosive pop hooks and unorthodox changes suggests sophistication beyond her years.
Ward professes a wide array of influences, including Coldplay, Brandi Carlile, the Head and the Heart, and Sara Bareilles. The imprint of each can be heard in fleeting instances throughout her six-song EP. But what's impressive is how Ward avoids simple hero worship by using her formative inspirations as a springboard to expressing her own musical ideas.
The title cut is one such example. It begins as a bouncy, acoustic indie-folk cut that wouldn't sound out of place on a Thao Nguyen record. It takes subtle twists and turns that seemingly should build to a bright, hook-heavy payoff. But it never does. Instead, it ends rather abruptly right where decades of pop song construction says there ought to be a hook. It's a sly trick that heightens anticipation for the barrage of catchy riffs and choruses that come in later songs — and, we hope, on future albums.

haileyward.bandcamp.com.com