So many records, so little time. Seven Days gets more album submissions than we know what to do with. And, given the ease of record making these days, it's difficult to keep up. Still, we try to get to every local release that comes across the music desk, no matter how obscure or far out.
To that end, here are four albums that likely flew under the radar of your average local music fan. In some cases, they represent the outermost boundaries of local music. Others simply slipped through the cracks. Each is worth a listen.
P Money, Home Green
(Self released, CD, digital download)
Hip-hop is well established in Vermont and has been for a long time now. But whither our counterparts on the other side of the lake? Is there a hip-hop scene in upstate New York? As it turns out, there is. Or at least the fertile seedlings of one.
Home Green by rapper P Money is the first full-length single-artist release from the Plattsburgh Home Team, a collective of rappers, DJs and producers that would be somewhat analogous to Vermont's VT Union. It follows a 14-song May 2015 sampler and a single release in October. Despite some inconsistencies, the album suggests there just might be some compelling rap flowing east out of the Adirondacks.
P Money is young and white, facts that he spares no opportunity to tell us all about — nor is he shy about telling us how good he is at rapping. Cuts such as "I'm Ready," "One of a Kind" and "Successful" are centered on the kind of chip-on-my-shoulder braggadocio that's been cliché for decades. But when he digs deeper, as on "Cold Shoulder" and "Ten Bucks (Ten Bands)" he proves he's got insight to match his fluid flow and razor-sharp production.
Durg, One Chance
(Self released, CD, digital download)
Durg is the stage name of Wilder songwriter Christian Durgin. On his debut full-length, One Chance, he's hoping to carve out a niche in Vermont's ever-crowded twangy rock scene. Durg does leave a mark, though perhaps not quite for the reasons he intended.
Simply put, One Chance is a tough listen. Durg's gruff voice bears some similarities to that of Crash Test Dummies' front man Brad Roberts. That's not necessarily a strike against him — CTD sold bazillions of records, so clearly there's an audience. But he combines that bottom-heavy tone with stilted phrasing and, most damning of all, predictable songwriting wrapped in generic and equally predictable pop-rock arrangements.
That said, Durg does show promise in certain moments, most often when he veers from adhering to conventional songwriting tropes. "To Colleen," for example, is equal parts torch song and breakup song, twisting the metaphor of love as a growing tree by chopping it down and setting it ablaze.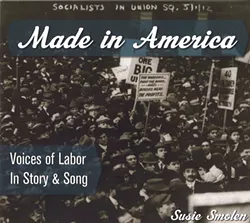 Susie Smolen, Made in America: Voices of Labor in Story & Song
(Self released, CD)
As Sen. Bernie Sanders rattles capitalist cages in his bid for the White House, his brand of so-called "democratic socialism" has seen increased attention and been characterized by some as a sort of new radical school of thought. The truth is, Sanders' populist, pro-union platform has been around for decades. For proof, one need only dig as deep as the American Songbook.
On her latest record, Made in America: Voices of Labor in Story & Song, local folk singer Susie Smolen recounts some of that musical history. Recorded live, the record is a mix of folk tunes both classic and less so by the rabble-rousing likes of Woody Guthrie, Joe Hill and Aunt Molly Jackson. In some cases, Smolen adapts lyrics to suit a more modern and inclusive climate — folk music is nothing if not a living, evolving tradition. But by and large she plays tunes such as Paul McKenna's "Union Buster," Guthrie's "Union Maid" and Jackson's "I Am a Union Woman" fairly straight. Given her strong, dusky voice, that's not a bad thing at all.
What's more interesting are the contextual stories and anecdotes she uses to frame each tune. These range from the musicology of shared melodies to the superstitions of coal miners. In short, the record is both entertaining and educational. And given the subject matter, it's not a bad soundtrack to the presidential run of a certain wild-haired senator from Vermont.
Urian Hackney, The Box
(Cold Busted, digital download, 7-inch vinyl)
If there's one thing Urian Hackney knows, it's beats. He most often deploys that talent as the ferocious drummer of Burlington's ever-ascendant punk band, Rough Francis. But judging by The Box, a recently released 7-inch on noted instrumental hip-hop label Cold Busted, dude has a command of beats — and music history — even the most rabid fans of that band might not have have guessed.
The 45 features two songs, "Caramel" and "Red Circles," that hark back to the heyday of 1970s psychedelic funk. Listeners of a certain vintage might draw immediate comparisons to the G-funk production of Dr. Dre's 1992 record The Chronic. And, especially given the hints of modulated synthesizers, they wouldn't be wrong. But Hackney's explorations run deeper than simply regurgitating Dre.
"Caramel," the A-side, plays like a lost piece of the Superfly soundtrack, with its strutting breakbeat and tremulous wah guitars. "Red Circles" boasts a punky snarl more in line with music Hackney is typically associated with. But it's no less funkdafied, with its propulsive drums and kaleidoscopic guitar lines. This record might be the most surprising and rewarding six minutes in local music this year.