So many records, so little time. Seven Days gets more album submissions than we know what to do with. And, given the ease of record making these days, it's difficult to keep up. Still, we try to get to every local release that comes across the music desk, no matter how obscure or far out.
To that end, here are four albums that likely flew under the radar of your average local music fan. In some cases, they represent the outermost boundaries of local music. Others simply slipped through the cracks. But each is worth a listen.
Derrick Semler With Bubba Coon, It's the Blues
(Self-released, CD, digital download)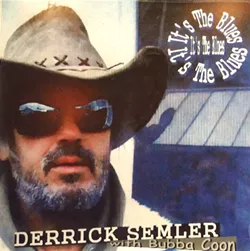 Derrick Semler is perhaps best known as the original front man of locally legendary blues-rock band the N-Zones, a Burlington bar band whose heyday was in the late 1970s and early '80s. These days, Semler is a grandfather who splits his time between Rochester, Vt., and Down East Maine. When he's in the Green Mountains, he spends a good chunk of his time jamming with prolific local blues songwriter Bubba Coon. The duo's latest collaboration is a gritty, no-frills record titled simply It's the Blues.
That's an accurate title. The record's nine original songs, all penned by Semler, ooze a classic roadhouse vibe from start to finish. There's a timeless appeal to boozy, rambling cuts such as opener "Got to Find My Baby," "Room With a View" and "All I Wanna Do." On each, Semler's fiery, riff-heavy guitar playing is center stage. He plays bass, too, locking in the low end with Coon's pleasantly ragged drumming. Coon also chips in on harmonica and proves to have some soulful chops.
Semler and Coon form the heart and soul of the record. But they benefit from a few key guest appearances. David Raitt's harp playing on the opener is classic stuff. Nate Childers' sensuous sax and Peter Bonta's swirling organ make album closer "Love Takes You By Surprise" a standout. And Gus Ziesing's accordion adds spicy Cajun seasoning to "Too Bad to Mention."
Michael Iula, Generations of Memories
(Self-released, CD, digital download)
For several years in the 1990s, Michael Iula was a traveling songwriter whose main gig was representing the state of Vermont at family farm conventions all over the country. In that time he penned dozens of tunes, but he has only recently set about the task of putting them to tape. His new EP, Generations of Memories, is the first release from that undertaking. With an endearingly homespun quality that matches his offbeat writing style, it's a curiously intriguing effort that bodes well for future releases.
Iula writes with a gentle sense of humor, which is apparent from the outset on opener " The Dog Song." It's a cheeky tune about a mean old mother-in-law who forbids her son-in-law's family from bringing their dog when they come to visit. By the chorus, it's pretty clear where Iula's allegiances lie. "Well, I won't go where my doggie can't go no more," he tells us in a loping, sing-song fashion that wouldn't seem out of place on a children's folk record. Iula's sense of humor shines through on several instances throughout the record, particularly on tunes such as "The Drunker You Get (The Better I'll Sound)" and "I'm Not Out to Fall in Love."
As much as humor is Iula's stock in trade, there's also a tender nostalgia about the recording. For instance, the title track is a loving ode to family and the passage of time. Fittingly, the record is a family affair. Iula's son, Michael Iula Jr., contributes some fine lead guitar. Iula's wife, Marsha Iula, helped with mixes. Iula enlists some talented friends, too, including vocalists Bo Morse, Emily Nyman and Wayne Warner and fiddler Colin McCaffrey.
Iula is currently working on a full-length album. And if Generations of Memories is any indication, it projects to be a good one — especially if he ditches the canned drums from the EP in favor of the real thing.
Formula 5, Live Five, Vol. 1
(Self-released, CD, digital download)
Formula 5 are a jam band based in upstate New York. Like so many noodle-dance-friendly outfits, they are best experienced live. That makes their recently released live record, Live Five, Vol. 1, the most required listening of their three-album catalog. But really, you might be better off just digging out your old Phish bootleg tapes. Though solid players, F5 don't bring anything to the table that hasn't already been done better and more creatively by a generation of jam bands before them.
Formula 5 are well schooled in classic jam templates. If you were to call Central Casting for a jam band for a coming-of-age flick set on the festival circuit in the late-1990s, these would be your guys. But here's the thing: It's hard to play for 15 straight minutes and not have an original idea. Yet that's precisely what happens on opener "The Clear." It's a dubious feat the band replicates on track after painfully predictable track. While the band presents a reasonable approximation of classic jam, the whole point of improvisational music is that it's unpredictable. It seems Formula 5 are simply too, well, formulaic.
Max Pearl, Cleanroom
(DIEG-187 Records, CD)
After four albums, the latest being Cleanroom, we are slowly but surely getting closer to unraveling the mystery that is local music enigma Max Pearl. Then again, every time I listen to a Max Pearl record, I emerge with the uneasy sensation that I've been duped — and also, a headache. So maybe that's exactly what Max Pearl wants us to believe, and the truth is that we're further away than ever before. That's some diabolical shit — though probably no more diabolical than your average Max Pearl album, in truth.
Pearl's third release, Mind Ball 3D, offered some clarity amid the deranged, brain-jellying cacophony. That was the first MP record to feature musician credits. It listed three players, suggesting that Max Pearl was not person but a band. What, then, to make of Cleanroom, which lists but one player, Erin Jupen? Max Pearl is actually a pseudonym! Also, a female!
Still, I'm not convinced.
Maybe the truth is this: Max Pearl is an idea. Think of it like Batman. It doesn't matter that Bruce Wayne is the guy in the mask. The Dark Knight exists primarily as a symbol. True, the wonderful toys and tricked-out car help, especially in the ass-whuppin' department. But Batman's true strength is that he signifies hope amid the bleak cesspool that is Gotham City. And that's as powerful as any superhero.
So maybe Max Pearl, for all his/her/their/its unlistenable caterwauling, is a symbol, too, a reminder that music doesn't have to be fancily packaged, slickly promoted or even good to have value. Its value is simply in that it exists, even if only to torment local music journalists. Max Pearl is Batman.
Or the Joker.