So many records, so little time. Seven Days gets more album submissions than we know what to do with. And, given the ease of record making these days, it's difficult to keep up. Still, we try to get to every local release that comes across the music desk, no matter how obscure or far out.
To that end, here are four albums that likely flew under the radar of your average local music fan. In some cases, they represent the outermost boundaries of local music. Others simply slipped through the cracks. But each is worth a listen.
Transitory Symphony, Modern Music for Voice, Guitar & Keyboard
(Self-released, CD, digital download)
Transitory Symphony is a collaboration of Vermont musicians Tom Haney and Jim Heltz. The duo's de facto debut, Modern Music for Voice, Guitar & Keyboard — the pair also produced a soundtrack to Haney's 2013 film Alone in a Room — presents a curious and at times bewildering amalgam of sounds and styles that runs the gamut from avant-garde jazz to rock and numerous sonic destinations in between. If nothing else, this symphony is indeed transitory.
The duo moves from synthy, new-age soft rock (the instrumental "Prelude to Sunrise") to acoustic folk rock ("Come Home") to driving psych rock ("Harshness") to experimental soundscapes ("Fast Track"). And that's just the first 10 minutes.
The remainder of the album is similarly all over the place. While TS' stylistic fluidity and unwillingness to be bound by genre constraints is admirable, the record's schizophrenia can be jarring — though that may be partly the point. Heltz and Haney write in a distinctly gonzo style that suggests as much time spent with pop surrealists David Byrne and Camper Van Beethoven as Dr. Demento. It's a daring and deeply strange work.
transitorysymphony.bandcamp.com
Adrian Aardvark, Bones Positive
(Self-released, digital download)
The four-song EP is AA's most conventionally accessible work to date. But it's still plenty strange. Musically, the eight-member collective takes influences from the likes of Neutral Milk Hotel, Devendra Banhart and, to a degree, Modest Mouse. The members form a pleasantly haphazard group. But Rigsbee's yawning vocals define its sound. The singer comes off as something like the Lonely Island's Andy Samberg on Valium, or perhaps the Magnetic Fields' Stephin Merritt saddled with crippling depression. That can make for a challenging but rewarding listen for those brave enough to parse AA's latest offbeat opus.
Stevie "O," Just a Troubadour Then & Now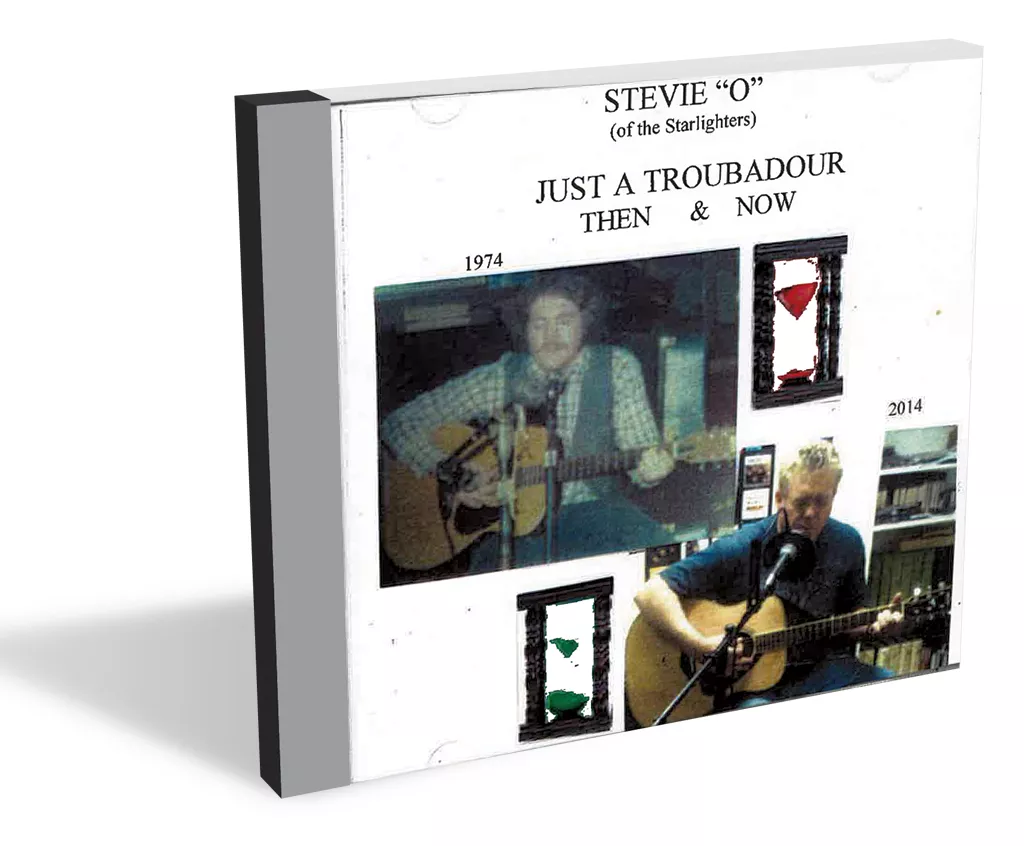 (Self-released, CD)
Saunders' latest, Just a Troubadour Then & Now, recorded as Stevie "O," furthers that notion. The album is the first he's recorded without sideman Richard Crabtree, and it has a more intimate feel than his previous efforts. Though still saddled by amateurish production — and that god-awful drum machine — the focal point, Saunders' songwriting, rings clear. The collection consists of 12 sturdily constructed pop-rock ditties composed between 1975 and 2014, and suggests that it's never too late to chase a dream.
To order Just a Troubadour Then & Now, email Stephen Saunders at steve1150@comcast.net.
Formula 5, Edging on Catastrophe
(Self-released, CD, digital download)
The group makes no apologies for its hyphen-friendly sound, refracting time-honored jam staples of funk, rock, reggae, jazz and electro through a prism of improvisational grooves. This is bright, bouncy stuff with more than enough instrumental fire and feel-good vibery to cast the group in a league with the next generation of young jam upstarts, such as Twiddle and the McLovins. Jam on, dudes.
The original print version of this article was headlined "File Under '?'"