So many records, so little time. Seven Days gets more album submissions than we know what to do with. And, given the ease of record making these days, it's difficult to keep up. Still, we try to get to every local release that comes across the music desk, no matter how obscure or far out.
To that end, here are four albums that likely flew under the radar of your average Vermont music fan. In some cases, they represent the outermost boundaries of local music. Others simply slipped through the cracks. But each is worth a listen.
The Heckhounds, Live From a Garage Without Walls
(Self-released, CD)
The Heckhounds had no plans for a third album. But a funny thing happened when Madtech Sound's Bennett Shapiro hit the record button during a gig last year at the Memorial Bandstand in Middlesex. The resulting recording sounded great, capturing the central Vermont country-blues band in their element and producing an album, Live From a Garage Without Walls, that serves as a worthy live companion to the band's previous studio records, Bad Dog (2009) and For the Price of a Haircut (2011).
Fans of those records will find a lot to like on Live From a Garage. The disc features 11 choice originals mostly culled from their earlier works, as well as a hopped-up cover of American blues singer R.L. Burnside's "Poor Black Mattie" — redubbed "Poor Black Maddie" here. Though a trio on their earlier recordings, the group has bulked up, adding upright bassist Dave Mayette and organist Dan Romeo to the core of songwriter-vocalists Hal Mayforth and Michael Murdock and drummer Kevin Morrison. The result is a more muscular sound that retains the band's endearing casual vibe.
reverbnation.com/theheckhounds
Various Artists, Clarion Call: A Stick Shift Records Compilation
(Stick Shift Records, CD, digital download)
On the follow-up to its debut comp, First Gear: Feminism in the Northeast, released earlier this year, local punk imprint Stick Shift Records goes global. The Burlington-based DIY microlabel combed the four corners of the earth for Clarion Call: A Stick Shift Records Compilation, and wound up with submissions from bands in seven countries: New Zealand, Portugal, Brazil, France, Ireland, England and these United States — the last represented by bands from eight different states, including Vermont.
Much like Stick Shift's maiden comp, Clarion Call is first and foremost characterized by its politics. Regardless of national origin, each of the 17 bands represented share the label's hardcore feminist ideals. But that's not to say the record's punk aesthetic is an afterthought. The comp is by turns bracing, aggressive and confrontational, comprising a bruising compendium of punk styles from old school to thrash to riot grrrl and beyond. And the local entry from Gorgon — that's label founder Kelly Riel's post-Doll Fight! outfit — sits well alongside more polished fare from the likes of New Zealand's Penny Dreadfuls, Brooklyn's Girlcrush and Connecticut's Damn Broads.
stickshiftrecords.bandcamp.com
The Bayley-Hazen Boys, Another Blue Ribbon
(Self-released, CD, digital download)
The songs found on Another Blue Ribbon, the debut offering from Vermont-based trio the Bayley-Hazen Boys, sound as though they were written during the heyday of Green Mountain rumrunners. Indeed, this is mountain music that recalls a bygone era, colorful tunes that hearken to Prohibition, old railroads and log drives. However, save for a scant handful of tunes by bluegrass icons Bill Monroe and Ralph Stanley, these songs are originals, written in the current century. That they genuinely evoke a long past era of American music is a credit to both the songwriting prowess and performances of their creators, locals Steven Wright and Gary Darling.
Wright (banjo) and Darling (mandolin) are longtime staples of the local bluegrass scene. Aided by bassist Chris Cruger, they form a brilliant trio whose fine instrumental chops are ably matched by their sweet harmonies and easy melodies. Joining the picking party are guests Bob Amos (banjo), Haze Smith (guitar) and Patrick Ross (fiddle), all ace players. The result is a humble gem of timeless North Country Americana.
cdbaby.com/cd/thebayleyhazenboys
The Caring Babies, Butter on the Trestle/Pliable Tones, The Lost Adventures of the Space Patrol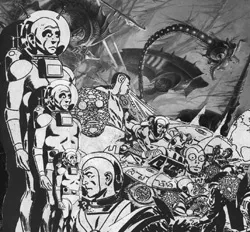 (Robot Octopus Vs. Zombie Teddy Bears Records, CD, cassette, digital download)
When last we heard from Matt Mazur and Redgei's the Caring Babies, the White River Junction-based duo delivered a delightfully offbeat seven-inch, The Gold Friends. At a brisk four songs, the record was an exercise in experimental pop efficiency. It's only logical, then, that they'd follow it up with a veritable epic, the 17-track Butter on the Trestle, a recording that picks up where that seven-inch left off and delves even further down the lo-fi electro-pop rabbit hole — with the aid of an array of musical tour guides, no less, including unicorns and robots. And beards. Long, luxurious beards.
But the Caring Babies are only half of the story. Butter on the Trestle is Side A of a split cassette with fellow Upper Valley oddball Pliable Tones — aka Fred Polizzi — who complements the Babies' hefty volume with a sci-fi opus of his own, The Lost Adventures of the Space Patrol. But where Mazur and Redgei generally favor wistful pop couched in playful electronic bleeps and bloops, Polizzi takes a more sinister tack with ethereal suites that evoke the dark, synth-heavy soundtracks of 1980s sci-fi flicks such as Blade Runner and Escape From New York.
thecaringbabies.bandcamp.com; pliable-tones.bandcamp.com
The original print version of this article was headlined "File Under ?"