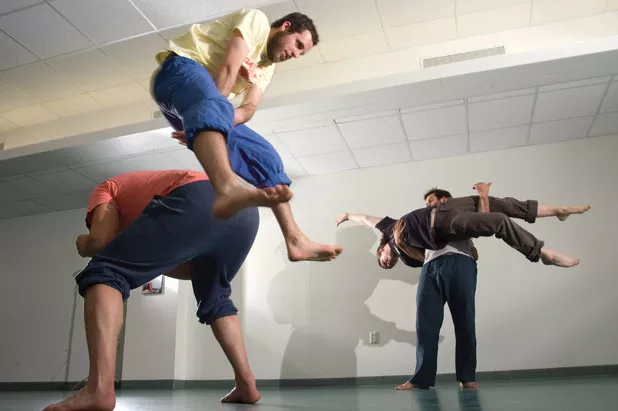 Matthew Thorsen
Rehearsal for "Tell the Truth,"
Dancer and choreographer Ellen Smith Ahern wanted to collaborate artistically with her friends; it didn't matter that none of them had performed before. In fact, the untrained movement of the four men — whose day jobs include carpentry and website design — turned out to be just what she was looking for.
Luckily for Smith Ahern, her friends were game. They've spent the last few months creating and polishing a short piece called "Tell the Truth," which they'll perform, without Smith Ahern, as a work-in-progress at the FlynnSpace this Sunday.
"There's a rawness to what they're doing that makes me want to figure out how to find that quality in my own movement, as a trained, practiced dancer," Smith Ahern says.
An Illinois native and graduate of the dance program at Middlebury College — where she met all four dancers, including her husband, Chris Ahern — Smith Ahern performed earlier this year at the Flynn as part of Midd artist-in-residence Tiffany Rhynard's Big APE group. Smith Ahern's own piece is supported by the Flynn's N.A.S.A. Grant, which provides studio space to Vermont artists for the purpose of creating new work.
To coax authentic, interesting movement from Chris Ahern, Charlie Bettigole, Spencer Taylor and Alex Fuller — all of them outdoorsy and physical but not dancers — Smith Ahern began with some writing sessions. She prompted the men to make lists of things they feared, to reach back in their memories for instances when they were playing too rough and accidentally hurt someone, or times when they fantasized about hurting someone intentionally to teach the person a lesson.
"I felt like writing about those physical reflexive responses to situations — to being threatened, maybe, or being afraid, or being really excited or exuberant — might give us language that could evoke movement that might be more honest than me trying to put movement on them," Smith Ahern explains.
The four began to build gestures on their writing, sometimes using literal cues, such as punching and pulling at each other, and sometimes creating more abstract phrases. As the process evolved, they wove in more informal physical elements, as well.
"Some of it just came from tension breakers," Smith Ahern says. "I mean, we would get to a point in a rehearsal where we didn't know what to do next, so they would just start pretending to kung fu fight, or they'd just start playing, like, little-boy games."
The half-hour piece they'll present this weekend is composed of solos interspersed with duets and trios. Some parts will be performed to a reading of the men's memories from the original writing session, and others to "wild" accordion music by Guy Klucevsek. In some sections the dancers are actually seated in chairs, diligently chewing massive wads of Dubble Bubble gum. Sometimes they throw each other around or tenderly lift and carry each other.
In one moment that Smith Ahern says she particularly loves, the four men are finally dancing in unison. They rush up to each other with fists clenched; then, suddenly, their arms drop, and they kick their legs out and fall to the ground together.
Smith Ahern has been impressed with her friends' openness to the project and their range of movement, but she's faced some challenges, too.
"How do I, as a choreographer, work to really clarify and enhance the performance quality of guys who have never performed before, who are not necessarily aware of what their face[s are] doing while their bod[ies are] moving, or vice versa?" she asks.
Smith Ahern says she's been trying to hold the novices to the same standards as she would herself or other trained dancers. She doesn't let them get away with movements that are fuzzy or unclear, but works to pinpoint their intentions. At the same time, Smith Ahern says she doesn't want to lose the gestures that come naturally — the awkward and organic stuff the men bring from outside the world of dance.
Walking the line between the two methods is a delicate task, she concedes.
"I want to take it seriously enough so that people who have come to see it are really being told a story, or being given imagery that they can find their own story through," she says. "It's not a joke. It's not 'Oh, that's funny because I work with him and now he's on stage pretending to be a ballerina.'"
Where the work will go from here is still unclear, but Smith Ahern is considering having the guys teach the piece to four female dancers, including herself. She loves the idea, she says, of transposing their text, movements and mannerisms onto a whole new set of performers.
But first, this quartet will perform their piece a few more times over the summer in parks throughout the Burlington area. They've loved the process, Smith Ahern says, but are not interested in forming a dance company just yet. For the time being, the men seem happy to get to know each other in new ways.
"We have this little window into each other's experience now," Smith Ahern says.