So many records, so little time. Seven Days gets more album submissions than we know what to do with. And, given the ease of record making these days, it's difficult to keep up. Still, we try to get to every local release that comes across the music desk, no matter how obscure.
To that end, here are four Vermont recordings that likely flew under the radar of the average Vermont music fan. In some cases, they represent the outermost boundaries of local music. Others simply slipped through the cracks. But each deserves a listen.
Dick Japhet, Karma
(Self-released, CD, digital download)
It takes stones to quote yourself on your own CD jacket. But that's exactly what local modern-rock songwriter Dick Japhet does on his latest album, Karma. Summing up the larger theme of his sophomore outing — that would be life-affirming "karma" — he tells us, "Trust the rhythm of your heartbeat, trust the feelings of your soul, trust the thoughts your mind is telling you, and trust and let go."
That's not bad advice. And through 10 tracks, Japhet, a 20-year vet in New England music circles, outlines various ways to do just that. Then he usually takes a rippin' guitar solo.
Japhet is a multi-instrumentalist who plays everything on Karma, save for drums on one track. He's a capable player and singer and distills a variety of influences, from early Joe Jackson and Elvis Costello to Talking Heads to, seemingly, "Believe"-era Cher — at least on the overly Auto-Tuned disco-rock curiosity that is "Sugarfly." The record's ambitious scope is admirable, but it makes for an uneven, and at times uncomfortable, listen.
Karma by Dick Japhet is available at cdbaby.com.
Chad Farrell and His Pals, Famous Secrets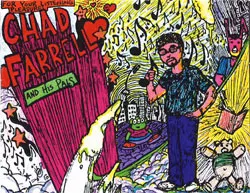 (Dizzy Bear Records, CD)
Releasing a "greatest hits" record is often a suspect proposition. It takes a certain sort of chutzpah — and in some cases, outright delusion — for an artist to believe his or her canon is worthy of reissue. That's doubly true if, well, no one has ever really heard of you. But we suppose even bedroom bards have a gem or two that audiences beyond their cat might find interesting. Such is the case with Rutland's Chad Farrell and his new release, the cheekily titled "best of" collection, Famous Secrets.
In fairness to Farrell, he's not a complete unknown. He's been active locally for decades, most notably as a member of the band Crackwhore. And he once opened for Sugar Ray, so there's that. He has also released some 15 albums previously, though you'd be hard-pressed to find them. Still, that's a prodigious output and, judging from the 20 tracks composing his new greatest-hits compilation, it seems a shame that few outside his hometown are likely to have heard him.
Farrell is a deeply quirky songwriter. Take the acoustic urgency of Violent Femmes and lighten it with some Jonathan Richman whimsy, and maybe a hint of Camper Van Beethoven, and you're in the ballpark. Bonus points for the nifty cover of "Blues for Albert Camus," a song penned by Gogol Bordello's Eugene Hütz for his 1990s BTV punk band, the Fags.
Famous Secrets by Chad Farrell is available by email at drewdeskim@yahoo.com.
Robert Barton and the Dogs From Hell, Robert Barton and the Dogs From Hell
(Self-released, digital download)
Point of order: This is not a CD review in traditional terms, because, near as I can tell, the three tracks that arrived at the 7D offices on a burned CD from Richard Barton and the Dogs From Hell are only available by streaming them at the band's Facebook page. I would guess they might be part of a larger release at some point. But I don't know that for sure. There was no accompanying info with CD. (Or a cover of any kind, for that matter.)
Anyway, if there is one truly underrepresented genre locally, it's probably Nickelback-ian hard rock. For most people with working ears that's probably a good thing, but given that band's absurd popularity, there's apparently an audience for music that substitutes masculine posturing for emotional depth. Enter the gruff-voiced Barton and his hounds. The trio seems to be doing well in the local bar-band circuit. What sets them apart is that they're not solely a cover act but pen original tunes that exist in the space between Kid Rock's "Only God Knows Why," Nickelback's "Far Away" and, I dunno, something by Creed?
Listen to Robert Barton and the Dogs From Hell at facebook.com/thedogsfromhell.
Max Pearl, Ceremony
(Self-released, CD)
Ceremony by Max Pearl inspires many questions. For starters: Who is Max Pearl? Is he a solo artist, or is Max Pearl the name of a band, or maybe a DJ of some kind? Exactly how good are the drugs where Max Pearl lives? Can we praise Frank Zappa, Captain Beefheart and Dr. Demento for influencing the likes of Phish, Tom Waits and Weird Al Yankovic but also condemn them for seemingly inspiring borderline unlistenable music from Max Pearl? Is that a mean thing to say? Also, I won the tic-tac-toe scratch game on the back of my Ceremony CD jacket, so where do I redeem that? Ceremony by Max Pearl is available … somewhere, probably.