It is a sad reality of the Vermont music scene that promising local musicians often feel pulled away by bright lights and big cities. Though not exactly on par with the state's infamous "brain drain" that lures young, talented locals to more lucrative jobs elsewhere, bands and artists frequently migrate from the Green Mountains in hopes of making their mark on grander stages.
Though these prodigal players have gone, we still like to keep tabs on them when we can. (You never call, you never write…) To that end, here are four recent records from formerly local artists worth keeping on your radar.
Steelesque, Johnny On the Spot
(Tuppance A Bag Records, CD, digital download)
Steelesque is a Pittsburgh-based duo fronted by Swanton native Rob Eldridge, formerly of the Spring Heeled Jacks. The band's debut EP, Johnny On the Spot, has garnered some positive press and airplay in the Steel City, including glowing reviews in Pittsburgh Music Magazine and Pittsburgh City Paper, owing to its bracing fusion of garage-blues swagger, indie-rock melodicism and a heaping dose of classic-rock grandeur.
The band's guitar-drum core inspires convenient comparisons to similarly blues-informed duos such as the Black Keys and the White Stripes. But such critical folly misses the mark and overlooks the wide array of influences that bloom under Eldridge's command. This is densely layered stuff, meticulously sculpted with clay mined from numerous locales along rock's terra firma, from the latter-day jam of Phish to Rush-inspired prog and the occasional mascara-painted wink at David Bowie for good, glam-rock measure.
Good Night, Gold Dust, Towards the Sun
(Self-released, CD, digital download)
Good Night, Gold Dust, of Mankato, Minn., began essentially as a vehicle for singer-songwriter Laura Schultz and guitarist Colin Scharf. But since its inception in 2010, that vehicle has added a few passengers, including bassist and Bristol, Vt., native Eric Blake. The added instrumentation, which also includes keyboards, pipe organ, accordion and horns, has fleshed out the band's sound from an introspective acoustic duo to still-pretty-introspective, but sonically adventuresome chamber folk.
GNGD's latest full-length, Towards the Sun, is a melancholy affair, an azure-hued work that evokes the cruel chill of winter in the north. But, as any Vermonter knows, there is warmth to be found when bracing from the elements, especially in the company of friends. Laced with vivid imagery and well-considered flights of indie-folk fancy, the album plays like the aural equivalent of a frosty picture window overlooking a frozen countryside. If possible, it's recommended you enjoy it by the warmth of a woodstove, hot beverage in hand.
Zack de la Rouda, ReWild or Die
(Self-released, CD, digital download)
Zack de la Rouda should never be confused with Zack de la Rocha, the outspoken front man of Rage Against the Machine. But, at least in terms of high-minded ideals, the two do share some loose similarities.
On his debut album, ReWild or Die, the former Queen City MC offers 17 tracks of almost impossibly positive hip-hop. But where de la Rocha prefers his screaming message wrapped in crushing guitar assaults, de la Rouda favors a gentler, brighter approach rooted in funkdafied backing beats and samples — courtesy of Burlington's Face-One, who engineered and produced the album. Now based in Portland, Maine, de la Rouda preaches his gospel of live and let live with an easy flow. He won't blow your mind plumbing deep philosophical questions. But his light tone and laid-back cadence is undeniably likable and, ultimately, effective for delivering his earnest musings on life, love and, of course, hip-hop.
Whiskee, Last Summer Ever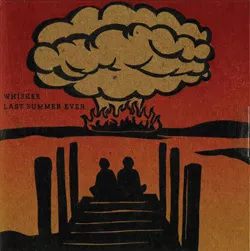 (Self-released, CD)
Allston's Whiskee feature a pair of Vermont escapees, guitarist/vocalist Billy Spaniard and bassist Diggy Gibson, both of whom attended college in Burlington and stuck around for a few postgrad years before fleeing to Boston.
Last Summer Ever, a full-length follow-up to Whiskee's debut 2012 EP, Road Ham, is a blistering fusion of blues, funk, soul and even world music, delivered with the brassy swagger of a cock-rock band. Spaniard howls and wails through eight rollicking tunes as energetic as they are well crafted, backed by a juggernaut rhythm section and aggressively dueling guitars and keyboards. This is high-octane stuff from a band equally as comfortable unfurling extended guitar-hero jams as snarling, fist-pumping punk anthems.