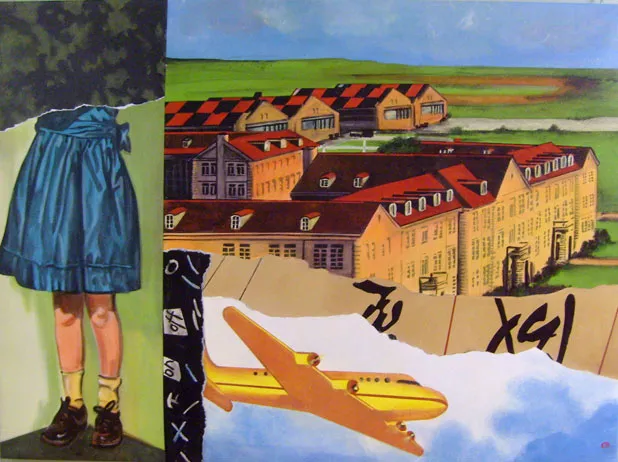 "On/Off" by Graziella Weber-Grassi
A 45,000-square-foot building can hold a lot of art. The Maltex Building on Pine Street in Burlington is one of the area's biggest venues, and it's always well curated by the Burlington City Arts sales-and-leasing program. The current show sprawls over all four floors of the postindustrial edifice, featuring about 80 paintings, prints, photographs and sculptures by nine Vermont artists.
The building's capacious common areas allow for big art, and sculptor Harlan Mack's "Giraffe," on the main floor, stands about 7 feet high. Mack creates animals from thin plates of steel welded over armatures and adds small, white marble blocks to the critters' interiors. "Giraffe" has two blocks supporting its forelegs; another graceful Mack sculpture, "Goat," holds three in its belly. The contrasting blocks have the appearance of bones inside flesh, and they probably confer the structural advantage of stabilizing the tall, vertical forms.
Large-scale acrylic paintings by Graziella Weber-Grassi appear on the same level as "Giraffe" and "Goat." She wrote in her artist's statement: "In a playful way, I juxtapose memories from my Swiss childhood with quintessential Americana evocative of the pop culture of the 1940s." Weber-Grassi's colors are bright and flat, and enigmatic snippets of text often appear in her works. Her images free-associate themes in a Dadaist manner.
"On/Off" is a 48-by-72-inch acrylic work featuring the legs of a girl in a blue dress, a propeller passenger plane and a group of ambiguous buildings. The images are separated by jagged lines, suggesting collage elements. Indeed, Weber-Grassi noted, "My collage-like canvasses set the stage for people to explore and resolve their own inner conflicts while searching for the lost innocence of childhood."
Photographs populate the second floor of the Maltex. Joshua Kahn documents worldwide travels in his 11 vibrant, untitled color photos with themes ranging from lions to landscapes. The lions are classic National Geographic-type shots, while the landscapes feature objects in decay. "Untitled II" is a vertical composition centered on ruddy doorways within doorways of a ruined building. A stand of flowering purple thistles brightens the foreground. "Untitled III" may have come from the same desert. Sienna-hued hills provide the backdrop for a cactus-and-sand vista, with the rusted skeleton of a vintage automobile in the composition's lower right corner. Kahn's sky is a rich sapphire blue. The mounted digital images are printed as large as 20 by 28 inches.
Kahn's fellow second-floor photographer is Jeff Clarke. In his eight 9-by-19-inch, black-and-white images, he too pointed his lens at far-off scenes. "Drying Wheat, Bolivia" is focused on five conical, standing sheaves, which cling to a hillside overlooking a flat plain. "Driftwood" could have been taken anywhere. It's a craggy, bent piece of wood on grass. Clarke highlights the abstract qualities of nature, and the different textures and values of wood and grass suffice to make "Driftwood" an engaging photograph.
The other artists selected for this Maltex show are painter Lindsay Blanton and painter-printmaker Beth Pearson, showing on the third level; Mary Beth Morrisseau, exhibiting acrylic abstractions on the first floor; and photographer Memphis Barbree and painter Joshua Nase, with works installed on the building's lower level. Nase and Barbree recently exhibited together at the Burlington International Airport.
Unless you frequently visit or work at one of the many businesses housed in the Maltex Building, you might not be inclined to wander its halls. But the venue is public — with free parking — and this exhibition is worth a quick detour off Pine Street.