Found Magazine is ON TOUR and coming to a city near you!!! On September 15th they rolled through Vermont and took a pit stop at the Red Square to a packed house of Found-lovers.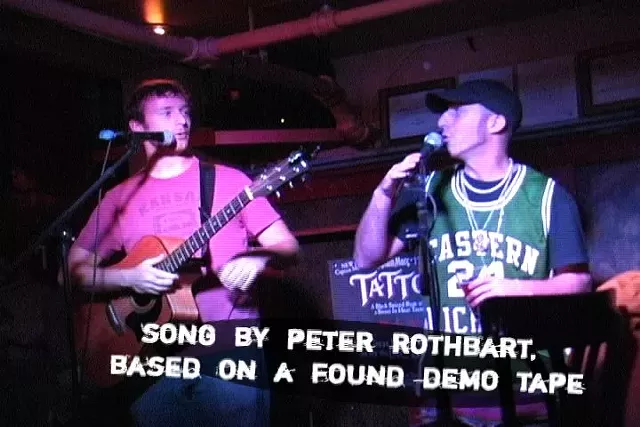 Found Magazine founder Davy Rothbart and his point man, musician and Master Finder Bro, Peter Rothbart, are on a 65-city, 36-state, 3-month tour across America and Canada.
And they are doing this trip in a tricked out van called "The Big Red." This journey is the post-death wish fulfillment of The Big Red's former owner who planned to travel the country in his post-retirement years - a dream cut short by cancer and reignited by the Rothbart Brothers in a haphazard sort of way.
The first issue of Found Magazine came out in June of 2001 and was created by Davy Rothbart and Jason Bitner. Within its pages are notes, letters, drawings and photos which people found randomly.
They provide a sometimes uncomfortable, but always loving look into the lives of strangers.
As Davy says, "There's not one Found note that I haven't felt the emotions..."
On the tour, Davy reads found notes and letters out loud with a laugh-inducing delivery and Peter plays hauntingly pretty songs inspired by finds.
While traveling, they receive a multitude of new finds in each city but they always want more.
Will all their finds fit in The Big Red?
Do you have something you found, something special that tells a story? If so, meet up with the Found fellows at one of their tour stops and hand it over in person. Give that found object a new life and a wider audience.
Such as the infamous "Page me later" note below which Davy found on his car years ago and inspired the creation of the magazine.
And to quote their new slogan taken from a found note, "Found magazine, it's not kinky, IT'S GROSS!" [It is even funnier when you hear Davy say it.]
Vlog includes a quick burst of Peter Rothbart's "The Booty Don't Stop Girl," a song inspired by a found demo tape 100% about bottoms.