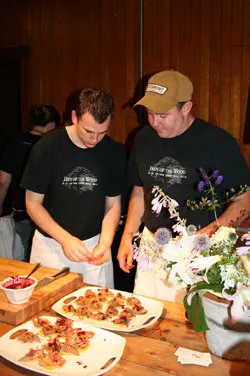 I'd never heard of "natural foie gras" until last Sunday. That's when Hudson Valley-based chef Dan Barber, keynote speaker at the Vermont Fresh Network Forum, told 500 eager foodies, chefs and farmers gathered at Shelburne Farms about his recent visit to an unusual Spanish farm that produces just that.
But before getting to the geese, let's back up a moment. The official purpose of the gathering — the VFN's 12th annual — was to celebrate the connections between "healthy farms, innovative chefs and vibrant communities." The weather forecast for Sunday was grim at best. As the event kicked off with a VIP reception on the South Porch at Shelburne Farms, with VFN President Tristan Toleno and Barber greeting attendees, a drenching rain began to fall . . . again. Despite the inclement weather, Barber, chef-owner of Blue Hill restaurant in New York City and Blue Hill at Stone Barns in the Hudson Valley, said he was feeling upbeat: "I'm thrilled to be a part of this," he declared. "And I'm thrilled to be out of the kitchen."
What was the chef doing in his precious free time? Indulging in some dairying, for one thing. During an afternoon stroll on the farm, Barber related, he and his girlfriend tried their hands at goat milking. "I felt really confident," he recalled, until a Shelburne Farms employee passed, glanced at the animal, and asked, "So how old is he?"
It may have been "udderly" apocryphal, but it was a good story.
People milled around, gossiping about new restaurants and farms, the recent floods and politics. Among the guests were artisan cheese guru Jeff Roberts; co-founder of Mad River Valley Localvores Robin McDermott; culinary PR whiz Pam Knights; author of Dishing Up Vermont Tracey Medeiros; and a pair of farmer-legislators, Will Stevens and David Zuckerman.
Cooking teacher Jane Kirby was eager to plug a corn-based baking mix from a new, small Charlotte biz called the Nitty Gritty Grain Company of Vermont, which she co-owns with grain farmer Tom Kenyon. "This blows Bisquick away," she assured the crowd. "Jiffy can't hold a candle to it, either." Attendees walked away with a 1-pound package, which boasts recipes for "cornbread, buckles, cakes & more."
After some sips of white wine, a shot of electric-orange carrot soup, and a chat with Roberts about the state of the artisan-cheese industry — problematic, he says, given new competition from other states and the tight Vermont budget — it was time to make a run for it.
I arrived, damp and bedraggled, at the Coach Barn. The rain had necessitated the erection of tents in the courtyard, and swarms of people were meeting and greeting their favorite chefs underneath. But nobody was cooking — yet.
Inside the building, more chefs and food producers lined the walls. There were sips of cider from Champlain Orchards and artisan-cheese handouts in abundance. I tried cubes of tangy 3-year-old Grafton cheddar, melt-in-your-mouth Bonne Bouche from Vermont Butter & Cheese Company and the award-winning washed-rind Bourrée from Dancing Cow Farm. At another table, Hank Bissell of Lewis Creek Farm presided over a tomato tasting — his 10 colorful varieties included Cherokee purples, tiny orange Sungolds and meaty red San Marzanos.
Just a few minutes before the keynote began, I found myself deep in a conversation with Abbey Duke of Sugarsnap and Mara and Spencer Welton of Half Pint Farm about a topic that's usually eschewed in ethical food company: fattened goose liver.
"It's not as bad as what happens to factory-farmed chickens," Mara maintained. "People really do it for the love of food."
"I'm making 'faux gras,'" Spencer announced — referring not to a vegetarian version but to a combo of livers from the couple's backyard chickens and lots of butter.
Imagine our surprise when Barber launched into his speech, which pivoted on the colorful tale of a farmer named Eduardo Sousa. On a 54-acre farm in Spain, which has operated since 1812, Sousa raises what some consider the world's best fattened goose livers, or foie gras. But unlike most of his competition, he doesn't force- feed his geese — a grisly practice known as "gavage." They roam the land, eating their fill of grass, acorns, lupines, olives and figs. As winter approaches, the avians gorge themselves in instinctive preparation for a migratory flight that will never come — unless you count landing in the center of somebody's holiday spread.
The crowd listened attentively, laughing on occasion. "If you're a sustainable chef like me, and you put foie gras on the menu, you can be attacked," Barber went on. "The problem for every chef is that it's so friggin' delicious. It's unctuous, sweet and fatty. Everything you make with foie gras tastes incredible."
What's an ethical foodie to do? Listen to nature, Barber suggested. "We need to adopt a radically new conception of agriculture. One that stops treating the planet . . . as if it were a business in liquidation. Stop treating animals as if they were widgets on an assembly line." He noted that Sousa's geese sometimes call to their wild brethren, which land on the farm and stay for good: "Can you imagine a wild boar coming across a factory farm and deciding to stay?"
After a few hours on Sousa's farm, the chef confessed, "I was drinking this guy's Kool-Aid so much at this point that he could have fed me goose feathers."
When Barber's talk was over, flocks of hungry folks began their own hunting and pecking, lining up to get delicious morsels from a slew of area chefs belonging to "the network." Long lines snaked through rooms, out doors and across the courtyard. And no wonder, with delicacies such as roasted goat tacos with chèvre and a squirt of tomatillo salsa from Shelburne Farms, or short ribs with tomato-aioli-topped potatoes from the Kitchen Table Bistro. Not to mention braised beef short-rib shreds on potato crisps with creamy maple Dijon and scallions from the Cliff House, maple-glazed Misty Knoll chicken wings from The Ground Round, and tomato gnocchi with lemon-thyme and herb salad from Michael's on the Hill.
The hottest combo of the day? Pork and corn. Sean Buchanan and his staffers from the Stowe Mountain Lodge did pork belly with sour cherry jam and jalapeño crème fraîche on corn fritters; Eric Warnstedt and the Hen of the Wood team dished up roasted "pig leg" with a sweet corn cake, pickled radishes and blackberry mustard. Both were worth waiting for.
As I was moving through the throng, eager for a taste of rabbit salad with fennel and pine nuts from The Pitcher Inn or a steak 'n' cheese pop from Leunig's, I encountered Eric Schlosser. The best-selling author of Fast Food Nation, who recently spoke in Burlington, was unobtrusively making his way across the room.
"Did you fly here just for this?" I asked. Nope. Schlosser was in town for a wedding, but he also wanted another taste of the area's burgeoning food scene.
Among the "mmms" and the "oohs" that greeted the proffered goodies, just one gripe was heard: The lines were long, and a few restaurants ran out of food within a half-hour, disappointing some of those who'd paid $60 for the opportunity to graze.
The party lasted until nearly 9, when folks trickled out, stuffed with apple pie and Strafford Organic ice cream. What did the VFN organizers think? "The rain didn't dampen anybody's spirits," said Network Administrator Kim Cleary.
It certainly didn't dilute the flavors — but all the same, let's hope next year serves up a gorgeous sunset along with the foie gras.