Courtesy of Keegan Albaugh
Albaugh getting support from Dad Guild members via video-message app Marco Polo
"I want some fruit!" my 3-year-old daughter, Coraline, shouted as she sat at the dining room table, awaiting her lunch.
"I need you to be patient right now, Coraline. I'm putting lunch together for you and your sister, and I'm going as fast as I can," I snapped back, barely audible over the cries coming from my 18-month-old daughter, Penelope.
It was shortly after noon on a weekday in late March, and I was nearing the end of my morning childcare shift with the kids, eagerly waiting for my partner, Stephanie, to emerge from our makeshift office basement so we could exchange the baton in this seemingly never-ending relay race.
The COVID-19 pandemic had forced our family into a challenging situation that many are now facing: two parents attempting to work full-time from home while also raising multiple young children. If you do the math, it is borderline impossible. And even if you are able to find enough hours in the day, you might be left with just enough time to cook, clean, do some laundry and maybe take a shower.
"I said I want some fruit!" Coraline screamed once again. My blood began to boil. I stopped slicing sweet potatoes, stared at Coraline and used my stern voice.
"Coraline. I need you to stop right now."
Predictably, she burst into tears almost immediately. "That's not very nice!" she screamed through the sobs. I was just about to respond when Stephanie came into the kitchen.
"I need to tag out," I said, heading down to the basement. Over the past week, this is what most interactions with Stephanie have looked like: more wrestling tag team than married couple.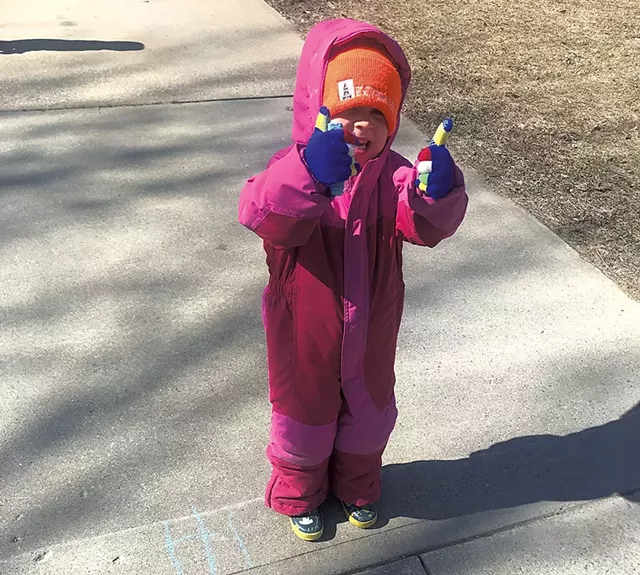 Courtesy of Keegan Albaugh
Spreading joy with jokes written in chalk
I walked past the folded-up Ping-Pong table and dusty Bowflex to the desk we set up in the basement. The recent addition of a couple of lamps, a nice desk chair and a space heater have started to make the home office feel a bit cozier. I sat down and stared at my laptop, preparing to start working.
Except I couldn't work. I buried my face into my hands and sobbed. This was hard. And from what I could gather from the plethora of news out there, it wasn't ending anytime soon.
I wiped away the tears and reached for my phone. I opened up Marco Polo, an app that allows a group of people to share video messages with one another throughout the day, and started recording a video for a group of fathers I'm connected to through Dad Guild, an organization that connects and supports local dads that I founded in 2019. We had started the Marco Polo group a few days earlier, hoping it would allow dads to remain in touch with one another.
"Guys, I'm having a hard day..." I started, and then continued talking about the difficult emotions I was experiencing. Within the hour, a handful of other dads were sending supportive messages, as well as sharing their own feelings regarding the COVID-19 crisis and how their families were being impacted. Hearing their stories, and knowing that my family wasn't alone in all of this, had an almost immediate positive impact on my own mental health
I felt connected. I felt supported. I felt better.
Although the phrase "social distancing" is currently being used everywhere you turn, we should really be viewing this practice as "physical distancing." In fact, we should all be making extra efforts to connect with one another, foster community and belonging, and engage in meaningful conversations during this stressful time. Not only do positive social connections lead to less anxiety and depression, but according to research from UCLA School of Medicine professor Steve Cole, social connections even strengthen our immune system, something we could all benefit from right now.
But how do you connect with others while being asked to stay at home and not get within six feet of one another? This question is leading to exciting and innovative solutions from communities I consider myself a part of, and the results so far have been overwhelmingly positive.
At Dad Guild, local fathers have been connecting with one another over the Marco Polo app by sharing short videos. Sometimes the purpose is to show an activity they are doing with their children. Sometimes it's to share a joke. Sometimes it's to talk about the stresses and anxieties we're all feeling. And sometimes it's to compare the overflowing mountains of laundry we all have piling up.
Dad Guild's "Dads' Night Out" events are also continuing, although they'll be called "Dads' Night In" for the foreseeable future. The organization will be using Zoom to host online party games like Jackbox Games, coffee talks and happy hours. There are also plans in the works to use Zoom for playgroups that will center on dancing, cooking and music.
At the Janet S. Munt Family Room in Burlington, where I work full time as the fatherhood program coordinator, we've been busy ensuring that all families continue to be supported and connected during this crisis. Staff have created systems to ensure that all families are getting check-ins at least once a week, through phone calls, text messages and Facebook Messenger. Resources like food, diapers and toiletries have been getting delivered to those in need, along with engaging children's activities. Staff have also been uploading read-alouds and sing-alongs to the organization's Facebook page, and they just recently started a live virtual playgroup so kids can be entertained and engaged, and continue to see the familiar faces of staff members.
Courtesy of Keegan Albaugh
Coraline doing standup comedy in front of a Vermont Comedy Club green screen
At home, we've been encouraging our daughters to spread joy to others, emphasizing the positive impact small moments of cheer can have on the community. We've used sidewalk chalk to write jokes on the walkways near our home, and we celebrated one of our baby doll's birthdays by dressing up, singing and having a bubble parade through the neighborhood. Coraline has even started performing standup comedy, sharing a joke of the day across social media platforms throughout the week.
And the responses have been overwhelmingly positive. Every effort made has been received with kindness, gratitude and warmth. Weirdly, in a lot of ways, I'm feeling more closely connected to my community than ever before.
These are uncertain times, and the length of the road ahead is still unknown. I'll admit, there are times when I find my mind falling into the hole of the unknown, where fear, anxiety and depression thrive. But the communities I am a part of, and the connections I have made and continue to strengthen, are what keep pulling me back up.