Courtesy of Vermont DCF/FSD
Formerly in Foster Care
For Makayla, telling her "story" is how she learned to cope with the trauma of her past. Her earliest memories are of protecting her mother from an abusive partner and caring for her infant brother while living in a motel room. From there, Makayla and her infant brother watched as their few belongings were packed into a blue hamper, and they were removed from the life and surroundings they had come to know as "normal." It was a lot for a 6-year-old child to cope with.
The now-happily-married young woman recalls, "I would stay at the motel rather than go to school so that I could take care of my brother." Alerted to her situation by a school that noticed her many absences, the
Department for Children and Families, Family Services Division
stepped in.
Sadly, it took time for Makayla to find a loving family. "For the longest time," she says, "I didn't feel wanted."
Makayla's resilience is evident. She's found solace in journaling. "That's how I coped," she says. "To this day, writing and telling my story continues to help me."
Thinking about how you can help?
For more information about foster care and adoption, contact the Vermont Department for Children and Families.
Add to that the blessing of a strong and healthy relationship with her husband of six months, and she now feels she is living a normal life. "I was the first person in my family to graduate high school, go to college — and now I'm married to an amazing man," she explains. She admits that marriage at 22 years old might seem premature to some, but she says, "I recognized that I'm probably a little more mature and resilient than most people my age."
For Makayla, permanency proved elusive. Yet, she says, she happily found a place of belonging within her husband's extended family. "We married this past spring so that my husband's mother could be there," she explains. Her mother-in-law died shortly thereafter. Yet, within that connection, Makayla found a sense of family and true belonging.
She offers this advice to anyone wishing to understand or become involved with the child welfare system: "I hope they will ... do the work to ensure stability for a child so that they receive the love and consistency they deserve." Makayla explains, "Caregivers have to be aware of the hardships children have endured. As a foster care provider, you have to be sure you can handle their baggage." She adds, "I would love to foster children someday, and I would hope, because of my 'baggage,' DCF will ask me
more
questions to be sure I'm ready."
Despite the trauma of her childhood, Makayla has held on to a resilience born out of compassion.
Seven Adopted Children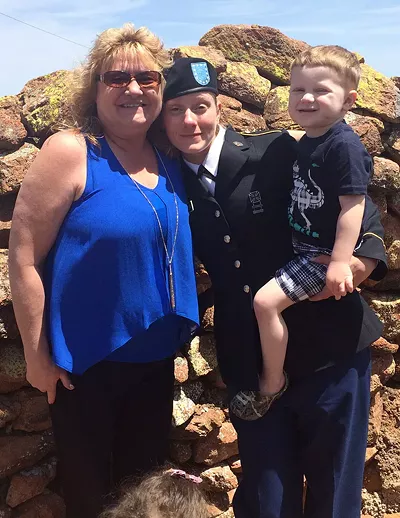 Courtesy of Vermont DCF/FSD
Mary Metevier and daughter Jessie
For Mary Metevier, a mother of seven adopted children with her husband Ron, permanency is a feeling rather than an action. "Unconditional love and structure — that's what comes from my husband and me," she says. "We set guidelines. We always reinforced our love."
For the Metevier family's oldest child, now 33 with a family of her own, patience was the true gift of the relationship. "Our daughter was 14 when she came to live with us," Metevier says. "She had a very traumatic past, and that erupted into an attachment disorder. She would run. So we had to be consistent. It took six years, and she had already been emancipated."
Metevier says her daughter was 20 at that point and wasn't ready for adoption. "So we waited," Metevier explains. "She came to us when she had her first child, and we adopted her as a young adult at the age of 21. Now she is 33. She's doing wonderful. She's a very hard worker, serves in the National Guard and works full time with three beautiful children."
Metevier says proudly, "Our daughter is a wonderful mother, and she works very hard at relationships in the family." She adds, "It took her a long time to 'get' family life, but when she did, she got it. DCF thought she'd been through so much she would struggle in life, but she's done beautifully."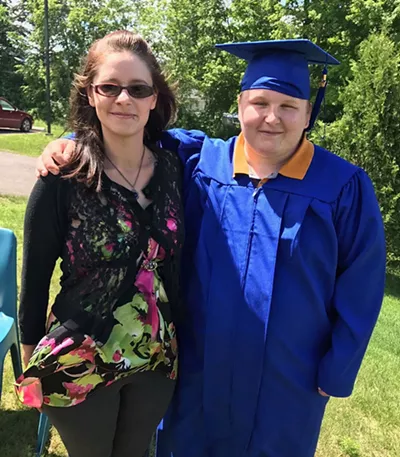 Courtesy of Vermont DCF/FSD
Some more of Metevier's foster children
For the Metevier family, adoption often comes in response to first fostering children. "My older children love the fact that Ron and I adopted again, and [they] are so helpful," she says. "They really love being around the younger children." She also hears, "Now I get it" from her older children, who, she says, are all very thankful. Their children have embraced and supported each other, she says, adding, "The children have been through tough times."
When advising people interested in foster care and adoption, the mother of seven says, "It is a hard job. Don't commit unless you are sure and get to know your children." One son, she explains, never felt safe: "He always thought he was going to be taken away. And so he would take things to protect himself should the need arise. Once we understood why and reassured him, things smoothed out."
Metevier closes with this thought: "We love what we do. I work hard with these kids. Ron and I are proud of every one of the kids. They work hard. They are wonderful children. We see how resilient they are and that is a great success — not a failure."
Working in the System to Provide Stability
Fostering and adopting are part of Carrie Deem's life, but they're also her work. As a Resource Coordinator for DCF Family Services, Deem advises prospective foster parents on how to support children and youth to be successful and lessen the trauma they've experienced. She explains it this way: "Who's going to be your forever family is a
huge
question for a kid. It adds pressure and feels irrevocable. It's especially demanding for a child who has experienced trauma … That's hard to answer."
Most important to Deem is the hard work that goes into finding the best connections for children. "Here in Vermont, we pride ourselves in keeping natural connections," she says. "We focus on creating safety in the home, locating kinship and fictive kin, and how to use them as natural support networks and possible placement options if needed."
She underscores her thoughts: "We don't just look at the grandparents or aunts and uncles. It's about digging deeper. We ask questions to help us find those connections: When you're sick, who are you going to call? When you run out of gas? When you get married, who do you invite?
When It's Family
Sandi Stewart, a DCF Family Services employee who recruits and retains foster, kin and respite care providers — and who is an adoptive parent herself — describes placements this way: "At a certain point, children understand they're not at home with Mom. It's definitely hard for them, and you have to be a strong listener for them and make sure that you're giving them life skills and ways to support their self-esteem."


Thinking about how you can help?
For more information about foster care and adoption, contact the Vermont Department for Children and Families.

In her case, she says, "The children I and my former husband adopted were my grandchildren. That was a totally different dynamic. At first, the children were not sure what to call us, because of kinship care. We settled on "YaYa" for me, which is Greek for "grandmother." Stewart describes it as a unique term of endearment. "When my older daughter (their mother) is here, she's 'Mom.' When she's not here, sometimes I'm 'Mom,'" she explains.

Stewart emphasizes the importance of giving her now-adopted grandchildren a good foundation: "Permanency has been a struggle as they get older. They've been adopted; however, it was a bittersweet day. I couldn't celebrate it too much because these were my daughter's children."

Statistics from the National Foster Youth Institute (NFYI) point out many of the challenges Stewart refers to. According to NFYI, adopted children make up roughly 2 percent of the total child population under the age of 18; however, children who are adopted make up more than 10 percent of the total referrals for child therapy. For youth adopted through foster care, permanency through adoption typically follows disruption, loss, trauma and some level of grief. The children are provided with the services they need to heal, which is another benefit of adoption through foster care.

Ultimately, Stewart sees the balance between her own family and the families she serves in her work for DCF Family Services. "Permanency is ultimately what brought my daughter back to the area — knowing that we were still here for her and that, no matter what, we are a family," she says. "Staying connected with my own daughter has helped me in my work with families who connect with siblings and birth families placed elsewhere."

Finding Common Ground
Michelle Colburn, a Resource Coordinator with DCF Family Services in Vermont, has a story of how one youth chose her family as his own. "Our son came to us when he was 12 — not as a foster or adoptive child at first, but as one of the kids who connected with my husband, Ken, through common interests. They both like sports — football, mostly."

She explains that Ken met their son when he was 12. The boy had come into custody when he was 11. "They got to know each other well. My husband worked as a Peer Navigator," she says. "He would work with youth so they would have stability in the homes they were in."

The relationship, she says, built from there: "When our son was 17, he realized he didn't want to age out of the system without a family, so he asked Ken and me if we would adopt him." "He advocated for himself," she says proudly. "He found his own family."
Foster Care in Vermont
Foster parents:
Help make sure children are safe and well cared for while they can't be at home.
Support the parents as they work towards reunifying with their children.
May get the opportunity to provide a permanent home for a child in their care if safe reunification is not possible.
In Vermont, there are currently, just over 1,100 children and youth in foster care. Families are needed for children of all ages and experiences, including:
Infants, toddlers, young children & teens
Children with complex medical or developmental needs
LGBTQ youth
Sibling groups
On any given day in Vermont, there are about 140 children waiting in foster care for families to adopt them. Most are school-aged, many have special needs, and some are part of a sibling group who want to stay together. Adoptive parents can give children what we all want: a sense of belonging, a place to call home and lifelong family connections.
Thinking about how you can help?
For more information about foster care and adoption, contact the Vermont Department for Children and Families.
Courtesy of Vermont DCF/FSD