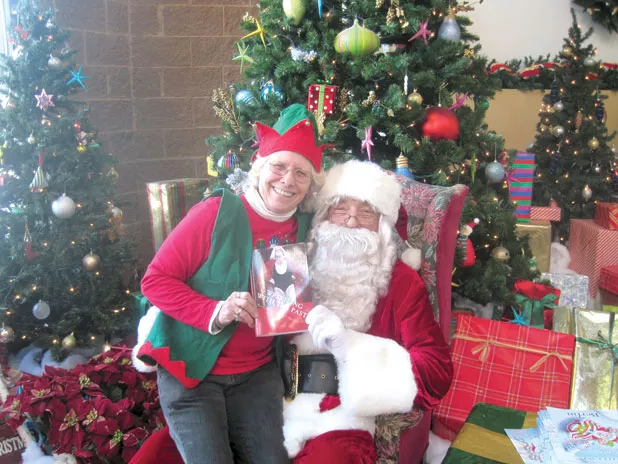 Paul Vachon with Fonda Perkins and his latest book
An elementary-school-age brother and sister have been waiting for Santa Claus for an hour. They arrived at the Berlin Mall at around 11 a.m., decked out in red-and-white hats and ready to reveal their whims to the big man. He finally arrives at noon, pushing a shopping cart filled with presents.
With the boy and girl both sitting on his lap, Santa asks the children if they know how to get what they want for Christmas. "Be good?" asks the girl.
"Yes," Santa confirms. "And no fighting. And not just around Christmas. All year."
Clearly, this Santa has a "do as I say, not as I do" policy. The man beneath the beard is 76-year-old Paul "the Butcher" Vachon.
From the late 1950s until the 1980s, Vachon traveled the world to compete in the squared circle. He was inducted into the Professional Wrestling Hall of Fame in 2004, along with his older brother, Maurice "Mad Dog" Vachon (who passed away on November 21 at the age of 84). The two were recognized for their legendary "heel" (bad guy) tag team.
But now Vachon is working "babyface" (good guy). In fact, he's playing the ultimate 'face: jolly old Saint Nick.
Vachon, a native of Glen Sutton, Québec, just across the border from Richford, returned home to Route 105 when he retired from wrestling in 1987. Now, he lives much of the year in Newport with his fourth wife, Dee. He also travels the country selling signed photos and his four self-published autobiographies, along with jewelry and knickknacks. In summer, that means hitting fairs and festivals all over Vermont.
Every October, Vachon starts his run at the Berlin Mall. Through the holidays, he lives with Brenda and Bob Sambel, owners of Northfield-based Sambel's Catering, to stay close to his uncommon day job.
How did the tough guy become Père Noel? It all began 13 years ago with a soused Santa, says Vachon. "I was setting up my stuff here [at the mall kiosk], and he showed up drunk. He was slobbering all over, and finally he fell off the chair," he recalls.
The other Santa was fired on the spot, and the mall manager asked Vachon to take over. He agreed to do so in exchange for his kiosk's rental fees, and with the stipulation that he would not wear the same suit the previous Santa had soiled.
Vachon got a new suit and a Christmas-movie-cute second act for his career in the bargain. "They pay me quite a bit more now," he says with a grin.
Vachon begins his days as the Butcher, greeting fans at his booth just down the hall from Walmart. But, about 20 minutes before noon, he commences his transformation. His own beard is still dark, so he covers it with a false one that matches the white eyebrows that shade his vivid blue eyes. The 6-foot-1 former athlete is no longer the 280 pounds of his heyday, but no stuffing is required to fill out the suit, even if Vachon is far from shaking like a bowl full of jelly.
Years of taking bumps in the ring have left Vachon's back "all screwed up," he says. To get from his changing area to his Santa chair, he employs a shopping cart stuffed with prop presents as a walker.
While people come to him with all kinds of Christmas wishes, the wrestler himself says he's happy just to be alive. After beating colon cancer in the early '90s, Vachon locked up with throat cancer. Radiation treatments for the latter left his jaw weakened to the point of needing replacement. More recently, Vachon traveled to Montréal to receive a replacement valve to fix a bent aorta. He's living with diabetes, so he makes sure always to have a peanut-butter-and-jelly sandwich handy to keep his blood sugar stable.
All this has left Vachon's French-accented growl a bit halting, as if clouded by pain, but the kids don't seem to mind. And neither does the wrestler as he looks back on his career. "If I had known when I first started out that I was going to wind up like this, I would have done it anyway," he says.
The first seeds of Vachon's wrestling aspirations were planted in Richford, he says. His brother, Maurice, was already wrestling professionally, but Paul had never seen him on television. At 12 or 13, he crossed the border to see a Western double feature at the movies. "I was standing on the corner waiting for the theater to open," recalls Paul Vachon. "On a round-screen, black-and-white TV, I saw my brother … wrestling. I was mesmerized [and thought], When I grow up and get as big as [Maurice], I'm gonna be a wrestler, too."
Paul Vachon followed through by winning silver at the Canadian amateur national championships at age 17. But his celebration was not long-lived. Maurice, who was eight years older, told him, "You're never gonna make money that way. You're turning pro this summer."
So Vachon followed in his brother's footsteps. Having a relative in the business didn't give him any major advantages, though, until 1962, when Maurice asked Paul to cover for him on an Asian tour. While his older brother stayed in Hawaii, Vachon wrestled in Japan and India, then Africa. The younger wrestler didn't return to North America for four years.
In the meantime, Maurice Vachon adopted the name "Mad Dog," which turned out to be his lucky break. His younger brother recalls him saying, "Ever since I became Mad Dog, I've been making nothing but money. I had a chance at the world championship."
Maurice thought his brother needed a more impressive name, too. After floating the idea of "Cochon Vachon" — "pig Vachon" in English — they settled on "the Butcher of Paris" to capitalize on Vachon's thoroughly un-Parisian French Canadian accent. The "of Paris" part of the sobriquet faded away after a few months. But today, when parents bring their children to see Santa, many still address Vachon in covert whispers as "the Butcher."
Older fans, including Vachon's longtime weekday elf, Fonda Perkins, remember seeing him perform at Burlington's Memorial Auditorium, or in Richford or St. Albans. Children of the 1980s are more likely to recall his groundbreaking TV "wedding" on a 1984 episode of WWE's (then WWF) "Tuesday Night Titans."
The show was originally planned as a real wedding for Vachon and his fiancée at Madison Square Garden. But when she broke the engagement, WWE head Vince McMahon Jr. decided to substitute a lengthy series of skits, an early stab at the soaps-for-men genre he would create on the USA Network. Audiences watched a scripted narrative in which "Captain Lou" Albano objected to the marriage until he found out the bride wasn't a virgin — all leading to a massive, messy pie fight. Vachon ducked out of that battle early, he remembers. "I had my brand-new suit; I knew to stay out of the way."
Of course, Vachon's biggest fans today know him for a different suit entirely. Perkins says that numerous parents have told stories of bringing their kids to see other Kris Kringles, only to get requests to go back to the Berlin Mall and see "the real Santa."
And, though Perkins says she has to help keep Santa awake during slow times, Vachon says he relishes hearing kids' gift requests.
"I love the kids," says the father of seven. "[When I first started,] I didn't think I was gonna like it, but I do."
In the past 13 years, fans of Santa and Butcher Vachon alike have sat on the same man's knee during the holidays. And whether it's the 92-year-old grandmother, the 48-hour-old infant or generations of pugs, everyone who crosses the man's path leaves with a dose of good cheer.
The original print version of this article was headlined "Strongman Santa"