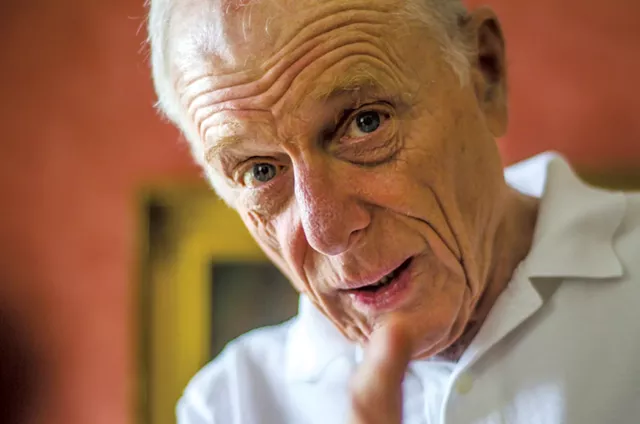 Glenn Russell
Sandy Lewis
Not long after he moved from New Paltz to Essex, N.Y., Mark Kimball had an unexpected visitor.
A man in a big pickup truck pulled on to his land, now Essex Farm, and fixed his steely blue eyes on Kimball, like a raptor that had just found dinner.
He uttered four words: "You're going to fail."
Kimball was only momentarily flummoxed. "Oh," he said. "You must be Sandy Lewis."
"How do you know my name?" the man demanded.
Kimball replied, "You're the only person in the community who would introduce yourself that way."
Kimball had already heard plenty about Salim "Sandy" Lewis, a 79-year-old Wall Street-dealmaker-turned-beef-farmer who owns a verdant 1,100-acre swath of land along the southern edge of town. The reputation of Kimball's neighbor preceded him.
"There's not a dinner party within 50 miles where conversation doesn't turn to Sandy Lewis," said one Essex resident who did not want to be named for fear of provoking the most ornery man in the Adirondacks.
Lewis' rough wake has reached the Vermont side of the lake, too, rocking Middlebury College president Laurie Patton, University of Vermont president Tom Sullivan, and environmental activist and author Bill McKibben, to name a few.
On Wall Street, where Lewis ran a small but respected investment house, he was known for his brilliance and outspokenness. He was viewed as an upright reformer, but his career was cut short when he pleaded guilty to financial crimes. Lewis later received a full and unconditional presidential pardon, and a judge all but exonerated him. He and his wife, Barbara, eventually retreated to upstate New York, where Lewis reinvented himself as a Carhartt-clad Jeremiah, ringing the bell of doom.
Some of his crusades — which once sounded fringe — have since proved prescient. Before the 2008 financial crisis kicked into gear, Lewis was one of the first to raise alarms about the health of investment bank Bear Stearns, which later collapsed. He sounded off about sexual abuse in elite boarding schools, inadequate medical care in the North Country, small-town corruption and drug addiction, long before these issues dominated the news. Most famously in these parts, he waged a successful, against-the-odds legal campaign against his perennial whipping boy, the Adirondack Park Agency, the powerful state land-use regulator.
Now his igneous anger is surging through the cracks of a new vein: Lewis' self-proclaimed raison d'être is the safety of the food supply — in particular, the overuse and misuse of antibiotics in livestock and humans. He found this purpose three years ago, when cows he purchased from out of state came to his Essex farm infected with anaplasmosis. An exhaustive research project followed, and Lewis became convinced that Big Ag and Big Pharma are in cahoots: He believes they are intentionally infecting animals with the disease to justify their use of growth-inducing antibiotics.
People inadvertently consume these drugs through meat, which has the potential to kill off essential bacteria in the human gastrointestinal tract. Lewis predicts that this practice — not an Ebola epidemic or nuclear war — is what will lead to our extinction.
Lewis' crusade has generated heat and headlines, including two major stories in the New York Times. Middlebury College, which buys the Lewis Family Farm's grass-fed beef, agreed to let Lewis help organize a campus conference on the misuse of antibiotics in agriculture.
But Lewis has a way of biting all of the hands that feed him. After the Times stories fell short of his expectations, he sent a mass email calling out one of the reporters as a "coward." He added that the editor "needed a seeing-eye dog."
Lewis repaid his customer, Middlebury College, by sending mass emails and leaving voicemails insinuating that members of the college's dining services group had been corruptly influenced by a food vendor that sells meat for about half of what he charges, according to Middlebury officials.
Middlebury flatly denies Lewis' allegation. "It's ridiculous. He has zero evidence. He throws allegations willy-nilly without any regard for the truth," says college spokesperson Bill Burger.
When planning for his conference began earlier this year, Lewis phoned Patton, the college's president, incessantly. One middle-of-the-night call prompted a voicemail response that he saved and shared with Seven Days.
"You cannot continue to harass my staff on the phone and bad-mouth them," Patton admonished, as if to an obstreperous 13-year-old. "I can afford to roll my eyes when you accuse people of all sorts of things. My staff cannot. They are vulnerable ... You have already created a huge problem in stress with my staff!" Patton's tone shifted from stern to beseeching. "You are not letting me do the job of a president," she said before hanging up. "Sandy! You have to understand this."
Crank Caller
Can polite, civilized people change the world?
Lewis doesn't think so.
Over the course of his tumultuous life, Lewis has always conducted himself the same way, according to friends and enemies. He aligns action in accordance with principle, and then, like a bull in pursuit of a flapping red cape, he charges.
"Whoever gets in my way, bam! I just take them out," Lewis says. "I mean, that's what we should all be doing. We should be acknowledging that there's a lot of crap going on, and we should be decking it. We should be standing up and saying, 'I object.'"
Peter J. Solomon, an investment banker who has known Lewis since elementary school, calls him the most intense person he's ever encountered. "You don't meet a lot of people with his level of fervor and commitment," Solomon says. "It's like dealing with a fire hydrant. It comes out full force and does a lot of good. Sometimes it floods."
Always marked "urgent," the classic voicemail message from Lewis starts out as a stern but reasonable-sounding soliloquy that picks up momentum and volume and vehemence and sometimes vitriol as he moves from one seemingly random thought to another. In person or on the phone, he's almost impossible to interrupt.
Lewis' haiku-like chain emails — addressed to a who's who in the media and academic elite — are similarly overwhelming and puzzling. Fiona Harvey, a reporter for the Guardian, demanded that he stop copying her on electronic missives that also go to former New York City mayor Michael Bloomberg, New York Times publisher A.G. Sulzberger, university presidents and health care luminaries. "Your elliptical references and hints, while refusing to say anything substantial, are just pointlessly mystifying," Harvey scolded.
Lewis was undeterred. "As for reaction, I confess I could not care less," he replied. "I do apologize, but not really."
Lewis' flamboyantly unorthodox behavior raises the question: How could he have been so successful?
His friends say this has always been his MO, and it's a mistake to underestimate him. Former World Bank president James Wolfensohn, a onetime investor with Lewis' firm and a longtime friend, says Lewis is a "very creative thinker" — though not always logical — and a talented networker. He adds that while a good portion of what Lewis says is outlandish and tied to his own defense mechanisms, there are valuable nuggets: "I think there is 25 to 30 percent of what he says that is pure gold."
Award-winning financial journalist William Cohan has spent a lot of time with Lewis over the years — so much that he's known as a "Lewis whisperer." Lewis was a source for Cohan's book House of Cards: A Tale of Hubris and Wretched Excess on Wall Street, which told the story of the rise and fall of Bear Stearns and prominently featured Lewis' banker father, the legendary Salim "Cy" Lewis. Since then, Cohan and Lewis have collaborated on two New York Times opinion pieces, including a recent op-ed on Lewis' campaign to alert the world to the threat that the misuse of antibiotics poses to the human gut biome.
"Sandy weaves stories and spells," says Cohan. "He's obviously brilliant, but he's brilliant in a way that someone on the spectrum is brilliant ... If there's a normal IQ curve, he's several standard deviations of smarter."
Many of his methods are maddening — even for the most patient reporter. "No one else I know will call at six in the morning and leave a four-minute message and keep calling," Cohan says. "There's no filter. No carburetor. There is nothing."
Cohan sighs. "Is he like a broken clock right twice a day? Is he deserving a Nobel Prize, or a menace to society or all three wrapped into one?" After 11 years of dealing with Lewis, Cohan says he still doesn't know.
Not So Neighborly
Glenn Russell
Sandy Lewis
Lewis casts a long shadow in the North Country. He is best known for the multiyear legal fight he waged against the Adirondack Park Agency, the state regulator that oversees private and public land use within the 5.9-million-acre park. Many locals resent the APA for micromanaging use of their own land. The dispute with the Lewis Family Farm centered around three houses he built on his property. Because the houses were meant for agriculture workers, Lewis argued, he did not need a permit.
Today, Lewis says he constructed those houses — at a cost of about $1.2 million — for one reason: to goad the APA into fining and suing him. He succeeded. After nearly four years of fighting, Lewis defeated the APA in court, effectively circumscribing the agency's power to regulate farms.
Lewis didn't just beat the APA; he humiliated it. He got so deep under the skin of the agency's top enforcement official that the man fired off an email calling Lewis a "sociopath." The official then apologized and was reassigned.
Twelve years after they were built, the houses remain unoccupied shells.
The APA battle should have made Lewis a universal hero to working people and farmers in the region who viewed the agency as high-handed and elitist, but it didn't. Lewis, who says he waged the fight on behalf of "indigenous, poor white trash," is too divisive a figure to be widely revered. "I think they tolerate him," says Michael Pratt, a former town official who once clashed with Lewis but now calls himself a fan. "He has a very strong way of coming across to people that ... probably alienates them."
While others shirk from getting involved in politics, Pratt says Lewis has eagerly jumped into the fray: "The bigger the fight, the bigger the opponent, the more he's ready to take them on."
On the eastern shores of the lake, Sullivan, the UVM president, has been in Lewis' crosshairs for a year, since he agreed to discuss the farmer's views on antibiotics and agriculture. UVM donor Harry Nelson, a former Wall Street colleague and friend of Lewis, suggested the two should meet. "I knew if he played his cards carefully, he might make a friend of Sandy," Nelson says of Sullivan. "But he didn't do that."
The UVM president's mistake? "He didn't take Sandy seriously enough," Nelson says.
When Lewis got the invitation to meet with Sullivan and several senior administrators, the Essex farmer requested that it take place in an auditorium with students and journalists present and microbiologists and veterinarian experts dialing in by speaker phone. Sullivan refused and said the university's Phi Beta Kappa Room would have to suffice. Lewis was furious. He didn't believe he could deliver a proper presentation without the help of experts.
Bringing a videographer along to document the meeting, Lewis began his disquisition by throwing on the table a series of books that he had assigned as reading. Sullivan attempted to take charge by asking his subordinates to introduce themselves, but Lewis just talked over them. He paced the room, careening from one point to another in a filibuster that dragged on for two hours — part bio-epic and part diatribe. Sitting as quiet as mice, the administrators shifted in their seats when Lewis mentioned his childhood in a home for disturbed children.
"I can drive somebody absolutely crazy," Lewis said in Sullivan's direction. "I know absolutely how to do it. You can't live in a mental institution ... for six and a half years and not know something about how to drive people crazy."
Over the next months, Lewis launched a fusillade of emails baiting Sullivan. "I found Mr. E. Thomas Sullivan pathetic," Lewis wrote later, adding that the president had a "feminine" handshake. "He's a second-rate lawyer running a weak state school."
Sullivan is a big fish, but many of Lewis' targets include small-fry neighbors and town officials. Some — including a town clerk whom Lewis reported for child pornography — got their just desserts. But some of the other battles seemed unwarranted. Lewis, for instance, boasts of shooting a neighbor's errant bull, which had wandered onto his property.
Most recently, he sued a veterinarian who he claims negligently reused needles, infecting the rest of his herd with anaplasmosis. Last month, after Lewis repeatedly circulated mass emails that disclosed the vet's personal medical problems, a judge issued a protective order barring Lewis from contacting the Vermont man. The lawsuit with the vet is coming to an end; the vet's insurance company agreed last week to pay $100,000 to settle the matter.
"He's going to fire a cannon that's just as big at a squirrel as at an elephant," says Kimball, the Essex neighbor. "He always travels with large ordnance; he is unable to see the difference between a world war and a petty skirmish."
Prisoners, Alcoholics and Drug Addicts
Lewis is a paradox. On the one hand, he seems to delight in being nasty. His emails are laced with invective, gratuitous references to the race and physical attributes of the people he is targeting, as well as innuendos about their sexual proclivities, health problems and mental states.
And yet, the same person is also known for gestures of staggering kindness. This includes kicking open the doors of elite hospitals for almost anyone suffering from serious illness, including people he's previously savaged.
Lewis is drawn to those who have been victimized, deformed or hurt. Perhaps because of his own difficult life — a childhood in a mental hospital, several bouts of cancer, a criminal conviction, the drowning death of an adult son in a kayak accident — Lewis possesses a freakishly acute radar for human suffering. He has a special place in his heart for orphans, victims of war atrocities and those who have been sexually abused. He goes out of his way to help social outcasts, including prisoners, alcoholics and drug addicts.
This aid takes the form of civic acts both large and small. To the consternation of his neighbors in Essex, Lewis has twice — once in 1998 and again in 2010 — championed the construction of a large residential drug treatment center close to his property, arguing that the community has a duty to put such a facility in its own backyard.
The Lewis home has served as a children's shelter of sorts, and he's been a surrogate father to numerous young people who say that without his strong hand, they would have slipped through the cracks.
"He has given me so much," says violinist Helena Baillie, whom Lewis mentored along with her twin sister. "What's unusual about him as a benefactor ... is that he was addressing the whole human being from the beginning. He was putting my interests above his own, living in accordance with a set of values guided by an unwavering inner compass."
Living under Lewis' roof, though, was not always easy. "Sandy," she says, "is someone with a uniquely high threshold for tension and confrontation." He once arranged for her to play before 400 inmates at Clinton Correctional Facility, aka Dannemora.
Baillie also witnessed a number of his beatdown sessions, including one of McKibben, the environmental activist and Middlebury College faculty member, in 2008. In his 2005 travelogue about Vermont and the Adirondacks, Wandering Home, McKibben wrote glancingly about Lewis: "One of Ivan Boesky's former business partners, for instance, has a big spread and farms it as if he were in Kansas, removing every hedgerow to make life easier for his tractor." Though the passage didn't mention him by name, Lewis was incensed to be so linked to Boesky, the face of Wall Street greed. Lewis had only worked for Boesky briefly before quitting.
Lewis demanded a meeting with McKibben in the Middlebury College president's office. Baillie says McKibben avoided eye contact as Lewis tore into him. "He was unsparing," Baillie says of her mentor. "Sandy orchestrated the dynamic in the room like a conductor leading a complex symphony."
A decade later, Lewis is still enraged by McKibben's refusal to apologize.
McKibben tells Seven Days he has "no real memory" of the decade-old event.
This perseveration over tiny slights is one reason Lewis' North Country neighbors work to avoid his attention.
"Sandy Lewis? I don't dare to say anything about him," said one woman, flinching after being buttonholed by this reporter as she and her husband paused briefly on a country road.
"Why?"
"He takes everyone to court."
Added her husband: "If you've got any dealings with him, get out of it."
"He's a rough character," the wife continued. They chortled nervously.
The husband shook his head. "He didn't move up here to make friends."
From Wall Street to Whallons Bay
Glenn Russell
Sandy Lewis
Lewis attributes his volatility to his troubled childhood.
His father, known as "the Bear" of Bear Stearns, was a hustling bond trader who rose to the pinnacle of finance. But according to Lewis, he was also a philanderer and an alcoholic. His marriage to Lewis' mother, Diana, became a deeply unhappy one. A former actress and model who had been married and divorced twice before, Diana gave birth to four children. Lewis, her eldest son, was quiet, solemn and reserved. He says his relationship with his mother was shaped by violence and neglect. He recalls that she told him she did not love him.
Some 70 years later, the memories are still raw. After one of his mother's beatings, Lewis says, he threatened to kill himself. "I went out and stood in the window," Lewis recalls. "I said, 'You come one step closer, I'm jumping. Do not touch me again.'" That stopped the physical abuse, but not the anger.
Lewis says he spent almost every day of his childhood trying to figure out how to get sent away from home, which he still refers to as "778 Park Avenue." His dentist inadvertently assisted when Lewis bit one of the man's fingers. The 10-year-old was shipped off to the Sonia Shankman Orthogenic School at the University of Chicago. Director Bruno Bettelheim, a Holocaust survivor and author of best-selling books on child development, was later exposed for having falsified and plagiarized his research.
Bettelheim noted the depth of the new boy's depression and the intensity of his disturbance, according to school records from the time and later court proceedings. "The chaos of his inner life caused him to swing from moody isolation to outbursts painful to himself and others," Bettelheim wrote of Lewis.
In a letter to Lewis' parents four months after the boy's arrival, Bettelheim wrote that Lewis had a tendency to boast and to annoy other children.
"Sandy," Dr. Bettelheim wrote, "still tries to disrupt the group in many ways. He still refuses to accept limitations as applying to himself."
As years passed, Lewis became more confident. Bettelheim observed that he displayed "a blend of tenderness, kindness, integrity and blunt frankness (which was often experienced as intrusive and discomfiting) such as I have seldom seen."
At the age of 14, Lewis was deemed healthy enough to take classes at the University of Chicago's Laboratory Schools. From there, he moved to the University of Chicago. By then, he was deeply in love with Barbara Lisco, a teacher and the daughter of a professor. Where Lewis was fiery and volatile, Barbara was even-keeled and gentle. They married in 1960. His schoolwork languished, and he dropped out to spend a year working as a counselor back at the Orthogenic School.
In 1964, Lewis started retracing his father's footsteps — first, by taking a job at the Chicago office of Salomon Brothers. The same year he moved Barbara and their first two kids to New Jersey to work in the company's Wall Street office. During commutes back and forth to Manhattan, his colleague Nelson explained how markets worked. "My first impressions were, this was an extremely smart fellow with an intense curiosity," says Nelson, who would later introduce Lewis to UVM president Sullivan. "He was a different kind of personality than almost anyone I'd met before."
Although talented, Lewis was difficult to manage. He cycled through a number of top-shelf banks and brokerage houses, either because he resigned or got fired. His problem: He could never stop blowing the whistle on the misdeeds and ethical transgressions of his colleagues.
"If you want somebody to say that the emperor really has no clothes, you can depend on Sandy," Bloomberg, a onetime partner with Salomon, told the Wall Street Journal in a page-one profile of Lewis in 1984.
Despite the drama he created, Lewis was by then highly regarded, having advised two separate U.S. Securities and Exchange Commission chairs. In 1980, he started his own firm, S.B. Lewis & Co., where he specialized in arbitrage, trading on takeovers, and soon moved into matchmaking for corporate mergers. This loather of big institutions engineered the 1981 merger of scrappy Shearson Loeb with venerated American Express. The biggest merger of two financial companies at the time, the deal marked the beginning of a new age defined by the consolidation of small banks into large, diversified financial companies.
In 1986, everything seemed to be going Lewis' way. In addition to the success of his firm and the respect he commanded in business circles, he was thriving personally, with six healthy children and a strong marriage. Less well known was his role as a protector and supporter of many talented but disadvantaged youth.
Then the U.S. attorney for the Southern District of New York, Rudolph Giuliani, came knocking. Lewis was indicted on 22 counts of securities law violations.
Lewis did not deny the main facts of the case, but he argued that his plan had been motivated by vigilantism, a desire to stop speculators from "shorting the syndicate" — driving stock down in a maneuver that is now illegal. He acted to help a friend, whose firm held the stock, and to thwart these speculators by enlisting others to buy up the shares, thus buoying the price. Prosecutors claimed his firm abetted the falsification of records to conceal the wrongdoing.
Because Lewis faced the prospect of a lengthy incarceration, Barbara pressed him to plead guilty to three counts in exchange for leniency in sentencing. Letters poured in from friends asking the judge to be merciful. "It scares me to think of where I'd be without Sandy's generous help in my adolescence and young adulthood," Valerie Ford Jacob wrote the court. Orphaned as a teenager and raised by Lewis, she credited him for her successful law career. Former Securities and Exchange Commission chair Roderick Hills called Lewis "a man of enormous integrity" with a "crusader's drive" to correct societal ills. And Lewis' original rescuer weighed in. Bettelheim, now retired, pleaded with the judge not to send his former patient to prison. "Sandy Lewis is unquestionably a fragile — very fragile — emotional being. Were he sent to jail, I believe it would utterly destroy him."
The judge listened. Lewis got three years of probation with community service to be performed at a drug treatment center. The light sentence was due, in part, the judge ruled, to "the uniqueness" of the crime — Lewis didn't personally benefit from it — and the "uniqueness" of the man whose good works, she noted, had been a part of his life long before his legal troubles.
"To me," she said, "that's impressive."
Friend of Bill?
Lewis was a felon — until the president of the United States got involved.
After Lewis' prosecution and before the Monica Lewinsky scandal broke, Lewis' lawyer and friend Douglas Eakeley helped engineer a meeting between Lewis and president Bill Clinton at a hotel in Maine. The lawyer believed that Lewis could help Clinton contain his extramarital affairs and also advise him on policy issues, including the economy and drug addiction. And, perhaps, it would help Lewis secure a pardon.
"You don't want me to do this," Lewis says he warned his lawyer.
The meeting didn't go as hoped. After Lewis told the president he had something very sensitive to tell him, Clinton escorted him to a kitchen, where everyone left except the president, Barbara and a friend Lewis had brought along as a witness. Lewis told Clinton that Eakeley thought the two of them should spend a weekend together.
"Sir, this is about your most personal business. You probably won't be too happy with me by Monday morning, but I think we can avoid a train wreck," Lewis said he told the president, according to a New York Times article that described the encounter. Clinton looked furious, and Lewis' friend was shocked, he told the Times, realizing that he'd been brought along to witness an intervention regarding the president's love life.
At the time, Lewis' advocates thought the meeting had backfired so badly that no pardon would be forthcoming. However, on January 20, 2001, president Clinton granted Lewis a pardon — one of his last acts in office. No one but Clinton knows whether Lewis' intervention had anything to do with it.
Soon, Sandy and Barbara Lewis moved out of New Jersey and settled full time in their Essex farmhouse. She managed the accounts, and he supervised the agricultural operation, which has expanded from five to 1,100 acres that extend down to Lake Champlain. Over the years, Lewis' team cleared tons of junk from the land, including old cars. They repaired damaged soil and buried miles of drainage pipes.
No one disputes the high standards of the farm or the quality of its 100 percent organic grass-fed beef. But to break even, the Lewises need to be able to charge $10 a pound for their ground beef. Getting restaurants, prep schools and colleges to buy at that price is the farm's biggest challenge.
Lewis says if he can't get a fair price for his beef, the farm won't survive. By Barbara's estimation, the Lewises have pumped more than $20 million into the venture, and it's still losing money. She is worried. Yes, the farm managed to get Massachusetts' Deerfield Academy and Middlebury College on board as customers, but those relationships are fragile. Lewis hasn't been able to mend the fence with Patton since his middle-of-the-night call to her. Even his allies on campus feel bruised by his attacks on the integrity of people who work for the college's dining services organization. What's more, some experts in the field of gut biome research won't attend a conference if it is organized by Lewis, according to Middlebury College officials; he is too polarizing.
Belinda Thompson, an assistant clinical professor at Cornell University's College of Veterinary Medicine, is one of the few academic vets in the field whom Lewis trusts. She was the first to diagnose his cows with anaplasmosis, and she shares his concern about the overuse of pharmaceuticals on farms.
But she rejects some of his specific theories. For example: that antibiotics, whether given to people or cows, should always be given by injection — not orally. Thompson does not accept that farmers are intentionally infecting their cows so they can administer growth-enhancing antibiotics. "I don't know anyone who would welcome a disease into their herd," she says.
"It's hard to say whether what he's doing is a good idea or not," she says of Lewis and his anti-antibiotic campaign. "He certainly wears us all out."
Nevertheless, Thompson keeps talking to Lewis. Her view is that society needs gadflies, however disagreeable.
'I'm an Unpleasant Person'
Glenn Russell
Sandy Lewis
Time is running out for Lewis, who is just a year shy of 80.
Space, too. On a recent visit, he paced between the bedroom, living room and kitchen, his range of motion limited by the length of his landline phone cord and a sore foot that he would later discover he'd broken — he has no idea how.
Some say he's mellowing.
"The ratio of vitriol to normal is better than it was 10 years ago," one neighbor suggests.
Recently, Kimball, the neighbor whom Lewis predicted would fail, sent Lewis a friendly email to ask about his hurt foot and the gut biome campaign. Lewis forwarded the email to Seven Days, along with some harsh criticisms of his fellow farmer, but then added that Kimball was "the best we have — and the only."
That's high praise from Lewis.
Could it be a sign of a sunnier attitude? Both Lewis and his wife dispute that.
"I've been this way all my life," Lewis says. "I'm an unpleasant person, and I know that. Barbara says, 'Won't you please take it easy?' The answer is, 'No, I will not.'"
Sandy's Sound and Fury
Seven Days publisher Paula Routly has gotten emails from Sandy Lewis for years, but the voicemail messages started at the end of 2017 — up to a dozen in a single day. Here's a sample of a recent one — in all its free-associating, name-dropping glory — in which he considers the prospect of being profiled in the publication.
Update Required
To play the media you will need to either update your browser to a recent version or update your
Flash plugin
.
In this video clip — taken from a much longer discussion — Sandy Lewis outlines the existential threat of antibiotic abuse on his refrigerator chalkboard.
Correction, June 27, 2018: An earlier version of this story mischaracterized the aftermath of Sandy Lewis' victory over the Adirondack Park Agency. The APA's top enforcement official was reassigned to another job.