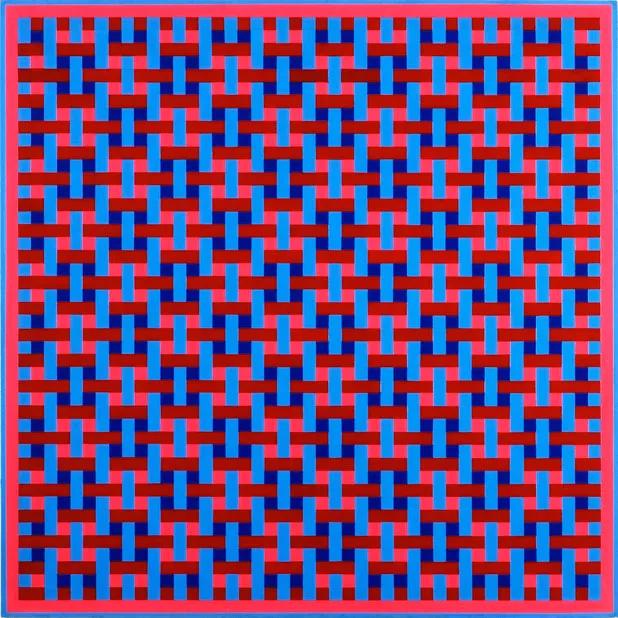 Overlap No.3 (Crimson and Blue), 1966 by Ernst Benkert
Two artists who taught and painted in Vermont — one briefly, the other for most of his career — are featured in a dazzling historical exhibit at a Manhattan gallery that runs through September 3.
Francis "Frank" Hewitt, who died in 1992, and Ernst Benkert, 82 and now living in Brooklyn, were initiators of an Op-Art collaboration known as the Anonima Group. The show at D. Wigmore Fine Art coincides with the 50th anniversary of the Anonima Group's founding in Cleveland, where Hewitt, Benkert and a third member, Edwin Mieczkowski, met as art students. The retrospective, called "Op Out of Ohio," also includes paintings in a similar style by Richard Anuszkiewicz and Julian Stanczak, who studied in Cleveland in the early 1950s.
The display at Wigmore of some half-dozen Hewitt works coincides with a show by his son, Corin Hewitt, at the Firehouse Gallery in Burlington.
A 1964 Time magazine story identified Frank Hewitt, who had studied for a PhD in the psychology of perception, as the main theorist of the Anonima Group. Rebelling against the emotive, egocentric outpourings of the abstract expressionists, Hewitt and friends painted in a precise, grid-based form that treated the viewer's own perceptual process as an integral element in the aesthetic experience.
Time quoted Hewitt as declaring, "If people find our art dull, that doesn't really bother us that much. The quality and depth of the experience depend on the willingness to perceive and persistence to overcome certain levels of frustration. We don't want to make our paintings popular."
All this intellectualizing and expressed disdain for the marketplace notwithstanding, Op Art has always been fun to look at — as the Wigmore show reaffirms. It's probably not a coincidence that these trippy works, which seem to vibrate on the canvas and float off the gallery's walls, emerged at around the same time as the LSD-fueled, psychedelic counterculture.
Some of the paintings are beautiful as well as mesmerizing. Hewitt's "Overlap Series," for example, combines value shifts of gray, blue, black and red in a strict geometric pattern to produce a sublime work of art. And, whether Hewitt would have approved or not, this painting proved popular enough for a buyer to lay out $25,000 to acquire it.
Benkert's "Overlap No. 3 (Crimson and Blue)" also stands out amid the 30 pieces at the Fifth Avenue gallery. The lines and colors of this basket-weave arrangement appear to move in and out and back and forth, although the effect is more enthralling than freaky.
In a telephone interview, Benkert fondly recalled the three years in the 1980s he spent teaching at the University of Vermont and painting in a studio on Hewitt's land in East Corinth. Although "there's not a Vermont stamp on my work," Benkert said, he regarded Burlington and East Corinth as "great places to work — very conducive to painting and drawing."
Benkert remembers Hewitt, a native Vermonter and longtime UVM prof, as a "big-hearted, enthusiastic man with an incredible amount of will power and stamina."
Benkert is now compiling a book of his drawings from that era and earlier. But his career as a creator of images came to an end about five years ago when, Benkert matter-of-factly notes, "I went blind."