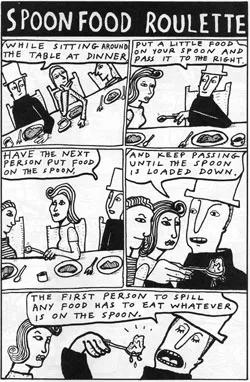 Author, musician and "stuntologist" Sam Bartlett recalls the first time he was thrown out of a restaurant. It was nearly 20 years ago, and he and some friends were eating breakfast in Amherst, Massachusetts, while experimenting with bending and folding straws. "I found that if I chewed one end of a straw and bit the very end into a kind of point, I could form a sort of double reed," he says. "I blew into it, and the most astonishingly loud noise came out. We just couldn't believe it, and neither could the staff. They asked us to stop, but we . . . well, we didn't. Now, I feel badly for disturbing the other people there, but at the time we were just too blown away by the discovery to care."
Bartlett, now 46, has been accumulating such playful "stunts," as he calls them, for more than 30 years. His new book, Stuntology: 304 Pranks, Tricks and Challenges to Amuse and Annoy Your Friends, is a wildly expansive compilation. Each stunt is depicted in comic-book-style panels, drawn by Bartlett. He just completed a weekend trip to Vermont, where he performed stunts at four venues.
Born in Burlington and raised in Shelburne, Bartlett now lives in Bloomington, Indiana, with his "incredibly patient" wife and three children. He has worked as a traveling musician for more than 20 years, many of them spent in Vermont. During the long hours languishing in motel rooms, or waiting backstage for gigs to start, he and his friends found interesting ways to enrage and/or amaze one another. A compulsive note taker, Bartlett would either write these stunts down or draw them, and over time he collected several hundred. Keen to share his "repertoire" but unable to get a publishing deal, he decided to self-publish.
Bartlett sold several thousand stuntology 'zines and guides independently over 15 years. One was discovered at a trade show by an editor in the children's department at Workman Publishing, and a deal for his latest book resulted.
"It's really an adults' book for children . . . or a children's book for adults," Bartlett equivocates from his home. "Better yet, it's just a guide to entertaining yourself in stifling situations."
One of Bartlett's early stunts occurred to him almost 25 years ago while he waited in line at Burlington's Howard Bank. "There was a mirror there that extended to the floor, and I was bored enough to attempt to replicate Michael Jackson's moonwalk, checking my progress in the reflection," he recalls. "I got the hang of the basics by the time the line was done."
Though it's not in his book, Bartlett regards moonwalking as a classic example of a stunt that takes a short while to learn but years to perfect. Likewise, Stuntology offers "Weird Neurological Stunt," in which a seated reader is instructed to rotate a raised right foot clockwise while drawing the shape of the number 6 in the air with the right hand (the leg only seems to want to rotate counter-clockwise). Then there's "Knot-Tying Stunt" — tying a knot by simply throwing an end-weighted rope into the air. "Just try either one," Bartlett says. "I know people who have been driven to near insanity, but once you've got it down . . . ridiculously satisfying."
The prankster admits that some of his stunts "are really best done by 12-year-olds." His graphic style is on the crude side, too. "After this long trying to make it as a musician," says the untrained artist, "I have to take for granted that I have a kid's sense of hope . . . at the very least."