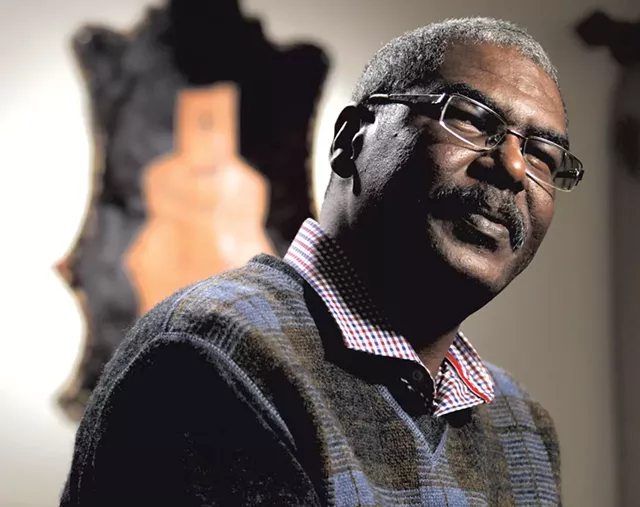 Matthew Thorsen
Ahmed M. Ahmed
Sudanese journalist and novelist Ahmed M. Ahmed, 46, got his first taste of social activism when he was about 15. Incensed that his school wasn't distributing enough bread, Ahmed and his classmates staged a protest. However, his teacher broke up the collective action within two hours, leaving Ahmed "very sad, very angry," he recalled.
Though short-lived, the incident was pivotal for him, said Ahmed, who now lives in Colchester with his family. "[That] was the moment I discovered myself: I'm a leader for problems."
By that he meant that he felt a responsibility to expose corruption, social ills and government failings. He did so by becoming a journalist. "People look to you as if you have the key to solve their problems," Ahmed said of that profession.
Ahmed was born and raised in the city of Kosti on the western bank of the White Nile River. He began writing at age 12, when he discovered that a book he was reading had several missing pages. He took it upon himself to imagine what those pages might have held. He showed his creation to a neighbor, who was a journalist. "You have a big future," the man told him.
After Ahmed entered high school in 1989, he began to write articles about the problems that students faced, such as exorbitant school fees. His writing often got him in trouble with local officials, he recalled. "They [thought] I was [going] to make the government collapse," he said, chuckling.
But Ahmed and his peers grew up at a time of significant political change. They were born only 15 years after Sudan gained independence from British rule. And in 1989, Omar al-Bashir led a coup against Prime Minister Sadiq al-Mahdi. Al-Bashir's government failed to provide basic necessities such as food, education and health care, and exploited the citizens' Islamic sensibilities, Ahmed said.
One organization, the Sudanese Writers Union, was repeatedly targeted by al-Bashir's regime and was forced to close. "The government in Sudan doesn't like intellectuals," Ahmed said wryly.
At the same time, Marxism and Russian intellectuals greatly influenced his generation. "We don't think there is a writer better than Tolstoy or Chekhov or Dostoyevsky," he said.
While at university in Omdurman, Ahmed started his own student weekly newspaper. His only guideline to his writers was, "Say what you want to say," he explained. But Ahmed had to quit after four months because he couldn't cope with the editing demands.
From the time he was a freshman at university, Ahmed earned an income as a history and geography teacher. But he never relinquished his passion and continued to write for Sudanese newspapers. Under the name "Ahmed Dhahiya," he mostly wrote about societal problems such as the collapse of the health care system, generational differences and the lack of post-colonial developments in Sudan. His first paid gig as a journalist came in 2001 with a newspaper in Khartoum, Sudan's capital, where he wrote for the cultural section and was a member of the investigations team.
Most Sudanese journalists are very poor, Ahmed explained. "If they're not poor, that means they're getting money under the table from politicians," he said.
One of his most important stories was about famine and corruption in West Kurdufan province. The provincial governor was outraged by the article and demanded that Ahmed retract it. A few days later, the province withdrew its advertisements from the newspaper and Ahmed was removed from the investigative team.
Ahmed didn't last long in journalism after that, he said, because security police kept following him and he didn't feel safe. In 2003, he fled to Cairo, Egypt, and sought refugee status. He got married in that city and declined to be resettled elsewhere unless his wife could join him.
The couple immigrated to New Jersey in 2006. They later moved to Maryland so that Ahmed's wife could get a college education. However, in 2013, she died of pneumonia. Ahmed later remarried, and the family moved to Vermont in August of this year.
Though Ahmed has lived outside his home country for nearly 15 years, he continues to write about Sudan for Arabic-language magazines. Little has changed in the nation, he noted. Generally, the public in Sudan doesn't take journalists seriously, except for those who have a track record of exposing government failings, Ahmed said. The government continues to suppress the flow of information, and reporters, he said, "are afraid of the government."
Ahmed is still a member of the Sudanese Writers Union, and that organization continues to experience intermittent crackdown, he said. He also has written 14 novels, three of which were published in Sudan.
His debut work, Martgelo: The memoir of al-haraz, published in 2002, addressed issues such as ethnic discrimination in his country. "I am not writing for people to enjoy," Ahmed said, "but [for them] to find themselves, their problems ... [to] analyze these problems and get some solutions."
Ahmed is currently working on his 15th novel, which focuses on Abu Sufyan, a famous figure in Islamic history.
While he would like to pursue journalism and write about his experiences in the U.S., Ahmed is aware that he needs to sharpen his English language writing skills. "I'm not ready yet," he conceded. In the meantime, Ahmed works as a machine operator at Keurig Green Mountain to support his family of three.
He's effusive in his praise of media in his adopted country. "You can't buy the press here," he noted. "They are very independent." And Ahmed is hopeful that American journalists' Sudanese counterparts will "keep trying to say the truth [and] make changes in the society."