Courtesy Of Elise C. Blair
James P. Blair
From its inception in 1888, National Geographic became synonymous with far-flung adventure and "exotic" encounters — at least for white audiences of the global North. Earlier this month, the magazine took a dramatic step toward acknowledging its historic perpetuation of ethnocentric and racist narratives. The magazine's first-ever female editor in chief, Susan Goldberg, introduced the race-dedicated April issue by addressing the publication's editorial failings.
For Middlebury's James P. Blair, 86, NatGeo's efforts at redress have provided an opportunity to revisit the three decades he spent as one of its staff photographers. Meantime, he's been immersed in a more localized study of image-making. For the past year, Blair has worked with the Henry Sheldon Museum of Vermont History and its Stewart-Swift Research Center archivist Eva Garcelon-Hart to curate the current exhibition, "Our Town: Love, Joy, Sadness and Baseball — 100 Years of Photography from the Sheldon Museum."
One particular photograph of Blair's has been widely circulated in recent considerations of NatGeo's legacy: a 1976 image of Winnie Mandela, South African activist, politician and then-wife of Nelson Mandela. Smiling, with her right fist raised high, Mandela stood before a rally crowd in Durbin.
The 1977 story, "South Africa's Lonely Ordeal," was written by William S. Ellis and included accompanying images by Blair. Both Goldberg and National Public Radio noted it as an earlier watershed moment in NatGeo's turn toward more accurate and equitable international coverage. It contrasts with a 1962 article that glaringly omits mention of apartheid. Blair called the latter story "a disgrace" in NPR's March 21 story "National Geographic Turns the Lens on Its Own Racist History." He replayed that interview for this reporter at his kitchen table last week.
"We changed the magazine," Blair told Seven Days, referring to the 1977 story. "It became much more direct and honest ... We effectively did what [Goldberg's letter] does — changed the magazine's editorial focus."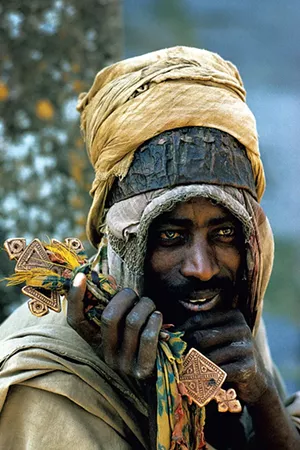 Courtesy Of National Geographic Society
Ethiopian priest by James P. Blair
Blair said he initially turned down the 1962 South African assignment, infuriating Robert E. Gilka, who served as NatGeo's director of photography from 1958 to 1985. Blair's reason? "We hadn't done an honest story on South Africa. If I had to shoot a story that was not honest, I wouldn't be able to live with myself."
With the encouragement of his first wife, World Bank economist Patricia Wohlgemuth, however, Blair pivoted. He decided instead that the assignment "would give [him] an opportunity to take good photographs and tell the story the right way."
The final work might not have been published at all, he said, if not for the explicit endorsement of two prominent journalistic figures: Walter Cronkite and Jim Hoagland. That year, the story earned Blair the Overseas Press Club of America Award for best photographic reporting.
In Middlebury, Blair recounted his photographic trajectory, aided by a self-published tome that chronicles his life and career. Its biographical text is by former National Geographic Society chief historian Mark Collins Jenkins.
Blair worked on staff at NatGeo from 1962 to 1994, retiring with his name on 46 articles and more than 2,000 photographs. He described his arrival at the magazine as "more or less an accident."
Growing up in Pittsburgh, an early Cub Scouts encounter with a darkroom ignited Blair's lifelong passion for the medium. He went on to study under Harry Callahan and Aaron Siskind at the Institute of Design at Chicago's Illinois Institute of Technology.
After graduating in 1954, Blair was hired as an intern for the Pittsburgh Photographic Library to work under Roy E. Stryker, former head of the Farm Security Administration's information division. Blair explained that his generation of photographers were strongly influenced by two entities: the FSA and French photographer Henri Cartier-Bresson.
While at the PPL, then-22-year-old Blair took a street shot of a nameless older woman, visibly poor and in distress. He said this image changed his life. "It had to do with recognizing I had a more serious responsibility than to snap pictures," he said. "I had to say something about the people I was photographing."
In 1954, Blair enlisted in the Navy and served as a lieutenant for two years. While at sea in the Gulf of Alaska, he took his first photograph to be credited in a major news outlet, LIFE Magazine.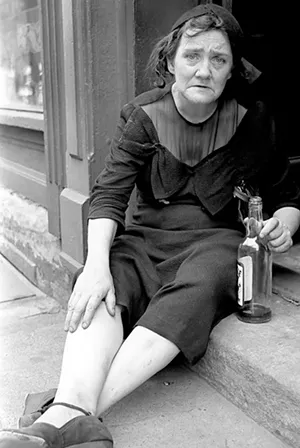 Courtesy Of James P. Blair
Drunk woman by James P. Blair
When he returned to Pittsburgh after discharge, Blair worked as a reporter and photographer for the local news, and took freelance assignments from the U.S. Information Agency, Time, LIFE and NatGeo, which lead to the start of his full-time position in 1962.
Back then, Blair explained, staff photographers were almost exclusively white men who had served in the armed forces or otherwise worked for newspapers.
"There was not an intention to employ different ethnic, racial and sexual groups," he said. "Bob Gilka was concerned with getting the best photographers."
(As of 2013, according to CNN, there had been just four female photographers on staff at NatGeo, in contrast to some 50 male photographers.)
When Blair took assignments, which he said lasted an average of six weeks, there was usually very little instruction. He, an interpreter and sometimes a driver would spend lots of time roving about, often with no defined goal beyond finding great subjects.
"[It was] all part of the plan to be open to the picture possibilities there might be," he said.
Blair sent film back to his editors for review every two weeks. "You didn't come home until [Gilka] said so," he recalled.
NPR's recent story featured criticisms claiming that the magazine presented an overly sunny outlook.
"This is not true," Blair said. "We covered the Second World War." In general, he maintained, "We covered what was there. We didn't try to find things that were not there or that fulfilled a particular political or social point of view."
But, of course, everyone has a lens. In some respects, Blair is a man of his time. "I had the last great photograph of a naked woman," he acknowledged, "as pretty as anything you've ever seen."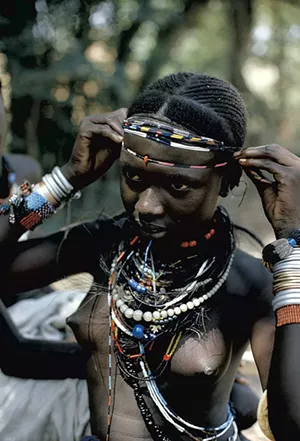 Courtesy Of National Geographic Society
Ethiopian girl by James P. Blair
The image in question was printed in the 1965 article "Ethiopian Adventure" and features a young, unnamed, bare-breasted Ethiopian woman.
"We're photographers," he said. "We show how beautiful everybody is.
"I don't remember seeing another full-page picture of a naked young woman ever again," Blair said, adding that he didn't know the reason. "All of this political correctness — which I'm all for — has only come around recently."
Blair also indicated that staff photographers were just part of a larger team. "It's not your magazine," he said. "It's your responsibility to get the information, get it to the editor and do everything you can to see that he or she runs a truthful, honest, complete, rational story. And if he doesn't, why would you want to work there?"
Though Blair's final assignment for NatGeo was more than 20 years ago, he isn't one for sitting around. "Why slow down?" he asked as he gave a tour of his basement darkroom and studio. Recently back from a monthlong vacation in Barbados, Blair showed off images with vivid, painterly abstractions of the island's sky. He hopes to exhibit them at Middlebury's Edgewater Gallery, which now represents his work.
Blair and his wife first began to visit the Addison County town seasonally in 1992. They purchased a home in 1994 and continued to summer there until Patricia's death in 2000. In 2015, Blair and his second wife, Elise, moved to Middlebury permanently. He quickly immersed himself in small-town life, including contributing photographs to the Addison County Independent.
Blair is involved in a handful of projects, but one in particular has recently come to fruition. About a year ago, he began to work with Garcelon-Hart at the Sheldon Museum to scan hundreds of early photographs from the archive's inventory of some 30,000 locally made images.
"We have a great archive," Garcelon-Hart told Seven Days, "[but] people are not aware of it." Blair refers to the Sheldon as a "little Smithsonian," she said.
Though not sure where their collaboration was going initially, Blair and Garcelon-Hart eventually landed on organizing an exhibition that would thread through the history of photography as it flourished in the Middlebury area.
"I was able to provide historical background," Garcelon-Hart said, "[and Jim] was able to pick things that appealed to him visually."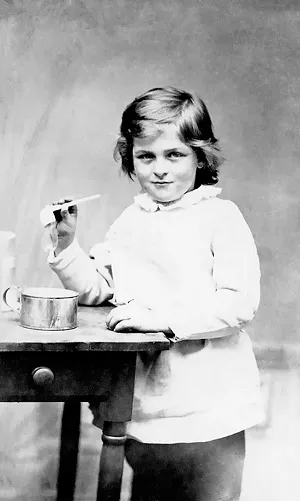 Courtesy Of Henry Sheldon Museum Of Vermont History
Courtesy Of Henry Sheldon Museum Of Vermont History
With about three dozen works, the show spans early daguerreotype and ambrotype portraits taken shortly after photography's formal invention in 1839 through photo postcards of the 1930s and later. Blair donated his time, expertise and top-notch equipment to the cause; the museum threw a benefit party to fundraise for framing and matting.
The result is an idiosyncratic journey through small-town history that touches on the built landscape, natural environment, and Vermont people of leisure and working classes.
A deliberately sparse selection of period-appropriate artifacts accompanies the exhibition. Garcelon-Hart's favorite is a handmade wooden contraption that appears to be a homemade camera. She hopes a visitor will be able to help her learn more about the object.
For his part, Blair is not inclined to leave behind the medium with which he made his name. "I still think it's magic," he said. "If it turned out that my place in photography was to stay in Pittsburgh all my life, that would've been fine. But it didn't happen that way."
Correction, March 31, 2018: An earlier version of this story misspelled Walter Cronkite's name.