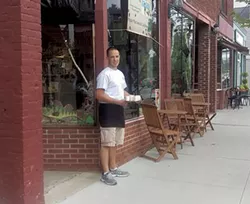 Courtesy of Eddie Woods
Eddie Woods
Since last October, Eddie Woods has been slinging espresso and pastries on the streets of St. Albans from the window of a 1976 Winnebago. Dubbed Off the Grid, On the Grind, the campy coffee truck was a regular at several locations around town, amassing a loyal local following.
Woods wanted a permanent location in town, but real-estate prices were steep. So when Just the Place owner Suzanne Butterfield offered him space inside her artisan market-café at 34 South Main Street, the two formed a partnership.
Woods moved his operation indoors and opened the Grind Café on September 1. Besides the expected cappuccinos, lattes and mochas — all made with beans from Vermont Coffee Company — the shop offers cold-brewed iced coffee. Woods plans to soon install a nitro system, which gives the cold brew a smooth, silky mouthfeel and rich head, similar to Guinness, he says. He also makes specialty layered drinks, such as the maple macchiato, which layers vanilla, steamed milk, espresso and maple syrup.
The shop serves fresh, handmade smoothies, and pastries and simple sandwiches from Mother Hubbard's Bakery, Deli & Country Store in St. Albans and West Meadow Farm Bakery in Essex Junction. Once Woods gets into the swing of things — he's planning a grand-opening party for October 3 — he'll host occasional live music, performances and other community gatherings.
As for the Winne-bago? It will still hit the road for events, such as Boyden Valley Winery's Harvest Festival later this month.