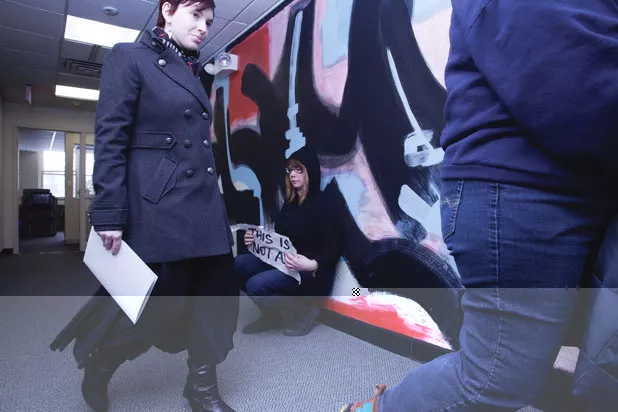 It's not easy to make a former Catholic Diocese headquarters feel like a college. Especially when every inch of wall space is covered in industrial-strength wallpaper, as is the case at Burlington College's digs in the New North End.
Fortunately, the college recently hired adjunct professor Dana Heffern, a seasoned interior designer and longtime Broadway scenic artist, and gave her free rein to redecorate the place. Heffern took the opportunity to infuse the old building with a welcome dose of youthfulness and color. "Give me a wall on each floor, and I'll trick it out," she recalls telling administrators.
Earlier this month, with the help of student Jodey Rasulo, Heffern pried off portions of the wallpaper, which she says "is as thick as a tire tread on a car," and spent the next week and a half painting what she calls "wallscapes" on each of the building's three floors.
They're not exactly murals, Heffern says. The painted walls will serve as vibrant, energetic backgrounds on which to hang student artwork. "They're beautiful support for the work that goes in front of them," she suggests.
Each wallscape has a different look and intention.
On the first floor, Heffern used loud reds, blues and black to create an abstract-expressionist piece. "It's bold, bombastic, a little dirty, a little street," she says.
On the second floor, which is home to the president's office and boardrooms, Heffern created a more subdued, calm wallscape with soft blue, green and peach hues. "I don't want to agitate here," she says.
On the third floor, which holds faculty offices and a student lounge, the wall appears almost to pulsate with red graffiti on pale pixels. "This one is about language and communication," says Heffern, noting that the vibrant red hieroglyphs are meant to symbolize the communication between students and teachers.
Heffern, 43, has had plenty of practice creating unique environments with paint. After graduating from Rochester Institute of Technology in the late '90s, she moved to New York City to work in the film industry. But the scenic artists working on Broadway quickly attracted her interest. "It's a pretty small club," she says. "It's hard to get into." But she did.
Over the next 15 years, Heffern worked on 200 shows, including Cats, Les Misérables, The Phantom of the Opera, Billy Elliot, Spring Awakening and The Lion King. If it was on Broadway during that time, chances are Heffern painted the scenery.
A few years ago, craving a lifestyle change, she and her husband moved to Burlington. Heffern enrolled in Goddard College's MFA program in interdisciplinary arts, where she created a performance-art/dinner-theater piece called Antidote about her experience with Type 1 diabetes. After graduating last year, she landed the gig at Burlington College.
"I consider myself an artist who stumbled across Broadway, and now I'm an artist who's stumbled onto advising and teaching," Heffern says.
As for those wallscapes, she hopes to change them every few years. "They should stay youthful, fresh," she