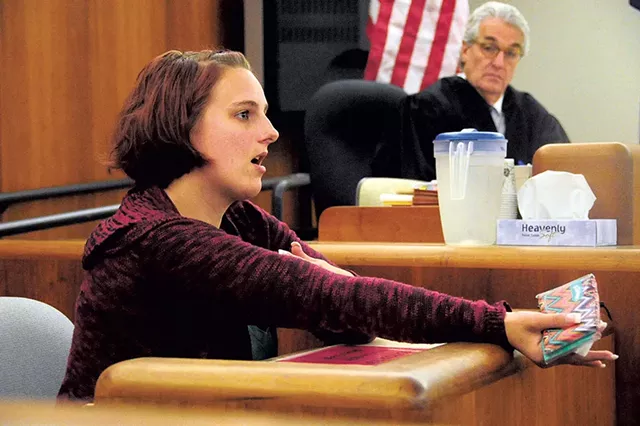 Stefan Hard/times Argus
Tiffany Herring testifying in court
Once they notice her name tag, many patients at Central Vermont Medical Center have asked Penni Herring:
"Are you related to the one that killed that DCF social worker?"
In a Barre courtroom last week, Penni explained that she doesn't necessarily mind being associated with quadruple murderer Jody Herring, her cousin by marriage. She's more upset that Jody's other victims — all members of the Herring clan — seem to have been largely forgotten.
"I say, 'My husband's sisters and mother were also killed that day — the news failed to tell the whole story,'" Penni said in court.
She's got a point.
Jody killed her two cousins, an aunt and Vermont Department for Children and Families social worker Lara Sobel in a rage after losing custody of her 9-year-old daughter. But headlines about the case in this publication and elsewhere dubbed Jody the "DCF shooter." Flags at the Statehouse were lowered to half-staff to honor Lara.
Then-governor Peter Shumlin attended a vigil in Lara's honor. State legislators eventually passed a law to protect social workers.
The deaths of sisters Rhonda Herring, 48, and Regina Herring, 43, and their mother, Julie Ann Falzarano, 73, have been treated almost as an afterthought.
In isolation, the triple homicide would have ranked as one of the most heinous crimes in Vermont history. Regina in particular suffered greatly: According to testimony and court documents, she watched, or at least heard, the other two women being gunned down. Regina barricaded herself in an upstairs room in a futile attempt to survive.
But the media attention focused squarely on Lara, whom Judge John Pacht said was "assassinated" while leaving work. She was on the phone at the time with her own 11-year-old daughter.
What accounts for the contrasting treatments?
Certainly, the killing of a social worker, motivated by the work she was doing for the state, is a highly unusual event that led to broader questions. And the circumstances of her murder, in broad daylight in the middle of downtown Barre, shocked the state.
But there was another factor at play that was revealed during last week's sentencing hearing: Class differences between the Herrings and the Sobels led to polarizing portrayals of the victims.
Lara, who grew up on Long Island, N.Y., had bachelor's and master's degrees from the University of Vermont. She taught Israeli dance in her spare time and occasionally vacationed abroad. Some of her friends and family flew in from the West Coast when they got word of her slaying.
"We and Lara's family are good people. We are decent, compassionate and respectful of the rule of law," Lara's sister, Lauren Shapiro, told the court. "We cannot forget this crime ... We do not deserve it."
Lara dedicated her professional life to helping people who struggle.
"She wanted people to see the problems of the world and care as deeply as she did," her longtime friend Rosalind Renfrew said during the hearing.
The Herrings needed more help than they got.
Their shared family history is a soul-crushing tale of rural poverty, generational abuse and trauma that, in the words of Jody's attorney, David Sleigh, "were it not all documented, many in our quiet state would simply reject it as impossibly untrue."
The horror was based for generations at the Herring family home, the erroneously named Happy Valley Farm: one thousand acres bisected by Route 12 alongside the Dog River, just south of Montpelier.
Stefan Hard/times Argus
Jody Herring conferring with her defense attorney, David Sleigh
Jody's grandfather, Frank Herring, had 16 children with his wife. He beat and raped them while they were growing up on the farm, according to testimony and court papers filed by Sleigh. After violating the girls, often at gunpoint, Frank, who had been abused himself as a boy, would lock them in a closet.
Jody's father, David Herring, was among the old man's victims. When he died of a gunshot — his death was ruled a suicide, but many family members suspect he was murdered — the mortician assumed he had been in a war because of the severity of his scars from child abuse.
Jody was close to her father when she was young, but David physically abused his wife, Jenella, and his son Dwayne, and Jody witnessed it all. After David's death, Jenella and her second husband beat Jody and her siblings regularly, according to testimony from family members. Jody and her brother left before they were teenagers and lived for a time in a car.
The Herrings, most of whom still live in central Vermont, had difficulty scraping together the money for burial plots and headstones for their three slain relatives. And as Jody sat in the Barre courtroom last week, police arrested her daughter Desiree Herring five miles away at a Cumberland Farms in Montpelier. Desiree had allegedly escaped furlough, just weeks after she was released from prison.
Mother and daughter now reside together in the Chittenden Regional Correctional Facility in South Burlington.
Jodi's cousins, Rhonda and Regina, and her aunt, Julie Ann, apparently lived quietly in central Vermont and avoided the worst of their family's troubles. None of them made it past high school. They played cards, fished, danced and raised children.
As the sentencing hearing drew to a close, Lara's father, Alex Sobel, gave a lengthy, eloquent statement that began with a philosophical discussion of the term "court" and proceeded to the nature of justice and, finally, the virtues of his deceased daughter.
"She truly embodied the definition of a beautiful soul," Alex said. "The world was brighter when she was here, and now she is not."
There was more rawness in the lengthy statements six Herring family members read to the court.
"We always prepared to fight our way against the world but never expected the hit from an insider," said Samantha Herring, a niece of the slain Herring sisters. "No Herring is ever truly alone, at least that's how I was raised. You protect your family. At the end of the day, all you have is family."
If anything united the two clans, it was their stance on Jody's sentence. No one spoke in favor of anything other than the maximum punishment.
"I ask this court to show no mercy, no compassion, and no leniency," Lara's sister, Lauren, said.
Richard Herring said that while he regretted that his cousin did not face the death penalty, he was comforted in believing "there is a place waiting for her" — alluding, of course, to hell.
When Pacht emerged from his chambers to announce his decision, he acknowledged the socioeconomic divide that had colored the proceedings — obvious, but unspoken — until the end. In remarks that lasted half an hour, he said he gave equal weight to the statements of both families. It was a clear nod to the Herrings.
"We have victims from all walks of life," Pacht said, "some who lived life with hardships in their daily existence, some who had more opportunity. And yet you were joined here today in a bond of sorrow and sadness of unspeakable dimension. Each one, whether stated in simple [terms] or those of a well-educated individual, were of equal beauty and equal power."
After Pacht announced he was sending Jody away for life without parole, several members of both families clapped. Others cried. Some chatted with reporters. A few shook hands with the prosecutors and, one by one, filed out of the courtroom.
Randy Herring, Rhonda and Regina's brother, left quietly. He had offered a particularly heartbreaking statement in court earlier in the day.
He said that he struggles to keep his anger at bay and goes for days without being able to talk openly with his wife, Penni. After the murders, he lost his job. A buddy gave him a new one, but it was at a work site near the home where his sisters and mom were killed. Seeing it every day brought him to tears. He quit after a month.
Randy said he still has trouble sleeping. When the nightmares and restlessness are too much, he hops in his truck and drives. He used to put about 4,000 miles a year on his vehicle. Since the killings, he's racked up about 20,000, driving the back roads of his home state in the middle of the night, trying to make sense of it all.