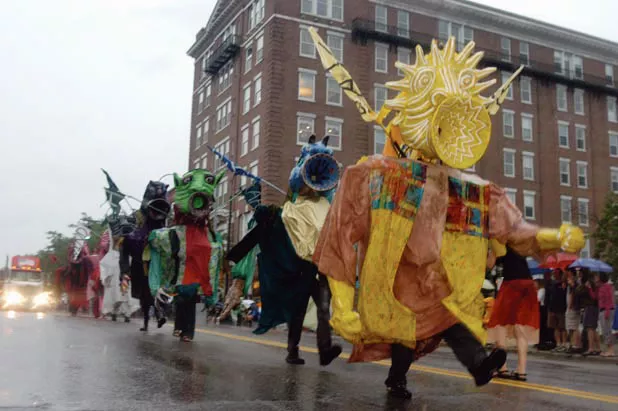 Champlain 400 Parade in 2009
Among the Lake Champlain Quadricentennial events you may have missed back in 2009 was the creation of a time capsule. No worries; it's still incomplete.
The stainless-steel box, measuring 2-by-2-by-1 feet, is intended mostly to preserve mementos from the celebration — commemorative coins, T-shirts, license plates, work plans, invitations, local press coverage. The idea is to provide a blueprint for Quincentennial planners, who will open it in 2106. Meanwhile, though, the box sits in the office of Nancy Bove, the special-events coordinator at Burlington Parks & Recreation. Asked what the time frame for the installation is, she chuckles: "It was, like, last August."
Bove is still waiting on contributions from several chairs of the celebration's various committees — educational, entertainment, French heritage and so on. The Abenakis have already submitted "a lovely document," she says, but she has let the deadline slide for others. "It's not always easy to get people as psyched about [the time capsule] as, for example, I am," she explains wryly.
Bove, who also produces Kids Day and Winter Festival, researched time capsules extensively for the project. From one book, she learned about a capsule in Pennsylvania that's "supposed to be opened in the year 6000. It's beyond my comprehension. You have to wonder, are people going to be speaking any language at that point?"
Most are opened after 100 years, she adds, though the company that manufactured the Quad capsule, Time Capsules, Inc., guarantees it for 500. The biz must have some cred: Its customers include the U.S. government — for which it created 56 Bicentennial time capsules, to be opened at the Tricentennial — and NASA.
In addition to a Lake Champlain Quincentennial road map, the Quad capsule will contain a "snapshot of the day," Bove explains: a book by Chris Bohjalian, a panoramic photo of city hall by Fred Hill, a poem by Yvette Mason — one of Bove's department colleagues. Schoolchildren's answers to a Q&A on life in 2106 will rest alongside a Lake Champlain Basin Program "State of the Lake" report about current pollution levels. And, of course, there will be a Ben & Jerry's pint cup.
"The ice cream has been washed out," Bove assures. "But we are putting in a Lake Champlain chocolate."
The "several-thousand-dollar" capsule is being funded by a grant from the Champlain Valley National Heritage Partnership and private donations. When it's complete, duplicates of its contents, as well as an inventory, will be placed in the Fletcher Free Library vault. Bove intends to register the capsule with Oglethorpe University in Atlanta, headquarters of the International Time Capsule Society.
Then it will be installed at the Champlain 400 Plaza, a pocket park at the corner of College and Lake Streets. That will bring the area's time-capsule count to three. (One is located at the Millennium monument in City Hall Park in Burlington; the other, inexplicably, at the University Mall in South Burlington.)
The site will be marked with a monument, carved from Isle La Motte stone by Trowel Trades Supply of Colchester, featuring an astrolabe — the navigation tool used by Samuel de Champlain. At the dedication and unveiling ceremony, everyone who contributed an item will receive an invitation to the 2106 opening. And, in 95-odd years, those contributors' descendants will probably pick up a commemorative cap and marvel, "How quaint is that?"