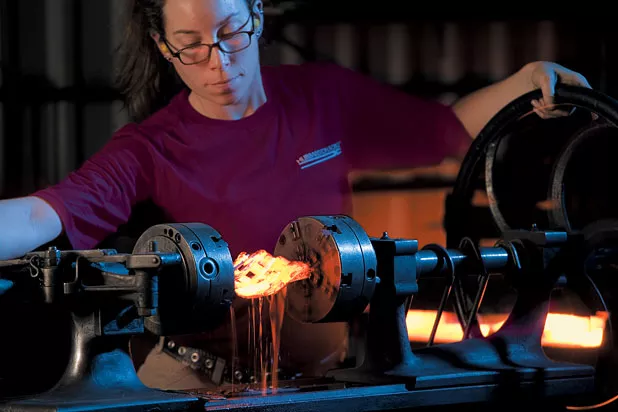 Consider the blacksmith. Whether it's Hephaestus, who forged the weapons of the gods in a volcano, or the soot-faced, pre-Industrial Revolution chap who fashioned wagon wheels and horseshoes, or the modern-day artisan taking candlestick orders through her website, the simplicity of the trade has always been elemental. Any blacksmith needs but three things: metal, heat and a hammer.
That's what George Chandler and Reed Hampton started with in 1972, when the two University of Vermont students found themselves in a studio sculpture class taught by Paul Aschenbach. Aschenbach, who grew up in Randolph, was the son of a blacksmith but honed his inherited abilities to create public art. His metal and stone sculptures have graced Vermont since the early 1960s, and he won a Lifetime Achievement in the Arts award in 1993 from the Vermont Arts Council.
Chandler and Hampton didn't have their sights set on careers in art or even blacksmithing; they were just looking for a break from their regular course loads in communications and political science, respectively. The thing was, they loved working with metal. Chandler, who was born in Reading, Pennsylvania, had an affinity for the design aspects of the medium. Hampton, a Rhode Islander, liked to tinker and excelled in mechanics and engineering. Aschenbach saw they had talent, and he let them use his forge for two years after the class ended.
In 1974, the Vietnam War drew toward its end, and Chandler, who'd had a worrisomely low draft number, revised his plans to go on to grad school. In short order, the two friends founded Hubbardton Forge & Woodworking in a decrepit old barn in the town with the same name. Thirty-four years later, the company — now called simply Hubbardton Forge — has 250 employees and is one of the largest producers of domestically made lighting fixtures in the United States.
I visit Hubbardton Forge on a recent morning when the peaks of Killington and Pico are dusted with early-season snow. The company is housed in a series of putty-colored corrugated-metal buildings, which don't give a clue to the nature of the work performed there or the beauty of the products that leave the loading dock every afternoon. Chandler, 58, has agreed to show me around, and I meet him among the cubicles on the office side of the operation.
Chandler seems to have a self-prescribed uniform: blue jeans, blue Oxford shirt, black belt and black shoes. He's wearing a variation of that ensemble in nearly every picture I've seen him in, except for those of his early days in the barn. He has dark brown hair and keeps his glasses on a lanyard around his neck.
We start in the prototype/design room — sensibly, because it offers a microcosm of the process the company uses to make lighting fixtures. The room resembles a miniature lighting-store showroom, with various table, floor and hanging lamps scattered about. The difference is that a hand-drawn sketch of each product is tacked to the wall beside the tangible prototype. At other companies, that "dialogue" between idea and execution might start in the U.S., where the product is designed, and continue in China, where the prototype is made. At Hubbardton Forge, it's a conversation between the design team and the prototyping department a few hundred yards away. "This is the type of collaboration you don't get when you ship it offshore," Chandler says.
All the products here have one thing in common: They're anchored by hand-forged steel. From there, the possibilities of style and function branch out into a thicket of permutations. Indoor or outdoor? Residential or commercial? Translucent or opaque finish? Art glass or stone glass? Halogen or incandescent?
These and other choices are made by customers, since each fixture is manufactured to order. Say you walk into City Lights in Burlington and choose a hanging lamp for your living room. The order goes directly to Castleton, and, 75 percent of the time, the finished item arrives at the retail store within five or six days. "It's not like we've made 1000 of that," Chandler says, referring to each fixture. "We've made one."
The backbone of each fixture starts as raw steel in the metal-craft section of the factory floor. This is low-carbon steel, also called wrought iron, and designers value it highly for its malleability. At about 1200 degrees Fahrenheit, it attains the flexibility of soft plastic. As we walk to the metal-craft department, Chandler shows me an assortment of jigs that have been fabricated to mold each piece of steel, and it quickly becomes apparent this is a labor-intensive process.
When we arrive, a female blacksmith is removing a molten steel rod from a forge oozing red, lambent light. Then she curls one end of it into a spiral on a jig affixed to a nearby workstation. Other pieces sit cooling before a circular fan. Behind the blacksmith, a family of anvils stands in a circle, waiting to be put to work.
When a piece of steel is heated and hammered into a form, its surfaces get rough and flaky. Chandler proves this by scratching a thin piece from a cooled component with his fingernail. That's why each metal part needs to be abraded and washed, he explains, as we enter the abrasion room. Here, big tubs and troughs are agitating violently, and the noise is deafening. A cheerful worker armed with hearing protection stands by and smiles as we check out one of the troughs. Inside is a soup of smooth pebbles, water and anti-rusting agents. Chandler reaches in with his bare hand and fishes out a chunk of metal that's being abraded. (Though the machine's still churning, his hand looks none the worse for wear.) He shows off its silky texture, then tosses it back to complete its treatment.
The production line continues with the finish department, where the metal is washed and dried, pre-paint assembly and powder coating are performed, and, once the pieces are all dried and sorted into orders, final assembly and testing are completed. Before an order is boxed up, workers choose custom shades and glass pieces from the warehouse, which holds a 60-day supply.
Hampton, the company's vice president for research and development, oversees the production floor and builds much of the equipment; he's also managed the eight or nine expansions of this building since the company moved here 20 years ago. Tall and powerfully built — think an industrial version of William Hurt — Hampton wears a flannel shirt and blue Dickies. He's made the blacksmithing trade more environmentally friendly while building the business with Chandler.
For Hampton, the key to Hubbardton Forge's identity is the organic nature of wrought iron. "We're trying to keep the hand-forged element very visible to the customer," he says. That's possible mainly because of the translucent finish the company engineered in the late '80s: It shows the forge marks and the texture from the fire, but doesn't rub off in the customer's hands as their first solution — beeswax — did.
While Hubbardton Forge has a strong consumer brand identity, it may be distinguished even more by its corporate persona and unique team of employees. The company has a policy of "open-book management," which means that it shares key financial data and statements with the workers, and gives them a "Finance 101" course so they can understand it all. The company also has a profit-sharing plan in which the first 7 percent of pretax profit is invested in the business and the rest is split between the company and the employees. Last year, Hubbardton Forge distributed $2.3 million in profits to the employees (Chandler and Hampton included), which amounted to 20 percent of base pay. This year, as the economy slows down, management has cut a few shifts but worked hard to retain all its workers. "We don't want to lose our greatest asset, which is our employees," Chandler says, "just because the country is in a panic."
That approach helps people such as Erica Peterson, a 28-year-old Rutland native, keep the job she has grown to love. Peterson came to Hubbardton Forge two years ago, after spending a few years as an amateur blacksmith. She was initially part of the forge team, then joined the assembly department; now she works in customer service. In her spare time, Peterson is taking business classes at the Community College of Vermont. She says the move to customer service was a long-term career choice, and she values the open-book corporate culture. "No matter where you are in the company," she explains as we sit in the cafeteria, "you know how you're helping the profits."
Chandler and Hampton inaugurated that policy a long time ago, when they found they'd rather show their first employee how little money the company actually made than let him assume the business was hoarding its wealth.
"We made no money at all," Chandler recalls of those years. After a few scary financial missteps when they were getting the business going, he and Hampton realized that "the numbers stuff is important," he explains. And the numbers look a lot better: Chandler says the company had revenues of $34 million last year. Its residential light fixtures sell for about $200 to $1000.
Domestic production is important, too. With factories closing in China and currency fluctuations shattering profit margins, Chandler thinks Hubbardton Forge's business plan will prove more far-sighted than those of its competitors. Their trade may date back to the Dark Ages, but these folks who light upscale homes' living rooms and hallways have made some enlightened choices that paid off.