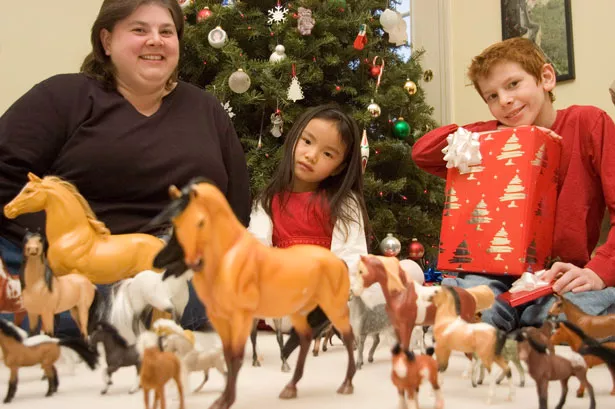 Matthew Thorsen
Meredith, Shea and Dustin Tomlinson
VERMONT - Meredith Tomlinson of Colchester is one lucky single mom: This spring, she'll fly to China to pick up her second adoptive child. But for other prospective Vermont parents, adopting foreign babies is proving to be an increasingly frustrating endeavor.
U.S. parents adopted more than 20,000 babies from overseas last year - a two-fold increase since 1989. About a quarter of babies in 2006 came from China. But adopting Chinese kids - the overwhelming majority of whom are girls - got a whole lot harder since the government instituted tighter regulations around parental qualifications. For example, you can't be fat, blind in one eye or over 50. Wannabe mommies and daddies who used to wait a year to get a Chinese child are now facing delays of up to three or four years. Local advocates say that trend applies to babies from such countries as Korea and Guatemala, too.
China is a "very, very popular family-building option" for Vermont parents, observes Ann Clark, director of adoptions at Shelburne's Adoption Advocates. Of the 30 adoptions the agency arranges annually, she says, roughly up to a dozen are Chinese - at a price of $30,000 each. In contrast, only two Chinese babies came through in 2007.
The Winooski- and Woodstock-based Vermont Children's Aid Society, which also handles about 30 adoptions per year, reports a similar trend. Director of Adoption Services Dorsey Naylor says that the Chinese share of her organization's total adoptions - typically as many as seven or eight - has "gone down some."
What gives? Some advocates suggest that China and other kid-sending countries are encouraging domestic adoptions, thus cutting back on infant exports. Baby waits are also related, they say, to the U.S. government's landmark December 12 ratification of the Hague Convention on Intercountry Adoption. Beginning in April 2008, the federal government will maintain a "centralized registry" for regulating international adoptions between the U.S. and other Hague Convention signatories.
Naylor of Vermont Children's Aid calls the treaty, which is designed to prevent child trafficking, "a step forward" in terms of human-rights awareness. She cautions, however, that the new configuration will likely create "concrn and resistance" among local adoptive parents - i.e., more red tape.
Indeed, when it comes to China's adoption policy, Vermont parents will find plenty to gripe about. In May 2007, the Chinese government stopped accepting adoption applications from single mothers such as Tomlinson. Adoption is limited to married couples, made up of a man and a woman, who have been hitched for at least two years. If either has been divorced, the time requirement increases to five years.
"Fortunately, I got in before the cut-off," notes Tomlinson, 36. She submitted her forms in December 2006.
The new regs from the People's Republic also specify neither of the adopting parents can suffer from any of 12 "conditions" including AIDS, "infectious disease," hearing loss in both ears, "anxiety neurosis" or "severe facial deformation."
On top of that, Chinese officials are now offering fewer of what Clark calls "healthy" kids. The two Chinese babies processed by Adoption Advocates this year were both "special needs." Meredith Tomlinson opted for a special-needs child - a decision that shortened her potential 2-and-a-half year baby-wait by several months. In 2002, by contrast, Tomlinson got her "non-special needs" daughter Shea from China in less than a year.
Not surprisingly, some prospective parents are changing course. According to Clark, more Vermonters will soon be sourcing little 'uns from nations such as Russia and Kazakhstan (also $30,000 per child, according to Clark). At $10,000 per kid, Ethiopia, Liberia and Rwanda are offering more affordable options. "I think we're going to see a changing international adoption map," she speculates.
"This is typical in the world of foreign adoptions - some countries are open, some are shut," Clark explains. The last country to severely tighten its adoption policies was India, she recalls.
Of course, there's always the people's republic of Vermont. Diane Dexter, who coordinates adoptions for the Department for Children and Families, did not return repeated phone calls for this story. But Dorsey Naylor estimates that the state offers more than 100 Vermont-born kids for adoption annually. Parents who provide a home to local special-needs kids receive state adoption subsidies.
Meredith Tomlinson says she once considered adopting a local baby. But after learning of a legal provision whereby biological parents can reclaim their kids within a few months of giving them up, she thought better of it. Plus, a humanitarian impulse beckoned Tomlinson overseas.
Her rationale appears to be a common one. According to Naylor, most foreign-adoption clients are patiently bearing the increased wait times. "Certainly, there's disappointment," she concedes. "So many people are coming to adoption out of loss to begin with" - 90 percent of them are infertile. "But these are strong people," Naylor asserts, "and the vast majority of them say, 'OK, this is the way it's going to be, and we're going to have to wait longer ?. . . so let's find ways to enjoy the present.'"
"Yes, the waits can be long, and there's a lot of paperwork," Tomlinson adds. "But at the end of it, I see my daughter's face, and I would do it a million times this way to bring more children home."