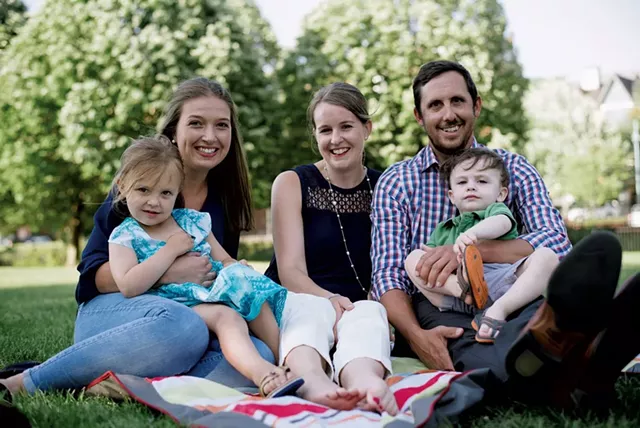 Becca Corneau and family with their first au pair, Louisa Gayer (left)
When Emily Peters was pregnant with her third son, she found herself in a childcare predicament. Her home daycare provider was diagnosed with cancer and closed up shop. Peters, a Colchester resident, initially found a childcare center with an infant slot for her baby, a preschool slot for her middle child and an after-school slot for her oldest. But it was expensive — more than $20,000 a year, Peters estimates. To complicate matters, her youngest son was diagnosed with severe allergies, which made her wary of dropping him off at a center, and her middle son was having trouble adjusting to the new program.
"It was super stressful and not very fun for anyone," Peters, a senior academic adviser at Champlain College, remembered.
That's when she began to consider getting an au pair. These foreign women and men, ages 18 to 26, come to the U.S. for up to two years to provide live-in childcare. The federal government created this cultural-exchange program in 1986, and it's administered by the U.S. Department of State, which contracts 16 private companies to implement it. While they're here, au pairs are required to take the equivalent of six postsecondary credits, and they can travel domestically for a month after they finish their service.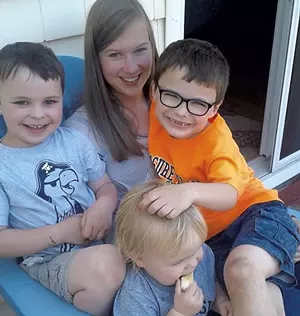 Au pair Sina Marburger with Emily Peters' sons
Peters, whose boys are now 7, 5 and 2, said she didn't initially imagine she could afford the arrangement. This is just for rich people, she remembers thinking. But when she contacted Cultural Care Au Pair, one of two au pair agencies that operates in Vermont, she crunched the numbers and realized that it was comparable to what she was already paying. (See "Show Me the Money.")
Eighteen-year-old Sina Marburger from Germany came to live with the family in July 2016 for one year. This summer, the family welcomed a second German au pair, Josi Halstenberg.
"Au pair" is a French term that means "on par" or "equal to," and Peters said her au pairs have become like members of her family. The flexibility of live-in childcare has been another boon. It allows her to get into the office early or stay late, work when the kids have a snow day, have someone to help with kid-related household chores like dinner prep and the boys' laundry, and shop for groceries solo.
A year and a half after she first contacted Cultural Care, Peters reached out to the agency again to ask how she could support the program locally. In February, she began working for Cultural Care as a part-time consultant, organizing monthly au pair outings and supporting Vermont families and au pairs when questions or challenges arise. She earns about $100 per month and gets an annual discount of approximately $1,000 on her own program fees. She said she's committed to having an au pair until her youngest son enters kindergarten. "I was totally skeptical," she admitted. "But now I think about it. Oh, my God ... My stress has gone way down."
Finding "The One"
Peters' family is one of 27 in Vermont that currently have an au pair through Cultural Care, which was founded in 1989 and is based in Cambridge, Mass. Another agency, Stamford, Conn.-based Au Pair in America — founded in 1986 — currently has eight au pairs in Vermont. The au pairs from the two agencies hail from Germany, France, Italy, Austria, Poland, Switzerland, Brazil, Thailand and Mexico.
The State Department sets rules all au pair agencies must follow. Au pairs are required to work no more than 45 hours a week and receive a $200 weekly stipend and two weeks of paid vacation per year. Host families must provide a private room and three meals a day. (See "Au Pair Guidelines.") Costs and procedures for the two agencies operating in Vermont are similar. However, while Cultural Care offers male and female au pairs, Au Pair in America works exclusively with women.
Host families likened the process of finding an au pair to online dating. Through an agency's website, families can view au pair profiles, which include a biographical essay, photos, information about childcare experience and a short video. Host families also create profiles, but au pairs can't see them until a family initiates contact. Families can narrow their search by selecting specific criteria, like the age of an au pair or whether the au pair has driving experience. Skye McIvor, public relations coordinator for Cultural Care, said her agency has specialists who help families navigate the online system and propose matches.
When a family finds a potential candidate, they customarily do one or two Skype interviews, then communicate via email until they're sure they've found the right fit.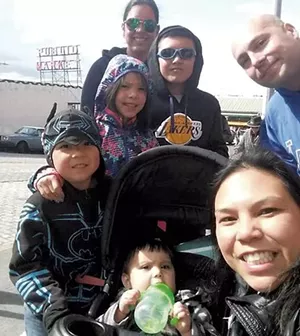 The Nystrom family with au pair Daris Diaz (top)
Genny and John Nystrom, who both work from home for U.S. Citizenship and Immigration Services, wanted a Spanish-speaking au pair for their four children, ages 2 to 13. Genny and John both grew up in southern California, and John's family is from Costa Rica. Their other criteria: someone willing to get a Vermont driver's license and who would be comfortable driving here, and someone who shares some of the same interests as their older children.
After interviewing nearly a dozen candidates from Au Pair in America, the Nystroms found Daris Diaz, a 24-year-old from Panama who's a sports enthusiast, like the family's eldest son, and enjoys doing art projects with their 9-year-old daughter. Diaz, who'd never been to the United States before, arrived in Vermont in the summer of 2016 and is currently several months into her second year with the Nystroms.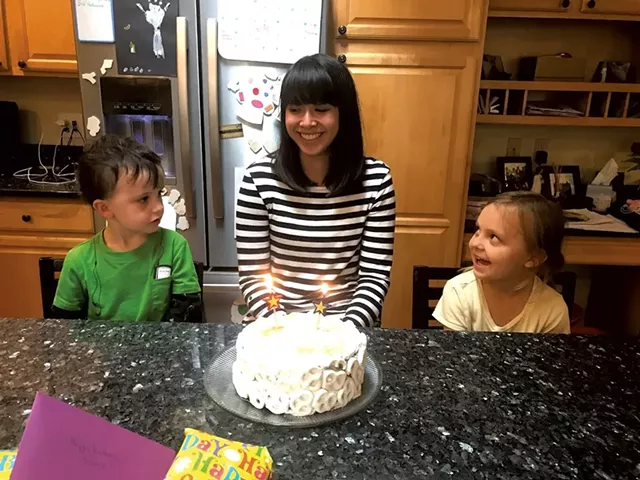 Becca Corneau's kids celebrate current au pair Jessica Heinze's birthday
Becca Corneau of Burlington, director of digital marketing for Waterbury-based skin-care company Ursa Major, said she pored over candidates' pictures and profiles on the Cultural Care website when she began looking for an au pair more than three years ago. At that time, her daughter, Piper, was a toddler and she was pregnant with her son, Oliver. Corneau interviewed two candidates via Skype and ultimately went with her gut in selecting 18-year-old Louisa Gayer from Germany. Corneau's instincts were spot-on. Gayer stayed for two years, and Corneau said her kids formed a deep "emotional connection" with her. This summer, the family welcomed their third German au pair. Corneau said the experience has been "wonderful."
To help find a good match, the Nystroms stressed that, during the interview process, it's important to be "up-front and honest" with potential caregivers about what Vermont is like. "There's not a beach here" and "It's really snowy" are two things Genny said she told potential hires. For some au pairs, those facts were deal breakers, but not for Diaz. In an interview at the Nystroms' home in a quiet South Burlington neighborhood, Diaz said she likes that Vermont is one of the safest states in America, and she loved seeing snow for the first time and trying out snowboarding last winter. She'd rather watch Netflix in her room during her time off than go out and party, she said, which makes her well-suited to this area. Vermont, she said "is 100 percent boring, and that is perfect for me."
Navigating the Transition
The Leeuw family with au pair Marlene Schulte-Körne (right)
Sarah and John Leeuw of Colchester, who both work for Dealer.com, have had six au pairs through Cultural Care — from Brazil, Switzerland and Germany — since 2013, when their youngest daughter was a baby. Two of them went home early because of homesickness. Leeuw recommends that once families find an au pair, they stay in regular touch with them leading up to the au pair's arrival. For her family, that's meant occasional Skype chats and becoming "friends" on Facebook and Instagram "so they can start seeing our life and we can see theirs, so by the time they get here, they already feel a little bit part of the family." In the case of her family's current au pair, Marlene Schulte-Körne, the family matched with her in April, but her start date wasn't until the end of July. Leeuw says she sent Schulte-Körne an 18th birthday card in June, just to let her know they were thinking of her.
Au pair Marlene Schulte-Körne
Despite such efforts, acclimation can be challenging for both parties. Families and au pairs are living and working together, after all, and they come from different cultures and countries. In 2015, Michelle Downes of Burlington, who works from home for IBM, used Au Pair in America to hire Thai au pair Wipada Kasikorn, who goes by the nickname Anna, to take care of her then-infant twin sons, Felix and Kermit. Downes said it took her a few months to get completely comfortable having another person always around, and she would do things like clean up the house for Kasikorn's sake. "I was a little uncomfortable with just letting things be reality," she said. But "it's just exhausting. You can't keep that up."
Au pair Wipada "Anna" Kasikorn with the Downes twins
When families are considering whether an au pair is right for them, Downes had this advice: "The au pair is going to see you argue with your spouse and yell at your children," she said. "So you have to ask yourself if you're comfortable really letting someone into your life."
For Downes, the language barrier also proved tricky to navigate. The family relied on "a lot of demonstration" to teach Kasikorn how to do things like change cloth diapers and make bottles, Downes said. And, at first, Kasikorn had difficulty communicating her feelings and more nuanced concepts. As a result, Downes and her husband tried to simplify their language when Kasikorn was around.
Even though she had taken English classes in Thailand, Kasikorn admitted, "I was scared to speak English." But at some point, Downes said, she "just got over it and started talking."
For the Nystrom family, meals posed a bit of a challenge. Diaz didn't like certain foods and thought meat was served too rare, she said. But she voiced her concerns to the Nystroms and was able to find foods she liked. She now considers herself a fan of two things she never tried in Panama: barbecue and Vermont maple syrup.
Corneau said she found out early into her first au pair's year that clear communication is key to success. An incident in which the au pair put her then-2-year-old to sleep in a hotel room, then left to go to another room in the hotel — something that would have been acceptable in Germany but which Corneau found alarming — led to an important realization. "I learned you can never be overly explicit. Explain as much as possible," Corneau said. "Now the au pairs are probably like, 'OK, lady, I get it.' I need to over-explain because there are language barriers and cultural barriers. That was a huge lesson for me."
Mutual Benefits
To help ensure that things go smoothly, local au pairs have monthly group outings, facilitated by a local community counselor, during which they visit different places in Vermont, talk about life in the U.S., and address questions or problems, such as homesickness or issues with a host family.
Inevitably, there are some au pairs and families that just don't jell. When that happens, with the agency's help, the family is able to choose a new au pair and the au pair has the option to be placed with another family. Cultural Care declined to provide the exact percentage of au pairs that are rematched, but public relations coordinator McIvor said "the vast majority of au pair placements are successful from start to finish." Local counselor for Au Pair in America Annemarie Furey said that her agency had just one au pair rematch this year in Vermont because the au pair wanted to move to a warmer climate. Much more common, said Furey, is for an au pair to extend a one-year stay to two years.
When the match is a good one, it benefits both host families and au pairs. All five families interviewed for this story said that having an au pair makes parenting easier. Downes described some of the ways that plays out: She can let her now-toddler twins have a relaxed morning instead of rushing them out the door to daycare; she's able to stop working to take them to their doctor's appointments and then have the au pair work a little later; and she and her husband can schedule regular date nights.
The Nystroms value the cultural component of the experience. They lived in Germany before moving to Vermont four years ago and hosted Japanese exchange students while living in California. "The exposure to another language, another culture, is great for children," Genny said. And having someone from a different country living with them encourages the family to take more local sightseeing excursions than they otherwise might.
For au pairs, living with an American family provides an opportunity to strengthen their English skills and see new places. Diaz went to the Outer Banks in North Carolina and on an Alaskan cruise with the Nystroms last year. Kasikorn, who'd never flown before becoming an au pair, traveled with the Downes family to San Francisco and on her own to Washington, D.C., and Los Angeles. And Schulte-Körne, who's been in the U.S. just a few months, has already taken road trips to Boston, Montréal and Portland, Maine, with other au pairs she's befriended.
There's also a more sentimental side of the arrangement. The families interviewed all say they've formed special bonds with their au pairs. During her stay, Kasikorn cooked Thai food for the Downes family once a week. This summer, Genny Nystrom and her four kids went to Panama with Diaz so they could see where she was from and meet her family. And Schulte-Körne joined the Leeuw family for a hike and brunch on a recent weekend to celebrate Sarah's birthday. Sarah Leeuw described the scene when an au pair goes home. "Everyone's at the airport crying," she said. As her kids have gotten older, it's been more difficult to say goodbye, but they keep in touch with all but one of their au pairs and plan to travel overseas to visit them when her 2-year-old daughter is a little older.
A few days before Kasikorn headed home to Thailand, while a new Brazilian au pair watched the boys, Downes and Kasikorn sat down for an interview.
"She took care of our children for two years and was so loving, and they're so attached to her. And not that they'll never see her again, but it will be a long time before we travel to Thailand," Downes said.
Kasikorn will take home memories of going to the library with Felix and Kermit, sitting together on the big swings at the waterfront and riding the bus to Oakledge Park. "I love the boys so much," she said.
"You have to be a flexible, open-minded person to even consider doing this program, to move to a place you don't know," Downes said. "It's pretty amazing that these young women take this leap of faith."
For more information, visit Au Pair in America at aupairinamerica.com and Cultural Care Au Pair at culturalcare.com.

Show Me the Money

Average Daycare Expenses
$189/week per child under 5 for home daycare

$244/week per child under 5 for daycare center

Total for two children under 5 in full-time daycare at a center: $25,376 per year*

*All figures are approximate and reflect Chittenden County childcare costs. Source: Child Care Resource in Williston

Au Pair Host Family Expenses
$200/week, 3 meals/day and

$500/year toward academic coursework for au pair

$8,000-9,000 annual payment to au pair agency

Total: $24,000-25,000 per year*

*Total cost includes extras such as cellphone service, gas, toiletries and vacations.
Au Pair Guidelines
The U.S. Department of State regulates the au pair program and sets specific requirements for au pairs and host families.
Au pairs must be between the ages of 18 and 26, must have graduated from secondary school, and must be proficient in English.

Au pairs must pass a background check and receive a minimum of 32 hours of childcare training before starting work.

Once in the United States, au pairs are allowed to live with a host family for 12 months, with the option of extending their work as an au pair by six, nine or 12 months. The J-1 visa allows au pairs to take an additional month to travel in the U.S. upon successful completion of their service.

Au pairs must provide up to 10 hours a day, and 45 hours a week, of childcare. They are entitled to two weeks of paid vacation per year and one complete weekend off each month.

Au pairs must complete at least six credits at an accredited postsecondary educational institution during their stay.

Host families must provide the au pair with a suitable private bedroom. A bathroom may be shared.

The 411 on J-1 Visas
Foreign au pairs come to the United States through a J-1 Exchange Visitor Program, which provides visas for people to participate in work- and study-based exchange opportunities. Administered by the U.S. Department of State, the program admits around 300,000 foreign visitors from 200 countries and territories each year.
Camp counselors, college students, research assistants, professors or scholars, physicians, teachers, and others are also covered by the J-1 visa. Eighty-six percent of them are 30 years of age or younger.
In August 2017, the Wall Street Journal reported that the Trump administration was "considering major reductions in cultural exchange programs, including those for au pairs and summer workers" as part of the president's "Buy American and Hire American" executive order, issued in April. Shortly thereafter, a petition from Cultural Care Au Pair began circulating on change.org, asking people to "Save the J-1 Au Pair Program." To date, nearly 28,000 people have signed it.
On September 7, the U.S. Senate Appropriations Committee passed an amendment to the federal budget — cosponsored by Sen. Patrick Leahy (D-Vt.), Sen. Chris Coons (D-Del.) and Sen. Lisa Murkowski (R-Alaska) — designed to ensure that any changes made to the J-1 Exchange Visitor Program be done publicly, in consultation with Congress and through a standard federal regulatory process. In December, if Congress approves the federal budget, the amendment will likely pass into law.