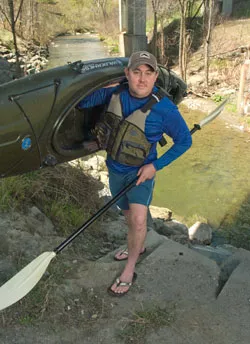 Few Vermont restaurants have garnered as much national attention as Hen of the Wood at the Grist Mill in Waterbury. Writers for the New York Times, Food & Wine magazine and the now-defunct Gourmet have waxed eloquent about both the restaurant and its young chef-owner, Eric Warnstedt. For two years running, Warnstedt has been a semifinalist for the James Beard Foundation's "Best Chef Northeast" award.
We wanted to know how he feels about long hours, Vermont wines, anonymous restaurant critics and other issues. So we put him on the grill.
How did your family eat when you were growing up?
I grew up in South Florida, outside of Fort Lauderdale. We ate well and ate at the table every night, but it was never high end. We had fish sticks at home, but we went out for stone crab, and really great fruits were a big deal. I feel like we did better than most people.
Name three foods that make life worth living.
Stone crabs, raw oysters and raw oysters.
What's the last thing you ate?
I had some scrambled eggs on toast with ramps and goat cheese.
What foods are always in your pantry?
I don't eat at home that much, but I always have a block of cheese, Vermont Smoke and Cure Pepperoni, a couple different kinds of mustard, eggs and lots of booze. The cheese and pepperoni are good late-night snacks with mustard.
Describe your best meal.
I'm pretty steady with what I like — I don't have a lot of highs and lows — but one of the best meals I've had in recent memory, probably the best thing in the last few years, was a lamb trio at The Green Cup [in Waitsfield].
What's your favorite cookbook?
I look at cookbooks for inspiration; I don't really cook out of them. My favorite book is probably googletag.cmd.push(function() { googletag.display('div-gpt-ad-7d_mobgold2_300x250'); });