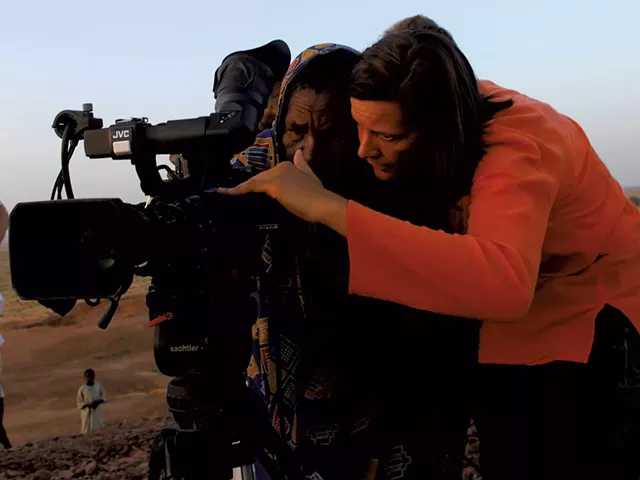 Courtesy of Middlebury New Filmmakers Festival
Cameraperson
As Hollywood makes its annual shift from fall "prestige season" to the post-Oscars winter doldrums, the quality of cinematic fare inevitably dips in concert with the thermometer. But Vermont audiences will have multiple opportunities this winter to escape the cold and watch acclaimed films in a theatrical setting.
On Friday, January 13, the 14th annual MountainTop Film Festival commences at the Big Picture Theater in Waitsfield. The 12-film fest, which runs through January 19, is timed to coincide with Martin Luther King Jr. Day. It takes its name from King's famous "I've Been to the Mountaintop" speech, which he delivered in Memphis, Tenn., the day before his assassination.
Festival founder and director Claudia Becker notes that, while the event initially focused specifically on films spotlighting civil rights topics, it's been expanded to encompass a variety of social issues. This year's lineup features movies that examine the global refugee crisis (After Spring and Fire at Sea); the Israeli-Palestinian conflict (Disturbing the Peace); and the controversial U.S. drone war (National Bird). There's also a strong environmental focus, with screenings of the big-ag exposé Seed: The Untold Story and the climate-change doc Before the Flood, coproduced and narrated by Leonardo DiCaprio.
Denial addresses the seemingly unrelated issues of gender identity and the impact of electric power on climate change. Directed by Vermont native Derek Hallquist, the film tells the story of Christine Hallquist, the CEO of Vermont Electric Cooperative who publicly changed gender expression from male to female last year. The filmmaker is her son.
"I made this film with others who agree with me on one major point: We can't ignore facts any longer," Derek Hallquist stated in the film's press kit. "This movie is meant to prove that, although very different, life is better when you accept reality and move forward."
The filmmaker will be present at the January 15 screening of Denial; Christine Hallquist will join her son for a Q&A after the following day's screening.
King's legacy is most strongly invoked in the festival by I Am Not Your Negro. Raoul Peck's documentary uses passages from James Baldwin's unfinished book Remember This House as a springboard to examine the black experience from the civil rights era to the present. It will also be shown on January 26 at Main Street Landing Performing Arts Center in Burlington as part of the Vermont International Film Foundation's monthly screening series.
"I was really excited to get that film," Becker says. "I always try to have at least one film that more directly relates to the legend of Martin Luther King and generally the civil rights movement in America, and this is a really great pick for that. I'm very, very proud to have that in the festival."
Barry Jenkins' Moonlight, a harsh but poetic telling of a gay African American youth's coming of age in Miami's Liberty Square housing projects, will be screened at both the MountainTop fest and the Middlebury New Filmmakers Festival's second annual Winter Screening Series.
"It is one of the most sensitive treatments of a difficult subject I've ever seen," says MNFF producer Lloyd Komesar of the film that's been generating substantial Oscar buzz.
Komesar points out that, unlike MNFF's flagship summer event, which focuses on films that haven't received wide distribution, the winter series includes movies already in commercial release. He also clarifies that the term "new filmmakers" comprises first- or second-time directors of feature films, regardless of their prior experience in the industry.
The series kicks off on January 15 with Cameraperson, the second feature-length documentary directed by veteran cinematographer Kirsten Johnson. The screening will be introduced by renowned photographer and Middlebury resident James P. Blair.
"I asked him to introduce the film because they're kindred spirits. Jim Blair may be one of the top two or three most decorated photographers in the history of National Geographic magazine," Komesar says. "He's traveled the world, he has been in places that many of us will never get to, and I thought that there was sort of an inherent kinship between how he puts eyes on the world and how Kirsten Johnson does it."
The MNFF winter screenings also include the Oscar-short-listed documentary The Eagle Huntress and Michaël Dudok de Wit's dialogue-free animated feature The Red Turtle. Rounding out the five-film series is Off the Rails, a doc about the strange-but-true story of Darius McCollum, a man with Asperger's syndrome who was jailed 32 times for impersonating New York City subway conductors and bus drivers. The film will be introduced by Vermont resident Jude Domski, who wrote a play about McCollum and connected the film's director with its subject.
Komesar says that if this year's batch of winter screenings proves as successful with audiences as the 2016 series did, he and MNFF artistic director Jay Craven might consider adding a December holiday film.
"This year's crop of films, I just have to say, we're lucky to get this group," Komesar says. "It's developing into a good tradition for us to have."