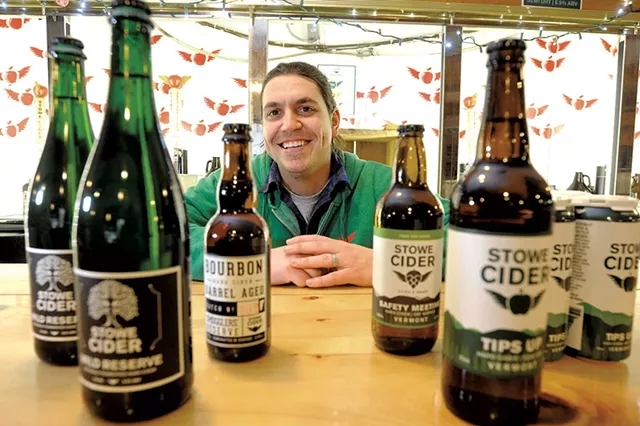 Jeb Wallace-brodeur
Mark Ray
To borrow a phrase from Citizen Cider, it's time to "get excidered." The second annual Vermont Cider Week kicks off this Friday, February 26, with an adult-only after-hours tasting at ECHO Leahy Center for Lake Champlain in Burlington. The "week" actually lasts nine days this year, through March 6.
In bars across the state, cider will temporarily take over some of the beer taps, tastings will pop up all over the state and cider makers will partner with restaurants to host cider-pairing dinners.
Eleanor Leger, board member of both the Vermont and U.S. cider makers' associations and the owner of Eden Ice Cider, is hopeful that Cider Week will open people up to more varieties. She'd also like to see cider get a permanent place at the table.
"It'd be nice if we could get to a point where people say to themselves, 'I'm having X for dinner tonight. Do I want beer, wine or cider?'" she says, adding that a well-stocked kitchen would include "white, red, beer and cider."
Jeb Wallace-brodeur
Co-owner Stefan Windler filling bottles at Stowe Cider
Seven Days met up (separately) with two Vermont cider makers, Mark Ray of Stowe Cider and Colin Davis of Shacksbury Cider, for schooling on how to choose the best cider for your meal. Both companies will host dinners during Cider Week — Shacksbury's on Thursday, March 3, at Misery Loves Co. in Winooski, and Stowe Cider's on Friday, March 4, at Michael's on the Hill in Waterbury Center. As of press time, both events had limited seating available and were expected to sell out.
SEVEN DAYS: So, Michael's on the Hill. How did you set that up?
MARK RAY: Michael's seemed like a natural fit. They stand for a lot of the same stuff we do, like using local ingredients. Plus, they're my neighbors.
SD: What ciders will be on the menu?
MR: We decided to feature some of our more rare ciders. We're releasing one for the first time at the event.
SD: Oh, do tell.
MR: It's the GoldRush. It's kind of like a Chardonnay — it's tannic, and there's some acid, but it's buttery. It's a whole new category of cider. We like to call it our masterpiece.
SD: Which of the pairings on the menu are most exciting to you?
MR: Without a doubt it has to be the aged Tarentaise soufflé with frisée, walnut and pomegranate paired with the GoldRush.
SD: One of the pairings is a cider-glazed pork shank with greens, polenta, pickled apple and brown-sugar bacon with the Smugglers' Reserve bourbon barrel-aged hard cider. What was the thinking there?
MR: You know a lot of cider is high in acid, and that goes really good with savory things like red meat and pork. The bourbon cider makes a really nice glaze. And the cider itself is smooth and oaky, with some smoke.
SD: In general, how did you create the pairings?
MR: We took a bunch of cider over to Michael's. They had their chefs and sous chefs, and we popped some cider open. Everyone had a chance to weigh in.
SD: What makes cider good for pairing?
MR: Cider today is so diverse that there is an unlimited amount of flavor profiles you can achieve and pair with. Depending on the production methods, apples used and the ingredients incorporated, there is everything from earthy, fruity and floral to sweet, acidic and tannic. The possibilities are really endless.
SD: Which of your ciders is a good go-to for just about any dinner?
MR: Tips Up. It's the least complex and most palatable. Also, it's in the middle between dry and sweet.
SD: How old were you when you had your first hard cider?
MR: Is this a trick question? Are you a cop? Just kidding. I sipped my first cider at a very young age. Let's just leave it at that!
SD: What tips do you have for home cooks about pairing ciders with dinner?
MR: Consider the flavors of your food and the weight of the dish. If you're having a heavy dinner, go for a dry cider with a light body. If your food is on the light side, go for a bolder cider. You want them to complement each other.
courtesy of Michael Tallman
Colin Davis
SD: You've done a few of these cider-pairing dinners before. What have you learned?
COLIN DAVIS: I think that the kind of cider we make is best understood in the presence of food. The other thing is that it's been interesting to see how excited chefs are about using cider for pairings. I think that's because it's something new and interesting. It's not same old lineup.
SD: Do you think it's harder to pair beer or wine with food than cider?
CD: I think cider is a great alternative to wine. It offers a lot of what wine does offer but with less alcohol. It's a more casual pairing. I think alcohol can really get in the way of food sometimes. Cider has a nice subtlety to it.
SD: How old were you when you had your first hard cider?
CD: That's a good question. It wasn't that long ago. The first cider I had that made me really pay attention to the category was a Basque cider called Isastegi.
SD: What was so special about it?
CD: It was so unexpected the way that it tasted. It was complex and unlike any alcohol I had prior to that.
SD: What's your favorite cider right now?
CD: Our Superstar.
SD: Which of your ciders is the best go-to for dinner at home?
CD: [Picks up Classic.]
SD: What flavors in the Classic make it so versatile?
CD: Here, you can drink it while I tell you about it [pours taste in glass; hands to reporter]. I love, love, love the nose on that. The Classic is lower in acid than a lot of cider but still has some nice acidity. It's got a little bit of residual sugar, so you get some nice fruit and sweetness. It's got some really nice soft tannins and just a little hint of earthy, barnyard-y character. So I think that the sugar and the fruit character make it an excellent pair for desserts. It's also great with more deep umami flavors like mushrooms and truffles. The acidity makes it a great pair with a lot of cheeses.
SD: Do you have any other tips for pairing Shacksbury ciders with food?
courtesy of Austen Diamond
CD: Generally speaking, our ciders are drier and more tannic. But I think, also, they're very food-friendly. If you don't have a plan in mind, the Farmhouse and especially the Classic are versatile. They will make virtually any food taste better, in my opinion. Ciders like Arlo or Basque are very dry and have a lot of acidity and some other funky flavors that I think require careful consideration. They're both great grilling ciders because the acidity and earthiness and tannins in those are just fantastic pairs with salty, greasy food. Steaks, surf 'n' turf, chorizo ... I'm still surprised sometimes. I have an idea about what's going to pair well. Sometimes I'm like, Oh, that's not going to be good together, and then it's really good. I certainly don't have all the answers.
SD: Do you have an example of that?
CD: I was doing a class with Michael [Lee, of Twig Farm], and we had all of his cheese out. His washed-rind cheese is very stinky, in a great way, and meaty. We paired it with one of our ciders called Hereford, which we've discontinued. It was one of the sweetest ciders we produced. I wasn't expecting that to be the one that paired best, and it was just incredible.
SD: Anything else you want people to know?
CD: I would encourage people to consider cider as something that enhances an eating experience and to experiment, because not everyone's palate is the same. There's no one right answer, thank goodness.
SD: What should we know about your Misery Loves Co. dinner?
CD: There will be at least one cider there that you won't be able to get anywhere else, so it will be special in that regard.