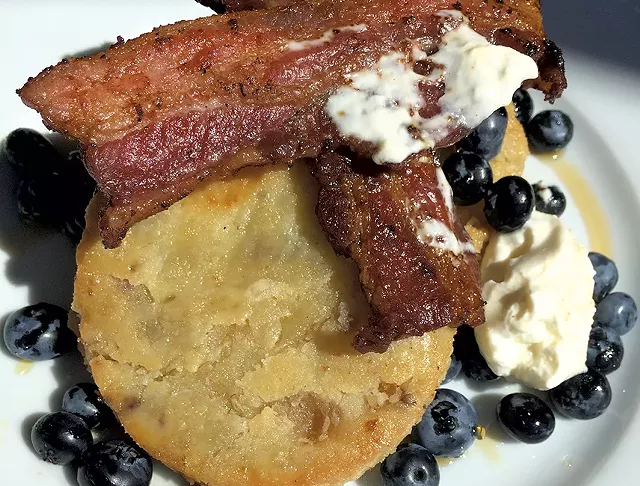 Gloucester pancakes at Lawrence
Each week, five or six pigs, slaughtered and split in half at one of Québec's certified abattoirs, arrive at Boucherie Lawrence in Montréal's artsy Mile End district. "We carry them off the truck on our shoulders," said the butchery's co-owner, Sefi Amir. "We put them on the table and do all of the processing immediately. Everything is predestined for something."
Most of those "somethings" are delicious. Bellies are cured into bacon; hams are brined and smoked; trotters are braised and turned into fruit-and-nut-studded terrines. Even the ears and skin have a use: They're dehydrated and sold as dog treats. "A lot of people who care about what they eat [also] care about what their pets eat," Amir noted.
Aside from crafting puppy snacks, what's the secret to using every porcine part from trotter to snout, without giving customers pig fatigue? In this case, it involves owning more than one business.
Amir and her business partners, Ethan Wills, Annika Krausz and chef Marc Cohen, have a trio: a restaurant called Lawrence, a wine and tapas spot named Larrys, and the boucherie (butcher shop). All are within steps of one another at the corner of Boulevard Saint-Laurent and Avenue Fairmount East.
I discovered the butcher shop by accident last Thanksgiving. I'd made my first pilgrimage to the Marché Jean-Talon — a huge food market in Little Italy — and then wandered down Saint-Laurent to see the sights, camera in hand. Through the boucherie's window, I spied a meat case filled with thick pork chops, roasts and salami. I bought my fill and bonded with a butcher, who sent me down the street to lunch at Lawrence.
Back in the city last week, I made it my mission to dine at both Lawrence and Larrys and to learn more about how the businesses support one another and intersect.
On a sunny Saturday, I waited a reasonable 20 minutes for a table for five at Lawrence, the quartet's flagship, which opened in 2010 to much acclaim. As we partook of brunch, it was easy to see why restaurant critics and customers love the place. Doughnuts — delicate puffs of dough rolled in sugar and filled with lemon curd, vanilla pastry cream and chocolate — arrived at the table steaming, the fillings gooey and plate-licking good. The Bloody Mary, just $8 Canadian, was fresh tasting and rimmed with a crust of celery salt. Sun shone through the many windows, giving everything a warm glow.
We basked at our red-lacquered table until the entrées arrived. Thick Gloucester pancakes — more like scones than crêpes — were sprinkled with blueberries and daubed with ricotta. It's just one of the dishes that highlight chef Cohen's British heritage. There's also kedgeree, a savory, raj-inspired concoction of smoked fish, curried rice and boiled egg.
Pork products show up in seven of the 11 current entrées (although counting instances of bacon on a brunch menu is kinda cheating). Along with the usual sausage and ham dishes come several offerings that are distinctly gutsy: a deeply browned patty of scrapple with sunny-side-up eggs and bacon; stewed jowl with braised greens and more eggs. Kidney is on the brunch menu, too, although not specifically marked as pig kidney.
In fact, nothing betrays that any of the products are out of the ordinary, let alone made two doors down by the restaurant's proprietors themselves.
Lawrence's menu, in French with English translations, makes no mention of farms or artisans at all. Our server answered questions, took orders and cleared briskly but didn't recite a paean to local agriculture. It was harvest season, and those were probably local tomatoes and fennel that we found stewed into a sauce for one vegetarian offering, but we couldn't be sure.
According to Amir, this lack of hoopla is intentional. "We don't want to be too educational or 'preachy' at the restaurant," she explained. Some customers come because they know the restaurant's reputation for farm-to-table cuisine. Others show up because, as Amir put it, the place is "pretty."
Larrys is also pretty, with blue, gray and white tile; a smoky, dreamy painting of an oyster on one wall; and a chalkboard menu. At dinner, Lawrence is all elegant global comfort food — dishes such as corn soup with clams; smoked sturgeon and chanterelles; and lamb with cauliflower and preserved lemon. Larrys, by contrast, features an all-day menu of simpler, tantalizing bites designed to complement the wine list. The narrow space has small tables and bar seating. It's petite, elegant, and perfect for sipping cocktails and sampling classic dishes such as steak tartare, crab with mayonnaise on toast, and raw tuna with chives.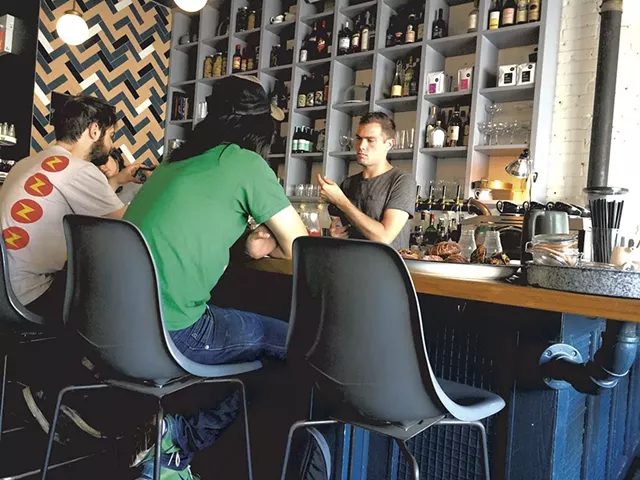 The wine bar is the newest of the properties; it opened earlier in 2016 after a year of negotiations with the landlord, who also owns the Lawrence building and other real estate in the area. "It was luck that we managed to get that space," Amir said. Mile End is a hot spot, and new properties jockey to get in. Proximity to Lawrence and the butcher shop makes the location particularly plum.
Legally, the three entities operate as one business, although the partners have different levels of interest in each. That's why, though all the locations are clearly linked, each retains its own character.
Amir, whose focus is on Lawrence and the boucherie, believes those differences keep the businesses from being "redundant." The four owners don't work too hard on defining their roles, she added; rather, things shake out organically, based on personal interests and skills.
All the locations are bound together by Krausz's design, a locavore ethos and shared ingredients and equipment. Sitting at Lawrence, I watched a staffer in a gleaming apron jog down the street with three loaves of bread in hand. Amir explained that all the baking for the restaurant group happens in a subterranean kitchen at the boucherie. At brunch, as I luxuriated in the scrapple's combination of crispy outside and creamy center, I watched a cook leave the Lawrence kitchen with a bowl of radishes destined for Larrys.
Given the names of the trio of businesses, it's easy to connect the dots between them: Boucherie Lawrence on one side, Lawrence in the middle and Larrys on the other. In terms of concept, that flow makes sense. Larrys and the butcher shop seem to have less in common with each other than either does with the restaurant between them.
Lacking much kitchen space, Larrys functions more as a place to construct food than to cook it. The spot would struggle as a stand-alone eatery, but it works just fine as one arm of this restaurant group.
By contrast, the boucherie offers opportunities for conversations about the less picturesque aspects of agriculture: A case filled with glistening sausages and cuts of meat makes it impossible not to consider the origins of the food. Shoppers have a clear view into the processing room, where they can see butchers cutting up animals, loosening terrines from their molds or slipping ground meat into casings. Amir is usually amid the fray when she isn't at Lawrence.
After studying fine arts in England, Israel-born Amir got into the food business via her romantic involvement with Cohen. Though they're no longer a couple, continuing to work together "salvaged what was awesome in the relationship," as she put it.
Amir is particularly passionate about ethical agriculture. "The food politics movement in England was a little more advanced than it was here," she explained. When she moved back to Montréal after studying abroad, Amir brought along her new sensibility, and Cohen. They combined forces with Wills and Krausz to open Lawrence, with thoughtful sourcing as one of the main objectives.
"We never work with distributors," Amir said. "We're aware of the provenance of all of the ingredients that we use." The partners visit every farm from which they buy.
Having multiple outlets allows them to make the best and fullest use of every pig they purchase and to ensure that everything is fresh when it arrives on a customer's plate. If the butcher shop doesn't sell as much sausage in a day as expected, "We can force the restaurant to buy it," said Amir. From that perspective, the multiple-business model makes plenty of sense.
Once things have settled at Larrys, will the partners open another brick-and-mortar location? Probably not. "I think we're OK for now," Amir said. "We'll undoubtedly get itchy in a few years and want to do something else."
What might that look like? Amir laughed. "Like everybody else, we've been talking about a book."