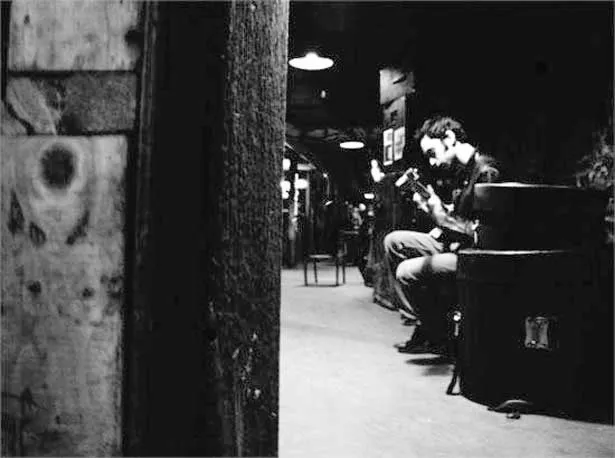 Benefit shows have been all the rage over the last few months. On one hand, it's heartwarming to witness the community rallying behind fallen friends. On the other, doing so means that people we know and love are in a bad way. It's kind of bittersweet.
It started three months ago with the slew of fundraisers for DJs A-Dog and Mike Device, who lost their North Union St. apartments in a devastating fire. It continued with last Thursday's jam-packed Turkey Bouillon Mafia reunion at Nectar's. That show was a benefit for Higher Ground doorman Mikey Van Gulden, who was struck by a cab driver while biking home from the club on July 5. The effervescent bouncer suffered numerous injuries, including 12 breaks in his right arm, 3 fractures in his jaw - which is currently wired shut - and a broken wrist. Sadly, I could go on for a while here. But you get the point.
Word on the street is that Nectar's was turning folks away at the door by 11 p.m. So it's a safe bet the evening went a ways towards easing Van Gulden's considerable financial burden - the offending cab driver is reportedly without insurance. If you missed the show, you can still help out by donating at shoutitoutloudmvh.blogspot.com.
Hot on the heels of Mikey Dread's big night comes yet another benefit bash for a local fixture. As many of you know, Cancer Conspiracy's Daryl Rabidoux was critically injured in a car accident last month. Like far too many independent musicians - and Americans in general - Rabidoux is without health insurance and piled up some hefty medical bills during his extended hospital stay. A PayPal account set up in his name has helped defray the costs to a degree. But man cannot survive on Internet donations alone.
This Friday, Club Metronome will be the site of the most spectacular lineup of local rock this town has seen in a very long time - or at least since last Thursday. Those rockin' for Rabidoux will include indie impresario Ryan Power, alt-country crooner Lowell Thompson, baby-hiatused B-town legends Swale, romantic rogue Neil Cleary, singer-songwriter Zac Clark, up-and-coming psych-rockers My Dearest Darling, swampy-tonk icon Brett Hughes, cheeky rockers Workingman's Army, Barbacoa guitarist Bill Mullins' resurrected outfit Blowtorch and the grand unveiling of some band called The Vanderpolls. I think those last guys play jazz - wink, wink.
The show starts early-ish - doors open at 8 p.m. and I'm told there's a 90 percent chance that Mr. Rabidoux himself will be in attendance.
Before we move on, I'd like to take a moment to acknowledge the remarkable efforts put forth by the music community in general during these crises. In each case, reaction has been swift and thorough. It is a testament to the strength of our scene that the tragedies of individuals affect us all. As the saying goes, bad things happen in threes. With any luck, we should be all set on that front for a while. Karma gods, I'm looking in your direction.
RAMBLE ON
Speaking of community, it's time once again for the Old North End Ramble. Entering its fifth year, Burlington's civic-pride answer to the Civil War has become a hotly anticipated annual celebration. While it doesn't yet have the cachet of, say, the South End Art Hop, the Ramble has earned a special place in the hearts of North Enders, who tend to be a prideful bunch when it comes to their stomping grounds. To paraphrase Naughty By Nature, if you ain't ever been to the Old North End, don't ever come to the Old North End. 'Cause you ain't understand the Old North End.
Of course, that's not true. The O.N.E. is really a lovely section of town - I live there, so I know. And the Ramble rules. The all-day festival is a veritable smorgasbord of art, music and community spirit. I'll fill you in on the tunes right now. But for everything else, visit www.theramble.org.
This Saturday, once the kickoff parade, North vs. South Field Days and various other events and attractions are over, the parking lot of Jamba's Junktiques on North Winooski Ave. is where any rock-minded music fan will want to be. The Ramble Round-up is always fun, and this year is no exception.
The belle of ball at this year's Magic Hat Street Bizarre, Space Tiger, indie-rock upstarts The Villanelles and harmonicore hooligans Cccome? will be joined by a trio of newer acts, including Candy Hammer, The Vacant Lots and the aforementioned Blowtorch. Radio Bean proprietor Lee Anderson's Unbearable Light Cabaret will also make an appearance, now that they've recuperated from their zany Bonnaroo adventures last month.
O.N.E. represent.
WHITE OUT
It is hard to believe, but Montpelier's Positive Pie 2 is turning 3 years old this week. The quirky pizza joint has become a Golden Dome staple and a cornerstone of the city's thriving music scene. I submit that this is due to one or several of the following reasons:
1. Their pizza is the bomb.
2. They book some really great acts.
3. Their back door is within spitting distance of Charlie O's back door, which regular readers know is the greatest bar in the world. Hands down.
To celebrate, this Friday the venue is throwing a "White Party." It's a concept brilliant in its simplicity and popularized by hip-hop mogul P-Diddy. The gist is this: everybody shows up in sexy white clothing and gets down and dirty. The man is a genius.
The grooves will be provided courtesy of sax savant Bryan McNamara's (Turkey Bouillon Mafia, Soul's Calling) new hip-hop band, Strength in Numbers.
Oh, and while you're in town and wearing white, swing by the Langdon Street Café and check out experimental salsa ensemble Bio Ritmo. Yes, I said experimental salsa.
HOMEWARD BOUND
Those who've been priced out of this Saturday's Melissa Etheridge concert at Shelburne Museum ($58 - really? Guess the price of activism has gone up with fuel) might want to swing by Nectar's and catch an early set from Raleigh, N.C., singer-songwriter Chris Titchner.
No, Titchner doesn't sound anything like the Grammy-winning tunesmith - the Etheridge reference was just an excuse for me to bitch about ticket prices. He is, however, a talented performer. And, since he was born and raised in Shelburne, he's got Vermont roots.
I've actually known the guy since high school. Back in the day, I used to marvel at his silken voice and impossible range. He's come a long way since writing sugary teenage love songs, and has built a solid reputation in the Raleigh-Durham area by writing, well, more sugary love songs. But they're the grown-up variety, I promise.
If you miss Titchner at Nectar's, you can catch him Sunday at The Bee's Knees in Morrisville.