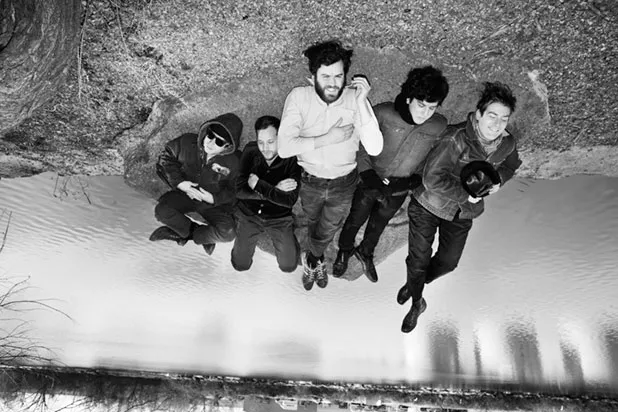 After rising to indie stardom on the strength of their last two records, We All Belong (2007) and Fate (2008), Philadelphia's Dr. Dog are set to make another leap with the April 6 release of their sixth full-length, Shame, Shame — their first for Epitaph Records' sister label Anti-Records. Where recent works were notable for lush instrumentation and arrangements — more than a few music scribes bandied the term "Beatles-esque," particularly in reference to Fate — the new album is reportedly something of a return to roots. Produced by knob and fader tweaker extraordinaire Rob Schnapf (Elliott Smith, Beck), Shame, Shame harkens to the (relatively) bare-bones aesthetic of the band's early catalog.
Seven Days recently chatted with bassist and songwriter Toby Leaman about the new record in advance of Dr. Dog's upcoming show at the Higher Ground Showcase Lounge.
SEVEN DAYS: Fate was often referred to as a concept album, even if that concept was somewhat amorphous. Are there similar thematic strands on Shame, Shame?
TOBY LEAMAN: Not so much. As amorphous as Fate was, whatever concepts linger on Shame, Shame have morphed or totally dissipated. Overall, it's cohesive. It sounds like an album. That's something we always try to do … make it sound like the songs belong on an album together and make sure there is a flow. But there wasn't really any overarching concept.
Going into it, we thought we were going to do more live recording, which we did. We didn't do as much as we thought we would. But we definitely did more than we had before. So there is a little more of a live sound to it. And there is a little less … different instrumentation. It's pretty straightforward. There are no strings or horns. There's really nothing besides bass, drums, guitar, piano and organ. And a ton of voices.
SD: So kind of a stripped-down Dr. Dog.
TL: Well, as stripped down as we get.
SD: That's interesting, especially since this is the first record you've made in a professional studio.
TL: Well, everything we've recorded in the past three or four years we've done at our studio, with the same gear, plus or minus mics or preamps and stuff like that. It just started to feel a little tired in there. So, barring any major change, like going to school for engineering or ProTools or something, there really wasn't much more that we could get out of our studio without a huge investment of time and energy to learn a whole new way of doing things. Anyway, we sort of got sick of being our own engineers. Half the time that we spend making records is getting the sound right, setting up the mics, patching stuff. All that good stuff that goes in to making records. So we wanted to see what it would be like if the only thing we had to do was play.
So we went into the album thinking that that was what it was going to be. And it ended up pretty much being an amalgamation of the two. We spent about a month in New York in this really nice studio with a producer [Rob Schnapf] … and we got some stuff done there. And then we realized there was still some more stuff that we needed to do. So we went back to our own studio. But going back after spending all this time in a different studio … it was really kinda nice. There are obvious limitations. … But it was nice having all that time in New York in a different studio and then coming back to our own studio. I like it as a way to make a record. It made the record take a long time. But it was good to see what other options are out there.
SD: What was it like working with Rob Schnapf?
TL: He was great. He's an awesome dude, low key, dry sense of humor. He's very methodical. That was the biggest initial problem going in. He's very … "front end." We always back end our stuff — half of the record is always made in the mixing process. We record stuff up until the point where we're mixing the songs and we're still recording. And his process is more that you get it done right to begin with and then you don't have to worry about that garbage.
But he was a lot of fun to work with. … He has a good ear for what Scott [McMicken] and I like in our own voices. He seemed to gravitate toward that. So if he told us to re-sing a line, we trusted him. We'd sing it 20 times and he'd be like, "OK, you're good. That one was good." And we'd listen and be like, "Yeah, I guess that was the best one. I sound the least like an idiot."
SD: That must have been a little nerve- wracking at first though, to leave your baby in someone else's hands?
TL: It was. But there was never any doubt on any side that we have final say. It was a little nerve-wracking just in the initial process. But I don't think anyone was ever worried that we weren't going to come out with something we weren't all really happy with. It just took three times as long as we thought it would.
SD: It must have been worth it, then. What are your overall impressions of the new album?
TL: I love it. I think it's pretty different from the rest of our records. Lyrically, it's a little darker. Not totally hopeless, or anything like that. It's not grunge music — that's probably not even a genre anymore. But it's always sort of been our bag to — as dark as the lyrics are — make the music bright behind it. But I think on this one the music and the lyrics go more hand in hand together. So I love it. I think it's great. I'm really, really happy with it … I don't think it sounds like anything else that I've ever heard. … But, I am a little biased.
Catch Dr. Dog with The Growlers and Jeremy Harple on Thursday, January 28, at the Higher Ground Showcase Lounge in South Burlington, 8:30 p.m. $15. AA.