Courtesy
Lola No.1, Nancy Stearns Bercaw
Most newspapers that offer a relationship advice column rely on a nationally syndicated feature. Seven Days has been locally oriented from its beginning, and so it was only natural to hire our own advice goddess. For this 20th anniversary look back, our previously anonymous columnists have agreed to be outed.
Now we can tell you that Nancy Stearns Bercaw created the persona of "Lola the Love Counselor" in 1996. She was a freelance writer then and is still a contributor to Seven Days and Kids VT, as well as publications around the world. Nancy is also the author of Brain in a Jar: A Daughter's Journey Through Her Father's Memory, and blogs at braininajar.net. She works at the University of Vermont.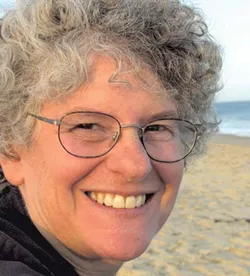 Courtesy
Lola No.2, Ruth Horowitz
A little more than a year later, Nancy passed Lola to then-associate editor Ruth Horowitz. It's a testament to her sound advice over the next eight years that fellow employees took to calling her "Rabbi Ruth." She's still a writer and lives in Providence, R.I.
After Ruth moved from Vermont, Lola retired and "Mistress Maeve" was born. Or rather, was created by then-salesperson Allison Davis. Her sassy, sexy persona is still the stuff of legend, at least among Seven Dayzers and the many lovelorn readers who sought her counsel.
Courtesy
Mistress Maeve, Allison Davis
Allison, who now lives in New York City and works in media, had to let Maeve go in 2014, and encouraged us to find a new adviser. So we did: "Ask Athena" also comes from a local writer whose advice we find thoughtful and candid. Who is she? That's for us to know and you to find out ... someday.
We asked our previous advice columnists three questions, and here's what they had to say:
What was your most memorable query?
LOLA/NANCY: It's hard to remember! Setting the tone for the very first column stands out, though, because I had to come up with the question as well as the answer. We had to introduce the readership to Lola and what she could do for the horny and lovelorn. We didn't want her to be too risqué, or blasé. I think the whole Seven Days staff (which was maybe seven people) weighed in on the tone for Lola's debut.
LOLA/RUTH: A query that still haunts me is one I never answered in print. Lola received a rambling, multiple-page, handwritten letter from a man who detailed a history of abuse (I think by a woman). He'd been in counseling for years but didn't trust his therapists. There was no way to fit his "question" into the column's format, but I couldn't ignore him. I somehow ended up visiting him at his home and basically telling him I had heard him. I'm not sure if that did him any good, but it assuaged my conscience. Sort of.
MAEVE/ALLISON: So many questions had to do with anal or body hair — Vermonters seem really curious about both! At least one of the anal questions was deemed too hot for print and was relegated to the blog. That was probably the most memorable.
Did you learn anything about sex?
LOLA/NANCY: I learned that people were still pretty pent up in the late '90s! Their hangups ran the gamut from women asking men out on dates to how to get a reluctant man to go down on his girlfriend. I do recall my response to the latter: "Tell him that it's 'down or out'!"
LOLA/RUTH: What I learned about sex by doing the column was how little I know about sex.
MAEVE/ALLISON: I received way too many letters asking how to jumpstart a stagnant sex life from loving partners who had allowed their intimacy to dwindle into bed death. This terrifies me. While it's possible to breathe life back into the bedroom, the best practice is to never let it die. That's why it's called being sexually active — you have to stay actively engaged.
Do you still give advice to friends?
LOLA/NANCY: I do, but these days everyone does. Lola mourns for the halcyon days of decorum and innuendo.
LOLA/RUTH: I sometimes give friends relationship advice, but I'm not sure they've ever taken it. And give sex advice? Never. Way too embarrassing to talk about.
MAEVE/ALLISON: I do, but I've learned that all relationship advice boils down to the same few things, regardless of circumstance: Get clear with your partner(s) on expectations, ask for what you want, and never cheat. If you're open and honest about what you want, there should be no reason to stray — unless, of course, you have your partner's blessing.