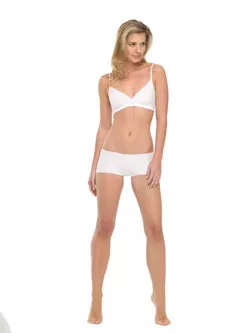 Life might be easier for Kerry O'Brien if she didn't live in Vermont. It would make more sense for the owner and designer of commando — which makes "invisible" undergarments — to live near New York's garment district. There, the world's most popular designers and models are so enamored of her products that, O'Brien says, one of them told her recently, "We can't have Fashion Week without commando."
"People are surprised to find us in Vermont," says O'Brien, a former PR executive from South Burlington who moved back with her husband, Ed Biggins, a former investment banker, after 10 years in New York. "But our company is based here because I grew up here, I love living here and there is a wealth of talented people here."
As she prepares to head south for several days of back-to-back Fashion Week runway shows to premiere the spring 2013 collections, O'Brien has just been nominated to serve on the Council of Fashion Designers of America (CFDA). She's one of few lingerie designers to receive the honor, and so far the only Vermonter. She got her start in invisible underwear almost by accident.
"I always wanted underwear that didn't dig into me. It just bummed me out," O'Brien says. "I couldn't understand it: We care so much about what we wear for lipstick, what we wear for shoes, for accessories — but underwear seems to be an afterthought."
Ever the go-to girl for friends who didn't know what to wear under light dresses, O'Brien started to work on a book about underwear, only to realize she'd rather participate in the solution than write about the problem.
"I said, 'Why do we have to finish [the fabric] on the ends? Why can't we just raw cut it?'" she says. "Everyone said, 'You can't do that.'"
At the time, commando, founded in 2003, was making takeouts, a popular line of "removable cleavage" accessories that came packaged in Chinese-food-type containers. So when O'Brien went to New York to talk to fabric manufacturers about her idea, a lot of them already knew her and were willing to help. "I still didn't know a whole lot about fabric," she says. "Finally, we found someone who said, 'We know how this can be done.'"
Designers like commando for runway fashions because the underwear is designed not to show — that is, no panty lines — and models say they like it because it's comfortable. O'Brien and Biggins now travel the world looking for luxury fabrics that they can raw-cut, using patented processes to produce light, breathable lingerie. In addition to panties, the product line includes slips, bras and camisoles, shapewear, hosiery and other accessories. Commando's 15,000-square-foot warehouse and office in South Burlington serves as a sample, shipping and distribution center. Locally, the products are available at Ecco and Expressions in Burlington and at Mendy's in Shelburne. Customers can also purchase directly from commando's website.
The company's line of "under wonders" has been in demand almost since it became available, and particularly for the past three years that commando has participated in Fashion Week. Recently, O'Brien branched out from invisible fabrics to bold, seasonal designs.
"Paisley skulls," Biggins interjects. "We've got paisley skulls."
As the shows get under way in New York this Thursday, September 6, most of commando's own spring 2013 line has already been sold. This year, O'Brien is attending Fashion Week as a new CFDA member and can't wait to go to what she calls the shows' "feeding frenzy of inspiration." Commando has new developments of its own, including reversible women's swimwear and, still in the works, a men's underwear line.
"I try not to put bookends on where our company's going to go," O'Brien says. "At any given time we have four or five different ideas about product lines. Some just kind of fall away, and some stick around and percolate to the top. And that's what we go with."