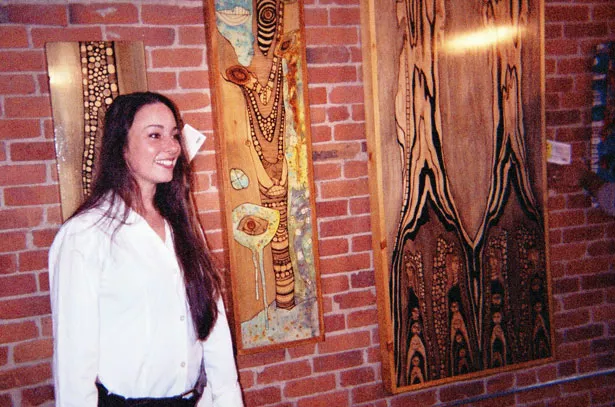 For Cristine Cambrea, a self-described "visionary surreal artist," 2007 is proving to be a breakout year. Buyers snapped up all 18 of her pieces in a six-week solo show in Manhattan's ultra-hip Meatpacking District. At Artexpo New York, Cambrea's work attracted interest from 15 galleries in cities as far-flung as Santa Fe and Seoul. And with help from her husband/business manager Drew Stone, the 32-year-old painter opened a gallery space of her own this summer in Burlington's South End.
Next year will probably be even more momentous for the mediagenic, raven-haired Cambrea, who wears a diamond stud between her nose and right cheek. A few of her artworks will likely appear in "Lipstick Jungle," a forthcoming NBC "dramedy" based on a novel by Sex in the City author Candace Bushnell. Cambrea is also booked for solo shows in New York and London. Plus, Al Gore's Current TV is filming a half-hour feature on her that's expected to air during the first quarter of 2008.
Locals can see the star-making machinery in action this Sunday, November 4. Everyone's invited for bagels at the Cambrea Stone Gallery on Flynn Avenue while a Current TV crew shoots scenes and conducts interviews for the show.
Why so much commotion over Cambrea?
With its swirling facial forms and scatterings of symbolic figures, her difficult-to-define style appeals to New Age audiences and to that segment of the art market ravenous for originality. Cambrea had also built a fan base on the Internet prior to debuting in the material art world. She started selling her pieces on eBay in the late '90s while running a store in Montpelier stocked with crafts from Africa and Asia.
Cambrea acknowledges the influence of Austrian artists Gustav Klimt (1862-1918) and Friedensreich Hundertwasser (1928-2000), especially the latter, but her acrylic compositions seem to have wafted onto canvas and pine or maple panels from some private dreamland.
A professor at the New Paltz branch of the State University of New York recognized years ago that Cambrea had a unique style that ought to be cultivated on its own terms. At the end of her first and only semester, he advised her, Cambrea recounts, to "stop taking art classes because they'd just make my stuff look more like everybody else's."
A trance-like spontaneity characterizes her working method. The act of painting "takes me to another place," Cambrea says, noting that she often runs dialogue-rich films on her computer as she applies washes and draws on them with ink. "I don't really register what's being said," she explains. "I just like having the sounds and images in the background."
Cambrea paints quickly, completing her pieces, regardless of size, in under 10 hours. She also proceeds without a plan or preliminary sketch. "I just start moving around the canvas until I see shapes and figures emerging," she says.
Viewers who don't know the artist might assume she's an "outsider." Her paintings do show some similarities to the intricate and naïve-style works produced by self-taught artists who dwell outside the societal and art-world mainstream, often in mental institutions. But Cambrea rejects the association in the course of an articulate analysis of Outsider Art, which, she suggests, has more to do with individual biographies than with aesthetics. Besides, she adds, "I haven't been out of the world."
She has, in fact, been very much in it. Cambrea and Stone describe themselves as "road warriors" whose travels have taken them to Europe, California, Florida, New York and, most recently, Vermont. The itinerant lifestyle fosters her artistic output, Cambrea says, noting, "I love to work in hotels, cars and planes."
The couple does intend to stay put for at least the next few years, partly because Cambrea's 7-year-old son, Kaleb, attends school in Winooski. The Burlington area is also a much more congenial locale for a Vermonter of boundless ambition. Cambrea, who has lived in Quechee, Eden and Barre, finds that "everything that's happening in the arts in this state seems to be happening here."