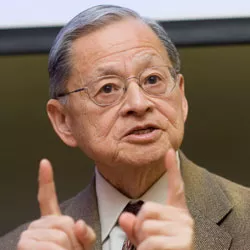 William Hsiao doesn't look like a revolutionary. With his gray-streaked hair and wire-rimmed spectacles, the 74-year-old Chinese-American designer of Vermont's proposed new health care system looks more like a professor, which is exactly what he is — tenured, with 36 years of seniority, at Harvard University in Cambridge, Mass.
But in Montpelier, Hsiao (pronounced "show," rhymes with now) just might be leading a movement. He is unveiling a legislature-commissioned road map that would make Vermont the first state in the country to provide health insurance for all its residents. Saving millions of dollars, enhancing the quality of care, creating jobs and boosting wages are also part of Hsiao's plan.
"The stars are aligning," says former Vermont state senator James Leddy of Burlington, who has been working on health care reform for the past 35 years. For the first time, Leddy notes, Vermont has a governor and a legislative majority committed to providing health coverage for all the state's people through a streamlined, publicly accountable system.
Cambridge physician and health care reform advocate Deb Richter agrees that the state's political leaders appear ready to respond to what she characterizes as "an emergency situation." Nationwide health care costs are rising three times faster than wages, she notes, and that trend is even more accelerated in Vermont.
Richter and other health policy wonks view Hsiao's contribution to the reform movement as crucial. "I regard him with the utmost respect," Richter says.
Leddy speaks of Hsiao's "wisdom," while Con Hogan, former secretary of the Vermont Agency of Human Services, suggests the state could not have found a more accomplished architect of health care reform.
Who is Hsiao, and how did he land this big gig, working 70 hours a week — without pay — to fix health care in Vermont?
"He's not some consultant who's in this for the money," Richter says of Hsiao, who declined personal payment so he could use all $300,000 allocated by the state to assemble a team with required expertise.
Prominent among the team's 20 members is MIT health economist Jonathan Gruber, who helped draft the blueprint for the far-reaching Massachusetts reform. Hsiao also lauds the work of Steve Kappel, a Montpelier-based health policy analyst who was holed up in Hsiao's office last Saturday night in a nondescript building on Mt. Auburn Street, a few blocks from snowbound Harvard Square.
"I didn't need to do this," says Hsiao in a face-to-face interview, conceding he's "more exhausted than excited" by the prospect of presenting his plan for a single-payer health system in Vermont. "I've got millions of dollars in research projects on my plate around the world. I travel constantly in addition to teaching."
Wearing a forest-green fleece over a pale-green canvas shirt, Hsiao comes across as utterly unpretentious. From a humble background marked by grueling work, stellar success and racist blows to his self-esteem has emerged a man who is at once self-confident and self-effacing.
Hsiao was lured into bidding on the Vermont health reform project by then Senate president pro tem Peter Shumlin — and his own determination that the state was serious about establishing a single-payer system with effective cost-control mechanisms. "It was a chance to achieve something important here in the United States," notes Hsiao, who devised Taiwan's single-payer system in the 1990s and led health care reform projects in eight other nations, including Sweden, China, Mexico and Colombia.
"Peter Shumlin was very clever," Hsiao remarks in recounting the extended sales job that started last March. Well before launching his campaign for governor, Shumlin phoned Hsiao at the suggestion of Richter and Hogan, who both knew of his international cred. Their hourlong conversation was followed by a visit to Vermont to meet other legislative leaders, who in turn asked Hsiao to advise them on a bill authorizing the single-payer study.
Shumlin and his colleagues then cajoled Hsiao into submitting a proposal for that study. "They made me feel like I'd be letting them down if I didn't do it," Hsiao says with an easy smile. "I did like the people I met in the Vermont legislature," he reflects nine months later. "They seemed more open, more honest, than political leaders on the national level. They were down to earth."
Even though what he is devising has never been achieved in the United States, Hsiao derived confidence from having midwifed a single-payer system in Taiwan, an island nation with a population 35 times larger than Vermont's. Forty-five percent of its citizens lacked insurance, compared to fewer than 8 percent in Vermont today. The plan Hsiao formulated has given equal access to more than 99 percent of Taiwanese, including homeless people found living under bridges, while holding health care costs to 6 percent of Taiwan's gross domestic product. Health care accounts for 16 percent of the U.S. GDP. "He changed millions of lives through what he did in Taiwan," Richter observes.
In Vermont, Hsiao saw "a small state that I felt I could put my arms around." He also notes the state has rigged up an irrational, inefficient and ineffective health care system that is "much more complicated than I thought it would be. Vermont has layers and layers and patches and patches of programs, all of which are Band-Aids that are not necessarily consistent with one another."
The good news, Hsiao assures, is that "you can fix it." Explaining that he doesn't invent systems but instead builds upon them, Hsiao says his one firm principle is to "adopt whatever is shown to work and reject whatever is shown not to work." For example, he applied the most successful elements of Canada's single-payer system to the plan he developed for Taiwan.
So, will Vermont's single-payer system also resemble Canada's? "Yes, but it will be better than Canada's," Hsiao declares.
He has identified "15 major hurdles" that must be overcome in order to implement the envisioned revision of Vermont's "dysfunctional, broken" health care system. In addition to federal obstacles that could prevent a single state from developing its own single-payer plan, Hsiao's scheme will likely be ambushed by political interests that stand to lose money and power if the state's precarious health care superstructure does get dismantled — specifically those now working for private insurance companies.
For that reason, Hsiao knows he's got to spin his plan as, overall, a big economic win for the state. On Saturday night, he and his team were working simulations that demonstrate how their proposal will produce jobs and push up wages.
It's a lesson Hsiao learned back in the 1970s, when he was working as the chief actuary for the federal Medicaid and Medicare programs. He was frequently called to Capitol Hill to testify, and found himself unable to provide projections for how contemplated changes in Social Security legislation would impact jobs, inflation and the U.S. trade balance.
So Hsiao left his government post to pursue a PhD in economics from Harvard. His teachers were so impressed with this particular student that he was asked to become a teacher himself. It was "something I never thought I would do," Hsiao says, "but I'm very glad I did, because being a teacher allows you to be a perpetual student." He draws energy and inspiration, he notes, from "fresh, young minds who ask questions I would not think to ask myself."
Being a Harvard prof does enable him to live comfortably, Hsiao says, though he notes he could make three times as much working as an economist for a private corporation. But another long-ago life lesson steered him away from that get-rich option.
Prior to working in Washington, Hsiao had embarked on a career as an actuary with Connecticut General Life Insurance Co., the predecessor of today's Cigna. After nine years there, however, he encountered a familiar existential crisis. "I asked myself, 'Is this really how I want to be spending the rest of my professional life?'" he recalls of this 1960s epiphany. "On my deathbed, won't I wonder, Did I make the world slightly better than I found it? Did I even try?"
It was this realization that led him to the Social Security Administration and, eventually, to Harvard. And it was an earlier, equally unsettling revelation that had put Hsiao on the actuarial-science track.
The only good jobs open to Asian Americans half a century ago were in the hard sciences, Hsiao recounts. That's why he majored in physics and math at Ohio Wesleyan, the college to which he had won a sizable scholarship in 1954. He learned important lessons there, as well. "College was the first time I experienced overt racial discrimination," he notes. "It hadn't been so bad earlier — except when I tried to date white girls."
Hsiao had spent his teen years in Queens after moving from China in 1948 with his parents and five siblings. His father, an economics professor in Beijing, had been appointed as an adviser to the anti-Communist Chinese government at the newly formed United Nations. But Hsiao Sr. died six months after coming to New York, and friends and relatives back in China, alarmed by the Communist takeover, warned the family to stay in the United States.
Hsiao's mother, however, was soon admitted to a sanitarium for tuberculosis patients, leaving the children to "raise one another," he remembers. "We were relatively poor," so the brothers and sisters agreed to pool their earnings from after-school jobs in order to "buy rice that would fill our stomachs." Any excess money would be spent on eggs, vegetables, meat and fruit — in that order, Hsiao says, noting, "I still love the taste of fresh fruit today."
He himself held three part-time jobs while in high school: delivering newspapers in the morning, working at a grocery store in the afternoon and delivering Chinese food for a local restaurant in the evenings. It didn't get any easier in college; there, Hsiao worked 40 hours a week, some of them spent scrubbing toilets in the library after 10 p.m.
The woman who would become his wife experienced the sting of racism as well, Hsiao says. Ruth Hsiao, who is now retired, taught American literature at Tufts University despite being told by some teachers, her husband relates, that as a Chinese American she could never expect to master English well enough to hold such a post. The couple has two adult sons; one an attorney in Denver, the other working for a California nonprofit that helps high schoolers at risk of dropping out.
Despite all his struggles, Hsiao says, he came to view America as "a land where you really could have opportunity as long as you were willing to work hard." Some people, he also came to realize, do need help from their respective societies in order to have access to opportunity. Hsiao has been guided by that insight in his efforts to make health care available to everyone in several countries and, now, in Vermont, as well.