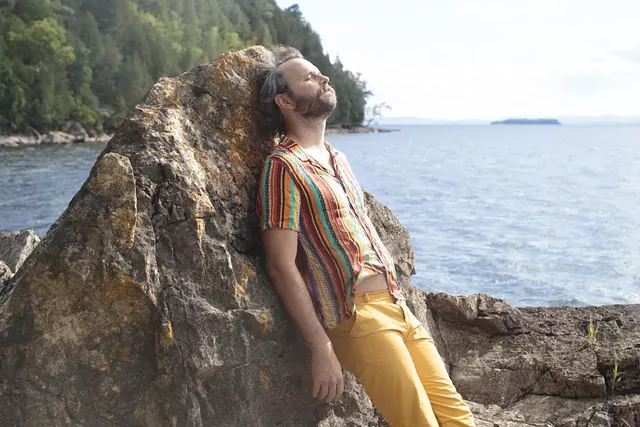 Courtesy of Brendan McInerney
Mark Daly
Mark Daly
will return to
ArtsRiot
this Saturday, March 26, to continue his monthly residency at the South End venue. Daly will perform as
Madaila
, formerly a psych-pop ensemble composed of some of the best musicians in the area. It's a solo enterprise these days, though that doesn't mean Daly will be pulling the singer-songwriter routine.
"The last thing I want to do is sit up there and strum an acoustic guitar all night," Daly told
Seven Days
. "I'm coming in with the intent of making people dance their butts off, get weird and have a lot of fun."
To that end, Daly will present a sort of one-man variety show in which he plays along to backing tracks on drums and guitar while mixing in comedy. The Charlotte-based career musician, who has also been dipping his toes into standup, said he'll unveil multiple characters with "full-on costume changes."
The theme of this month's show is "Ladies Night," so Daly will cover Beyoncé, Jewel, Erykah Badu, Alanis Morissette and other iconic women of music. It's all part of what he called an effort to "celebrate and honor the amazing women in the world."
Reproductive Liberty Amendment
(previously known as Prop 5), a ballot measure in the November general election.
"It means a lot to be supporting this insanely important cause," Daly said. "This show is free, so we are hoping people will come out with open hearts and make some donations."
Doors open at 7:30, followed by an opening set from Burlington blues and jazz duo
the Rose McCann Band
.