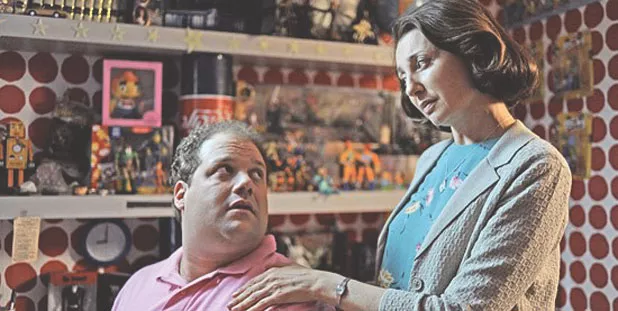 When you live in Vermont, it's hard to read dispatches from the Toronto International Film Festival without feeling a certain frustration. Those movies look amazing ... but when, oh when, will we get to see them around here?
That's why cinephiles who live within easy driving distance of the Hopkins Center for the Arts in Hanover, N.H., should count themselves lucky. Curious about Rust & Bone, the Cannes and TIFF hit in which Marion Cotillard plays a killer-whale trainer who loses her legs and finds love (I'm not kidding)? You can see it on September 18 at the Hop as part of a series called Best in Show: Dartmouth Salutes the World's Film Festivals.
Jacques Audiard's film is in the Telluride at Dartmouth segment, which also features Bill Murray playing FDR in Hyde Park on Hudson (September 14). Next year, look for selections from the Ottawa International Animation Festival, the Full Frame Documentary Film Festival and more. Tickets run $10 to $12.
The Hop also runs concurrent film series that are worth checking out. The Saturday Arthouse Series ($7) has current theatrical fare such as Sleepwalk With Me. The Dartmouth Film Society mixes things up, presenting flicks as diverse as The Dark Knight Rises; Prometheus; Rififi; Oslo, August 31st; Groundhog Day and Safety Not Guaranteed — all linked by a fall semester theme of "the return" ($7). Most movies at the Hop are presented on 35-millimeter film; check their web descriptions at hop.dartmouth.edu/films.
Another film that hasn't reached Vermont's multiplexes, and very possibly never will, is Dark Horse, the latest from provocative director Todd Solondz (Welcome to the Dollhouse, Happiness). But you can see this story of two depressed thirtysomethings who find love (sort of) at Burlington's Main Street Landing Film House on September 20, at 7 p.m., at a free screening organized by the Burlington Film Society. Look for more upcoming screenings on the BFS' Facebook page — and, if you want to get involved, come to a meeting on Wednesday, September 12, at 6:30 p.m. at the BCA Center.
If you like seeing classics on the big screen in Burlington, keep an eye on the Movies at Main Street Landing schedule. Those farther north should do the same with St. Johnsbury's Catamount Arts, which plays nightly art-house fare. Look for Fernando Meirelles' 360, with Jude Law and Rachel Weisz, on September 28.
In Addison County, the Hirschfield International Film Series at Middlebury College is a great alternative to Netflix. These films tend to be a year or so old, with selections such as A Separation, the Dardenne brothers' The Kid With a Bike and Wim Wenders' Pina. But eight of the 10 are presented in 35-millimeter format, and they're all free. Look for lectures from film scholars, too.
Not to be outdone, the University of Vermont has its own film series — just four per year ($25 for all), supplemented with lectures and united by a theme. This year, that theme is "the body," which will take the audience from a transhistorical love story (Darren Aronofsky's The Fountain) to dystopian science fiction (Seconds) to the worlds of dance (Dancing Across Borders) and sports (Ali). It's not TIFF, but it's heady stuff.
Check the Seven Days calendar each week for special film screenings, and our movies section for art-house programming at local theaters.