Suzanne M. Podhaizer
Eggs Benedict at Misery Loves Co.
The woman over there snapping pictures of her quotidian spaghetti and meatballs at the neighborhood dive ... yep, that's me. Such photographic evidence allowed me to determine that, in 2017, I ate meals at 63 different Vermont dining establishments. That doesn't include snacks at coffee shops, dinners at pop-up events, or the sandwiches and dumplings I rack up during every visit to a farmers market.
While there are plenty of meals I wouldn't have remembered without a digital assist, others were unforgettable. Take my first meal of 2017, when I celebrated the New Year by swinging over to Winooski's Misery Loves Co. for brunch.
I ordered a Bloody Mary, sucked down a dozen oysters and dug into a gorgeous seafood Benedict: shreds of king crab and seared scallops dotted with shallot and torn chives and topped with baby arugula and citrus slivers. That was a high bar to set, and I spent the rest of the year chasing such stellar dining experiences.
Meanwhile, as food writer Hannah Palmer Egan prepared for her maternity leave, Sally Pollak joined Seven Days as a staff writer and began seeking out her own favorites. With January 1 approaching again, the two of us have collected some of our best bites from the year gone by.
— S.M.P.
New Finds
Suzanne M. Podhaizer
Meatballs at One Radish
Suzanne: One of my favorite meals came close to the end of the year, at Mangalitsa in Woodstock, which opened in late September. Owned by Matt Lombard and Nick Laurendeau, the restaurant has taken over the space formerly occupied by the much-loved Osteria Pane e Salute.
Highlights of dinner at Mangalitsa included fried smelts with scallion mayo; tender, butter-poached lobster with Brussels sprouts and mushrooms; and a plate of pasta featuring dense, chewy noodles and sausage made from pork raised by Lombard himself.
My first meal at One Radish Eatery was a vastly different experience. The casual spot in Richmond offers food so homey and simple, I couldn't decide what to order: Nothing on the menu seemed to stand out.
But order I did, and every bite was delicious. Pulled pork came on a homemade roll gooey with melted cheese, complemented by a refreshing little side salad garnished with radish slices. Meatballs, served in a cast-iron skillet, were as good as Grandma's.
Actually, my Jewish grandma didn't make meatballs, but she did take me to New York bagel shops. The One Radish lox sandwich, on a housemade sesame bagel with dark markings from the wood-fired oven, brought me back to my earliest days of food discovery.
---
Sally: I found this new spot pretty easily: The Great Northern is a few blocks from our house, and I watched its renovation progress on my regular walks down Pine Street in Burlington's South End. I'll confess I was also privy to the inside scoop from chef Frank Pace, who'd find me at the neighboring Zero Gravity Craft Brewery drinking beer and eating his housemade sausages.
So we were there on opening day, Mother's Day. Since then, my eggs Benedict have given way to dirty French fries (with smoked pork and spicy pickles) and tuna poke from the raw bar. I've also become a fan of a tequila cocktail called the Witchcraft, in part because Michael Kuk, who restored and built the restaurant's bar, turned me on to it.
Kuk told me that, when he finished restoring the vintage piece, he returned to its crown molding a collection of bottle caps and coins that he'd unearthed while cleaning out "100 years' worth of dirt." The objects landed in the top of the bar, he surmised, when long-ago patrons flicked their bottle caps in that direction. I like to sit there and picture that.
Memorable Moments
Suzanne M. Podhaizer
Aaron Wisniewski at Alice & the Magician
Suzanne: Aaron and Sam Wisniewski co-own an edible scent company called Alice & the Magician Cocktail Apothecary. After meeting the brothers when they cohosted a fancy dinner at Hen of the Wood in Burlington, I asked them if we could turn some of my memories into "aromatic mists" to be spritzed on cocktails.
The Wisniewskis agreed, and, on a chilly March morning, a friend and I showed up at their shop. We sprayed and sniffed dozens of scents, from the heady aroma of tomato leaves to the funky scent of leather.
A few days later, Aaron told me my memories were ready. Of the three scents we created, my favorite was based on my recollections of gardening as a child. We shook up a combo of gin, cucumber and tomato juices and added a quick spritz of our new concoction. It smelled of damp earth after a rain shower, cilantro leaves and green peas. A perfect complement to the drink.
I've eaten plenty of meals, both fancy and plain, but I've never before had the chance to turn my recollections into something tangible. It was the most unusual food experience of my year.
---
Sally: My first trip to Honey Road, Burlington's new Mediterranean restaurant, can be summed up by a little couplet that came to me as I sipped a cocktail with flower petals floating on top: "I can't see, I can't hear; / Luckily I can still eat."
We were at a dark table in the back, the sun had gone down, and the restaurant was crowded and loud. I was with an old friend, and happily neither of us cared what we were eating (nor whether we could see it). We used beet chips to scoop up an array of dips whose identities were a mystery to us.
Happily, too, we were intrigued by the conversation at the next table, because we could hear everything our dining neighbors said about Bill Clinton and Bruce Springsteen drinking together at the White House. (They offered evidence of the veracity of the tale.)
When that pair departed, the table was taken by a twosome that included Skinny Pancake co-owner Jonny Adler. He offered us a bite of his fried green tomatoes with carrot tzatziki and pickled corn — and an assessment of his first meal at Honey Road.
"This is fucking ridiculous," Adler said. "This is why you go out to eat: to get something you can't make at home."
Favorite Food Events
Suzanne M. Podhaizer
A bowl of grasshoppers at Isole Dinner Club's Beatrix Potter-themed meal
Suzanne: I'm a regular at the ArtsRiot Truck Stop and the Burlington Farmers Market; this year, for the first time, I also had the chance to check out the boisterous and fun Vermont Maple Festival in St. Albans.
But in 2017, the nerd in me got a special kick out of a series of English literature-themed dinners put on by chef Richard Witting's Isole Dinner Club. At the Beowulf-themed dinner, held at Groennfell Meadery in Colchester, the room was decorated with swords and bones, and University of Vermont English professor Chris Vaccaro read passages from the poem in Old English. Later in the year, at the more refined Jane Austen-themed dinner in the Coach Barn at Shelburne Farms, attendees performed traditional English folk dances and sampled several kinds of period-appropriate tea. Diners came decked out in costumes to both events.
Full disclosure: I like Isole's dinners so much that I volunteer at them, which meant that on one occasion I got to play a character in William Shakespeare's Titus Andronicus and have my throat "slit" in front of the dinner guests while cupping a warm meat pie between my palms.
What's up for 2018? The full schedule hasn't been published, but Witting will kick things off in January with a meal made from the "Foods of Tolkien's Middle Earth." Who doesn't need a little elven lembas bread in their diet?
---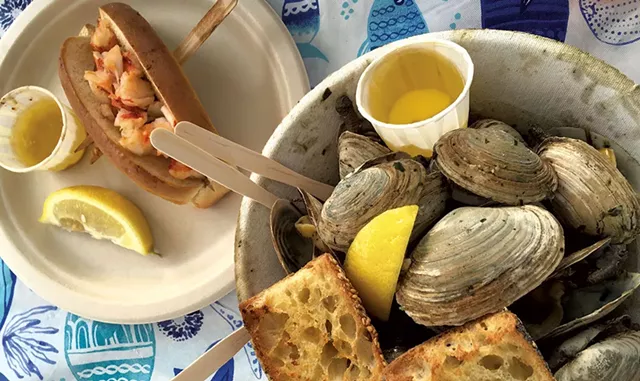 Sally Pollak
Steamed clams and a lobster roll at Cans 'n' Clams
Sally: You can find just about anything you'd want to eat at the ArtsRiot Truck Stop in Burlington — anything, that is, except steamed clams. (If they're there, I haven't seen them.)
As of 2017, that's no longer a problem. Now, on Friday nights in the summer, you can eat to your heart's delight in a parking lot off Pine Street — tacos, barbecue, fried chicken, pakoras, pork buns, po'boys, corn on the cob — and then head to Montpelier on Saturday for steamers at a little seafood pop-up called Cans 'n' Clams.
Taken together, the two form a slam-dunk summer food event.
In Burlington, you'll find throngs of people, plus music, beer, a happy variety of eats and a de facto leader/MC — ArtsRiot chef George Lambertson. He presides over the Truck Stop from the back of the home-team food truck (in its prime parking space), taking orders and serving the terrific 400 Burger.
Sleep late on Saturday, and then drive to Montpelier for steamed clams with butter and mayo-less lobster rolls. These are the brainchild of farmer-chef Joe Buley, who runs a vegetable farm in East Montpelier and a commercial kitchen in Montpelier.
On summer Saturdays at Joe's Kitchen at Screamin' Ridge Farm, Buley serves clams, mussels and lobster harvested days earlier in Maine and transported to central Vermont by Wood Mountain Fish. Cans 'n' Clams is simple and wondrous. All it takes is a few picnic tables to hold a can of beer and big bowls of steamers served with butter, a lemon wedge and a toasted baguette to sop up the juice.
Perfect Picnic
Sally Pollak
Chicken liver mousse at Dedalus Wine Shop, Market & Wine Bar
Suzanne: Picnicking is always the perfect way to sample a selection of Vermont's finest products. I like to start with a loaf of three-seed from Running Stone Bread, a round of Jasper Hill Farm's Harbison — a winner at this year's American Cheese Society competition — a wedge of Consider Bardwell Farm's Rupert, and a selection of cured meats from Babette's Table, adding olives as needed. Condiment standbys are marmalade from Blake Hill Preserves and a bottle of sauerkraut from Sobremesa in Marshfield.
And now I have a new place to pick up pastries for dessert — Montpelier's Bohemian Bakery, which opened in February. (The bakery was formerly a well-attended weekly pop-up at the bakers' home.) A slice of apricot tart, a wedge of chocolate buckwheat cake or an almond croissant is the perfect finish to any picnic.
When I don't have time to throw together a basket, I look for the Elmore Store on Route 12, where Fire Tower Pizza has been under the new management of Elmore Mountain Bread owner Blair Marvin and chef Jimmy Kalp since January. With crusts made from freshly milled flour and topped with local ingredients, I can't go wrong.
---
Sally: The centerpiece of my Green Mountain State picnic is a small jar of chicken liver mousse, housemade at Dedalus Wine Shop, Market & Wine Bar, a wine shop and restaurant that opened earlier this year on — where else? — Pine Street in Burlington.
This fatty little masterpiece is rich, creamy and brought to life by the boozy hum of port and cognac, along with shallots, thyme, garlic and duck fat, a layer of which covers the mousse. I've been decadent enough to spoon the stuff straight out of the jar, from which I've had to fend off interlopers who want their share.
On my picnic, I'd pair the chicken liver with a wedge of Cabot Clothbound Cheddar Cheese, a baguette from Red Hen Baking in Middlesex, a couple of McIntosh apples, and a chocolate-chip-walnut cookie from Mirabelles Café & Bakery. To drink, I'm bringing along a bottle of bRosé from Citizen Cider. It's almost ridiculous to say that this, too, is produced on Pine Street.
Hideaways & Hangouts
Sally Pollak
Soup, sandwich and the Wind beer at Lost Nation Brewing
Suzanne: As I reported in June, Burlington has seen an explosion of new coffee shops in the past few years. I have allegiances to a handful of cafés, old and new, in the Queen City and outside of it, and try to spread my business among them.
One morning, I might be snuggled on a couch at Scout & Co. in Winooski, drinking a smoked-maple latte — which came back into season this fall after a hiatus — made with beans from Vivid Coffee Roasters. The next day, you'll find me at Onyx Tonics in Burlington, chatting with owner Jason Gonzalez about the particularities of his newest Kenyan coffee. The spot opened last year, but the ever-changing selection always offers something new to try.
Those are hometown favorites, but when I'm on the road, I'll drive out of my way to visit Sweet Simone's in Richmond. The cappuccino is well made, but what draws me there is the quality of the treats: jellied pâté de fruit candies, chocolate-dipped macaroons, homemade Oreos and more decadent goodies. It's a great place to hunker down with a book.
And I've been drawn there even more often since September of this year, when Sweet Simone's began serving themed, family-style dinners on Monday nights, a collaboration of baker-owner Lisa Curtis and savory chef Ethan Chamberlain.
---
Sally: Story ideas come and go, but I had one three years ago that I haven't written and can't shake: I would walk to Lost Nation Brewing in Morrisville and write about it.
Plan No. 1 was to pick a spot about 10 miles from Lost Nation and walk to the brewery on the Lamoille Valley Rail Trail. My memory is vague, but I think snow got in the way.
Then I decided 10 miles wouldn't cut it: I would walk the full length of the trail — 93 miles — send dispatches along the way and file a lengthy piece about a cheeseburger on my arrival. It would be summer, so I'd sit outside at a long green picnic table. I'd be hungry, so I'd eat mussels and a plate of pickled vegetables with hummus to start. I'd drink a gose called the Wind.
That plan was derailed after I did some hard-hitting reporting and discovered the rail trail wasn't complete. Luckily, I have a car, and Morrisville is at the convenient crossroads of Routes 15 and 100. For now, I drive to this friendly, laid-back brewery that pairs its house beers with casual, creative, affordable food that excels in preparation, style, looks and taste.
Thirty-three miles of the 93-mile trail are now finished, of which 15 miles are accessible right out the brewery door. Last summer, my daughter and I took a 20-minute walk on the rail trail after lunch at Lost Nation. I'm lacing up my sneakers with an eye to the future.
Luscious Libations
Sally Pollak
Negroni made with Tom Cat Gin at Pizzeria Verità
Sally: The cocktail menu at Pizzeria Verità in Burlington lists eight Negronis, and none is the drink that bartender Chelsea Harris mixed recently for me and a friend. Riffing on the classic, she poured Caledonia Spirits Tom Cat Gin in place of the standard spirit. Tom Cat is aged in oak barrels, which give it an amber hue and a whiskey tinge. In the Negroni Harris made, the gin was mixed in equal parts with Campari and Carpano Antica, a sweet Italian vermouth.
"I think it's one of the most well-balanced cocktails," Harris said of the Negroni. "It's boozy, it's bitter, it's balanced."
For our second course, we switched to a Boulevardier, in which the gin is replaced with bourbon — and the whiskey tinge becomes a whiskey river. This is a made-for-winter cocktail.
---
Suzanne: Falcon Bar at the Equinox Golf Resort & Spa in Manchester offers an excellent selection of Scotch, and this year I spent one glorious afternoon during foliage season sampling their wares.
I did most of my beer drinking at Mule Bar in Winooski, which rotates through an array of exceptional brews from Vermont and elsewhere.
Does tea count? The house-roasted oolongs at Stone Leaf Teahouse in Middlebury brought me as much joy during 2017 as the boozy stuff.
Best Dishes
Sally Pollak
Chile-lime chicken-leg plate at Lucky Next Door
Sally: For watching football on the tube at home (and for pretty much any occasion), you can't beat takeout from Pho Hong in Burlington's Old North End. Our family is stuck on Panang curry with chicken and spicy Sichuan eggplant with tofu. The other day, when I added mango salad to our order, the counterman said: "Good choice. But everything here is." He's right.
This year, I came upon a few more standout dishes. At Lucky Next Door in Burlington, I indulged in a lunchtime feast: the chile-lime chicken-leg plate. As I noted last August on our Bite Club blog, "This meal was as unfussy as it was delicious — chunks of cucumber in a spicy dressing were sprinkled with slices of red onion, chopped peanuts, chile peppers and cilantro leaves." Add a mound of coconut rice and chicken that is crispy on the outside, moist within, and chef Maura O'Sullivan has a winner.
At the Williamsville Eatery, a general store-turned-restaurant in Newfane, I was lucky enough to show up on a Saturday evening in the fall when chef Dylan Richardson's chicken pot pie was the nightly special. The dish sizzled in the cast-iron skillet in which it was served, its rich gravy studded with fall vegetables and tender chunks of chicken.
---
Suzanne: It took me a few months to get to Honey Road, which opened in July on Burlington's Church Street, but I was incredibly glad when I did. A plate of grilled octopus, tossed with fresh and dried beans and topped with aioli, was incredibly flavorful, playing with a variety of textures and colors. Another standout at the Mediterranean spot was the tahini ice cream sundae with fresh fig and a drizzle of sesame caramel. I don't have a sweet tooth, but this dessert blew me away.
Pine Street has been experiencing an incredible renaissance, and I had exceptional dishes this year at newly opened Dedalus Wine Shop, Market & Wine Bar — which serves food Tuesday through Sunday from 4 to 11 p.m. and sells wine, cheese, meats and other goods daily, morning through evening — and at nearby ArtsRiot. The former served up an exquisite beef tartare, and the latter pleased my palate with fried oysters served with pickles, pork-belly buns and a luscious lavender custard.
Suzanne M. Podhaizer
New Year's Day oysters at Misery Loves Co.
Over the course of the year, I had the greatest number of exceptional dishes at Misery Loves Co., beginning with that New Year's Day seafood Benedict.
Then there's Misery's own tartare, laced with fish sauce and covered with a drift of shaved Parmesan, which delivers a nearly impossible amount of flavor in every bite. Tater tots topped with cured arctic char and pickled onion are deli food taken to its pinnacle, and the plating of the dish is gorgeous. Housemade veal sausage with wild mushrooms and leeks — topped with pickled mustard seeds that popped between the teeth like caviar — had me running my fingers through the last bits of sauce on the plate.
And with that, the food team at Seven Days wishes readers a world of great eats in 2018.