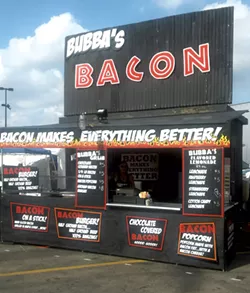 Courtesy of Champlain Valley Fair
From the time the Champlain Valley Fair's Ferris wheel starts turning on Friday, August 28, until it stops on Sunday, September 6, thousands of Vermonters will crowd the grounds looking for fun and midway meals. This year, their options will include several new vendors.
Route 7 Liquor & Deli owner Chris Garcia brought his Shelburne store's popular lobster rolls to the fair last year. This time, he adds a smoker to his bag of tricks with Route 7 Smokehouse, which will dole out pulled-pork and brisket sandwiches, as well as smoked half chickens.
Food truck favorites will appear in the form of wood-fired pies from Open Hearth Pizza and jerk chicken, curries and oxtail from Jamaica Supreme, a new truck that's spent most of the summer parked at Burlington's Maltex Building. To match that island spice, Rajun Cajun will serve up bayou fare.
Also new to the fair, Connecticut vendor Devon Falcon brings two contrasting businesses: Bubba's Bacon, serving quarter-pound slabs of skewered, maple-grilled pig flesh; and Fruit Island, a smoothie stop.
On Saturday, September 5, Shelburne Museum and the Vermont Folklife Center will team up with at least 17 local brewers to present the Vermont Heritage Brew Festival. The evening event will take place throughout the museum's campus and feature brews from Backacre Beermakers, 14th Star Brewing, Fiddlehead Brewing and Drop-In Brewing — many of which are working on one-off brews for the event. Ciders will come from Shacksbury Cider, Eden Ice Cider, Whetstone Ciderworks, Champlain Orchards and others; meads, from Groennfell Meadery.
Signal Kitchen's Alex Lalli (whose WYSIWYG Festival paired local brews with farmers and chefs last summer) is working on a food-truck lineup for the affair, which will also feature music from a handful of bands.
White River Junction's Turkish-inspired café and restaurant, Tuckerbox, will expand this fall into an adjacent space — an erstwhile bingo hall. That will make room for 40 to 50 additional seats, extra counter space for the coffee shop, and a lounge area with cozier chairs and coffee tables. Though the menu will stay consistent, co-owner Jackie Oktay says she hopes to sell imported Turkish delicacies such as wine, olives and cheese, as well as Turkish artwork and handmade goods.