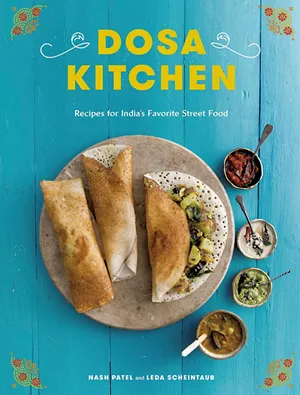 Courtesy Of Clarkson Potter
Dosa Kitchen cookbook cover
Patrons of Brattleboro's beloved Dosa Kitchen food truck — and fans of Indian food in general — will be keen to know that married co-owners Nash Patel and Leda Scheintaub have released a cookbook. Dosa Kitchen: Recipes for India's Favorite Street Food, published by Clarkson Potter, hits shelves this week.
The book includes recipes for the dosa, India's popular fermented rice-lentil crêpe (similar in look and texture to Ethiopian injera), as well as fillings and sides. These range from the traditional — potatoes, aromatic curries — to zany fusion items including pork lard, kimchi, falafel and hot dogs, along with beverages such as strawberry-rose lassi and an array of chutneys and sauces.
Scheintaub is a cookbook author by trade; her recent work includes collaborations with Oprah Winfrey, boxer Laila Ali (Muhammad Ali's daughter) and Claudia Sandoval, winner of Fox's "MasterChef." Patel is originally from the south Indian city of Hyderabad. The couple moved to Vermont in 2009 and opened their truck in 2014.
At the time, Scheintaub told Seven Days, "Nash had a really good job, but he wanted to do something more creative." Opening a restaurant was out, but a food truck seemed like a natural fit — especially one serving dosas. While Patel cooked the crêpes frequently at home, they weren't available elsewhere in Vermont. Once the truck was open, Scheintaub added, "Of course I wanted to do a book."
Scheintaub and Patel will host a book launch party this Saturday, June 9, 3 to 5 p.m., at their usual truck parking spot at 400 Linden Street in Brattleboro. They'll also promote the book at Northshire Bookstore in Manchester Center on June 15, and at Phoenix Books in Rutland and Burlington on July 21 and 28, respectively.