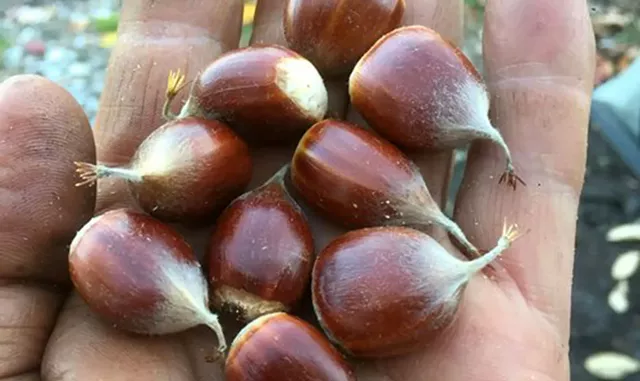 Courtesy of Perfect Circle Farm
Chestnuts from Perfect Circle Farm in Barre
From now until April, and maybe beyond, Misery Loves Co. in Winooski will feature special offerings midweek. On Tuesday, there's a sweet deal on fried chicken; Wednesday is dumpling day (until the goods run out); and Thursday brings slow-cooked brisket, served family-style.
Misery will also serve a fixed-price themed dinner one Sunday a month, all year long. The first, on February 18, celebrates the Chinese New Year. Future themes will include "sugar shack," "game dinner" and others.
On January 23, Perfect Circle Farm in Barre launched a web-based store for selling its plants (perfectcircle.farm), including a wide variety of fruit and nut trees such as paw paw, persimmon, plum, chestnut, butterheart and hickory.
The 45-acre farm, owned by Buzz and Sandra Ferver, is dedicated to helping folks increase botanical diversity on their homesteads and farms, the Fervers said. Plants are grown from cuttings and grafted onto strong and hearty rootstock. The Fervers avoid fungicides, pesticides and herbicides.
Last August, on a thread devoted to the paranormal on the voluminous online messageboard 4chan, someone posted an image of a gold-colored coin inscribed with a Latin phrase: Ipsius perniciosos solus ire. Accipe hoc. The anonymous poster wanted to know the token's origin: "Anything helps, thanks," he or she wrote.
As a second poster revealed that very day, the mysterious coin was a token from the Archives in Burlington. The phrase is a Latin translation of a well-known quote from the 1986 Nintendo game The Legend of Zelda: "It's dangerous to go alone! Take this."
"This isn't paranormal at all then," another poster noted, with seeming disappointment. On January 21, yet another anonymous poster added something of a plug for the Archives: "If you're in the state, drop in, they have time crisis and astroids [sic]. Among other things."