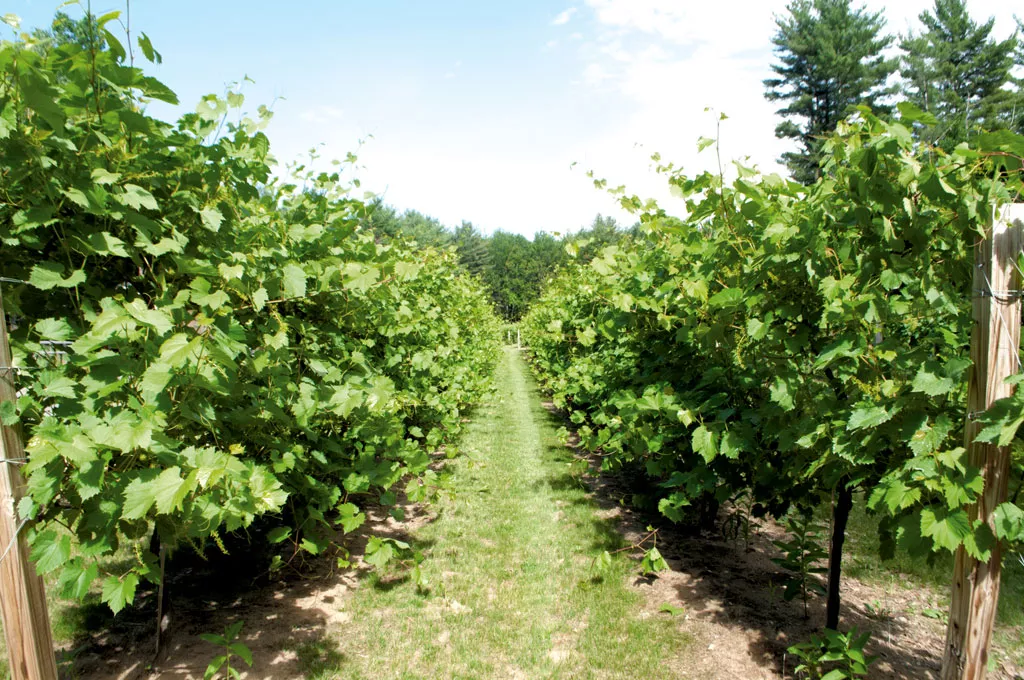 Hannah Palmer Egan
The vineyard at Hid-In-Pines
A new crop is struggling to take root in New York's northern Champlain Valley: young grapevines planted off highways and back roads. Winemakers and local organizations, hoping the new industry will draw visitors, are touting this corner of the Empire State as North America's newest wine region.
Last year, the New York State Assembly approved the Adirondack Coast Wine Trail, a 66-mile stretch connecting seven wineries between Mooers and Morrisonville. These places bear little resemblance to the grand estates in the Finger Lakes, Hudson Valley and Long Island regions.
In northeastern New York, the vineyards are small — the largest less than 15 acres — and the tasting rooms are rustic and handmade, reflecting the do-it-yourself characters who built them. (And who typically work full-time jobs elsewhere.) Most of the grapevines were planted in the last decade.
Still, local chambers of commerce saw an opportunity to attract wine-loving tourists to the area. "We wanted to do anything we could to help with the wine trail," said Amber Parliament, who handles public relations for the Adirondack Coast Visitors Bureau, via phone last week. In addition to funding advertising on both sides of the border, the ACVB sanctions classes and workshops for winemakers.
Last fall, green signs sprouted along the trail, guiding travelers to each site. As Seven Days drove the route last week, a reporter noted outcrops of ancient, sea-bottom limestone jutting into roadsides, overgrown with wild grapevines. Along with several cold-hardy grape hybrids, these seem to hint at the region's latent winemaking potential.
Traveled in one day from Burlington (it takes four hours but could stretch much longer should sippers linger), the trail offers a chance to taste the wines in succession. As with many cold-climate vintages, they're light in body and "greener" in flavor than wines that enjoy a longer growing season.
As winemakers candidly discuss the joys and perils of their viticultural experiment, the trip is enlightening and, well, intoxicating. A designated driver is recommended.
Intrigued? Seven Days took field notes along the way.
73 Blair Road, Mooers, 518-493-5971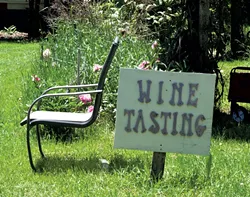 Hannah Palmer Egan
Stone House Vineyard
Along a narrow back road in Mooers, grapevines creep over the stone walls at the region's original vineyard. Philip and Bonnie Favreau first planted grapes at their home in the 1980s.
Philip Favreau was a chemist at Wyeth-Ayerst Laboratories in Rouses Point for 39 years. When he left Big Pharma in 2000, he was too young to retire, so he planted a grape nursery and sold young plants to locals. When his own grapes matured, he made wine and gave bottles to customers.
"People kept coming back for more wine," Favreau recalled. In the ensuing years, he planted thousands more vines, along with berries, currants and plums.
While Favreau is widely credited with pioneering the local wine industry, 2015 may be the last vintage for the winemaker, now 76. He hopes to phase out of production to focus on growing fruit that he'll sell to other winemakers.
For now Favreau's wild, natural abode is part of the trail, and it's worth visiting before it closes. Still, Favreau said he's hopeful for the region: "I think it has as much potential as the Finger Lakes. I think the area will support many wineries."
9839 Route 9, Chazy, 518-215-4044
A few miles from Stone House, Mary Fortin has been making wine for family and friends for years. In 2008, she and her husband, Gilles, planted 650 vines on their 1.5-acre plot. They opened their winery in 2009. The new vineyard would be a fun "retirement business," Mary said.
In addition to tastings, Amazing Grace offers a weekend bistro menu featuring local cheese boards and home-cooked meals. Because her spread is at the northern end of the trail, Fortin said many visitors are tipsy when they arrive. Her instinct was to feed them.
While Clinton County is a tough market for local, artisanal products, the winemaker noted that local wines have won gold medals competing against vintages from more established cold-climate regions.
"People just need to come out and give it a try," Fortin said. "One of the unique things about our wine trail — you walk into one of those places in Long Island or wherever, and they're terrifically commercial. You'd never meet the winemaker."
167 Stratton Hill Road, West Chazy, 518-846-8544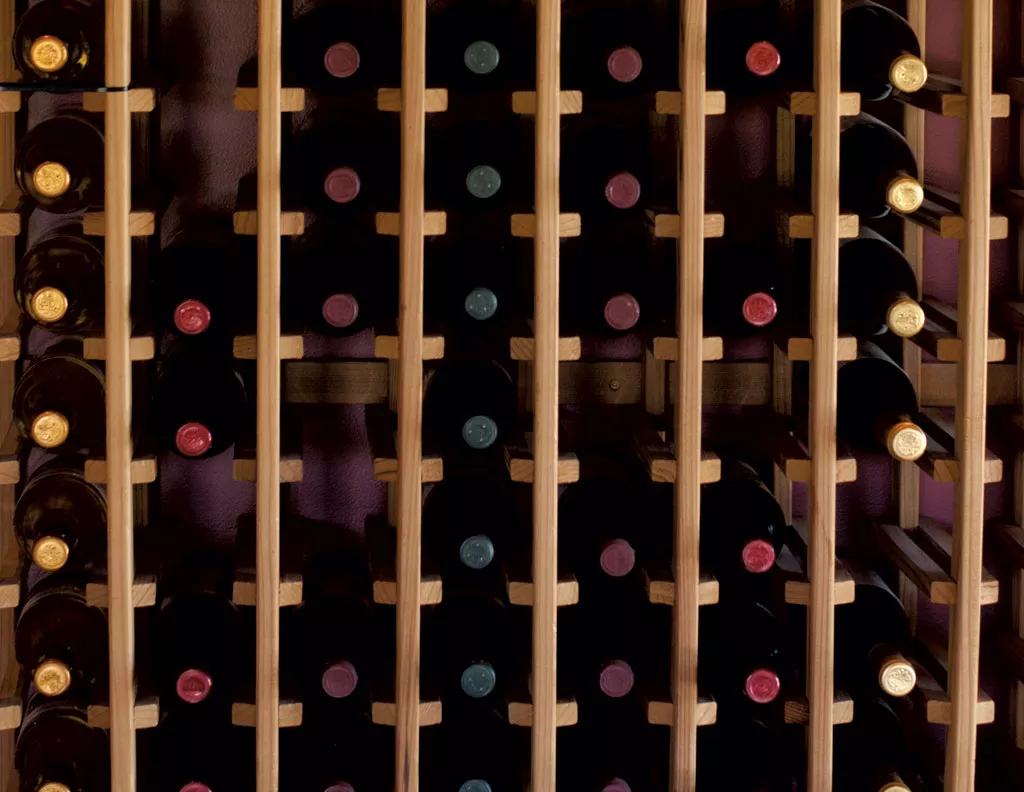 Hannah Palmer Egan
In the tasting room at Vesco Ridge Vineyards
On a side road near West Chazy, Dan and Nancy Vesco recently completed work on a new winery. Inside, Nancy stood ready with a bottle of wine and plenty to chat about.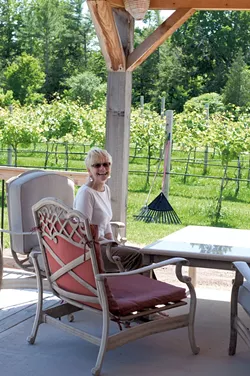 Hannah Palmer Egan
Nancy Vesco
Dan started fermenting grapes when someone gave him a wine kit in 2004. And, Nancy recalled, "The wine was really good, so we decided to go for it."
Vintner's Choice, pressed from Vesco marquette and syrah from Long Island (most of the wineries supplement their harvests with grapes from elsewhere in New York), was plummy and rich with ripe black fruit. Diamond, made with grapes from near Buffalo, offered tart, ripe nectarine and steely minerality.
While Dan focuses on the wines, Nancy handles events, which include evening concerts on the wide porch, painting classes and yoga. And as the Vescos settle into "retirement," what began as a basement hobby has become a hub of seasonal activity.
"I think [the region is at] a great starting point," Nancy said, looking out the wide windows over rows of vines. "This is how these things begin."
7411 Route 9, Plattsburgh, 518-563-2750
Hannah Palmer Egan
Sean Frey
The corrugated metal Quonset hut doesn't look like much from the outside. But the Frey family has transformed the industrial shell into a hip, homespun bar, outfitted in salvaged and reclaimed materials. With its horseshoe-shaped bar toward the back, the room suggests cider-soaked evenings spent dancing to bluegrass. In fact, Elfs Farm hosts Friday night "wine-downs" with live music in addition to its regular hours.
The Frey kids — siblings Erin, 26, Sean, 31, and Brian, 33, run the business along with their father, Tom. As winemaker Sean tells it, his dad purchased a former roadside hotel just north of downtown Plattsburgh in 2006 and planted 700 vines in secret.
"One night at dinner, he was like, 'Oh yeah, by the way, I started a winery,'" Sean told Seven Days last week. After selling insurance for decades, Tom decided to peddle something people wanted to buy.
Elfs Farm's ciders and apple wines — made with fruit from orchards within 20 miles — coax unexpected nuance from sweet, non-tannic McIntosh and Honeycrisp apples. Their ciders, sold under the label Adirondack Cider Company, are crisp and drinkable.
The Freys' 2011 Cayuga White — bottled in blue glass to commemorate the loss of the family's original winery in a fire — sang with notes of pineapple, apple and limestone. Most of Elfs' Cayuga vines died in last winter's bitter cold.
Sean places the setback along the learning curve. "We're still trying to figure out which grapes to grow and how wine should be made from the grapes," he said. "But it's a fun challenge to figure that out."
30 City Hall Place, Plattsburgh, 518-564-0064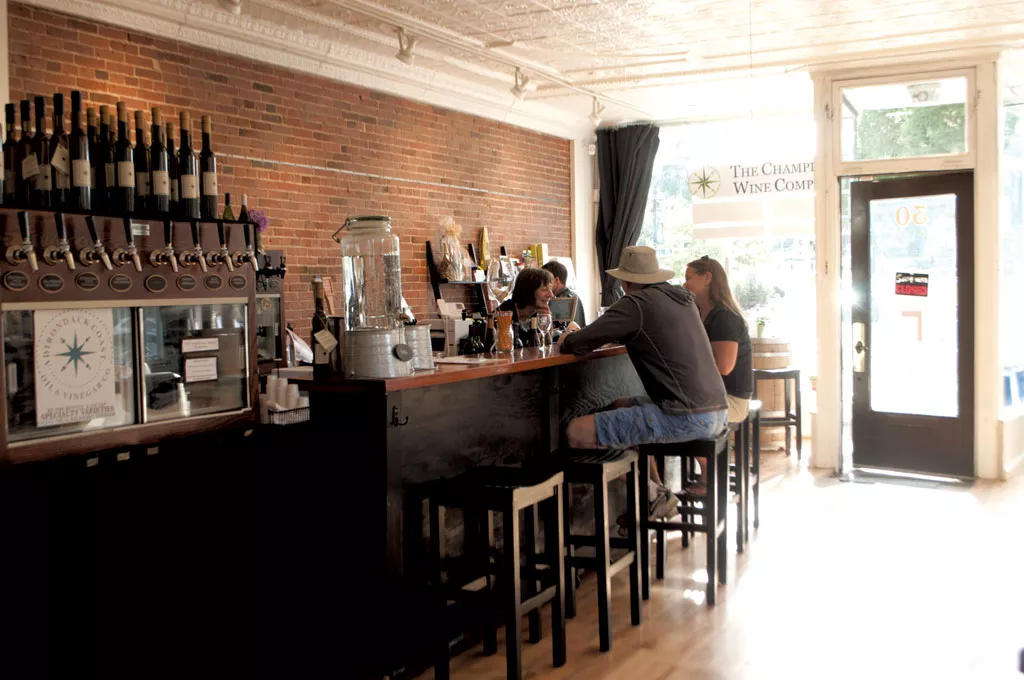 Hannah Palmer Egan
The Champlain Wine Company
While six of the seven winemakers on the Adirondack Coast Wine Trail serve wine at the vineyards, Champlain Wine Company keeps a sunny tasting room in the heart of downtown Plattsburgh. In 2008, owners Colin Read and Natalie Peck planted 4,000 vines in Mooers, but the Lake City bar, with its native foot traffic, helps push the business along.
While their vineyard matures, Read and Peck are working with grapes from elsewhere. (Like the other wineries on the Adirondack Coast, Champlain Wine is a "farm winery," which by law means winemakers must ferment only New York fruit). So for now, their wines resemble those of other regions.
Last week, Karen Parker stood behind the bar in the sunny, gallery-style room in Plattsburgh. "What do you like?" she asked a visitor off the street.
A buttery, un-oaked Finger Lakes chardonnay had a floral nose, while a sip revealed hints of honey and succulent stone fruit. A riesling from the same region brimmed with crisp, green-apple tartness and cool, stony minerality; a light-bodied cabernet franc (Long Island) harbored earth and wood. Each was pleasant and well made, but crafted with proven grapes bearing centuries-old histories and traditions.
As their grapes ripen in years to come, Read and Peck will, like their peers, head into lesser-known territory, writing a new, drinkable tale with their own homegrown fruit.
456 Soper Street, Morrisonville, 518-643-0006
Hannah Palmer Egan
Richard Lamoy
Richard Lamoy spends most days bringing his wine to seven markets throughout the Adirondacks. "We're trying to get the word out there," he said, standing in his knotty pine tasting room last week.
A lifelong farmer, Lamoy began his wine career at Cornell University's Willsboro Research Farm, where he worked on studies that assessed the new varietals.
The winemaker continues that research on his home farm. His rows of a new grape called MN 1200, planted as a test crop for Northeast Sustainable Agriculture Research & Education, represent that grape's largest planting in the world. Lamoy is one of few winemakers who've worked with it.
Last week, a sip of the MN 1200 wine (named Macomb Noir) revealed a strange, nebulous character. Heady with earthy fruit and undertones of cocoa, leather and wood, it was similar to malbec: velvety and steely at once.
Lamoy would like to broaden the North Country grape portfolio with several varietals, and he hopes the market will follow. In the decade since he began selling wine, he's seen sales rise slowly. The industry will mature, he added, if supporters of local products "commit a little more — work in a few bottles of these grapes here and there."
The Adirondack region wine industry is at a crossroads, he suggested. "This can take off," Lamoy said, "or it can sort of linger for a while."