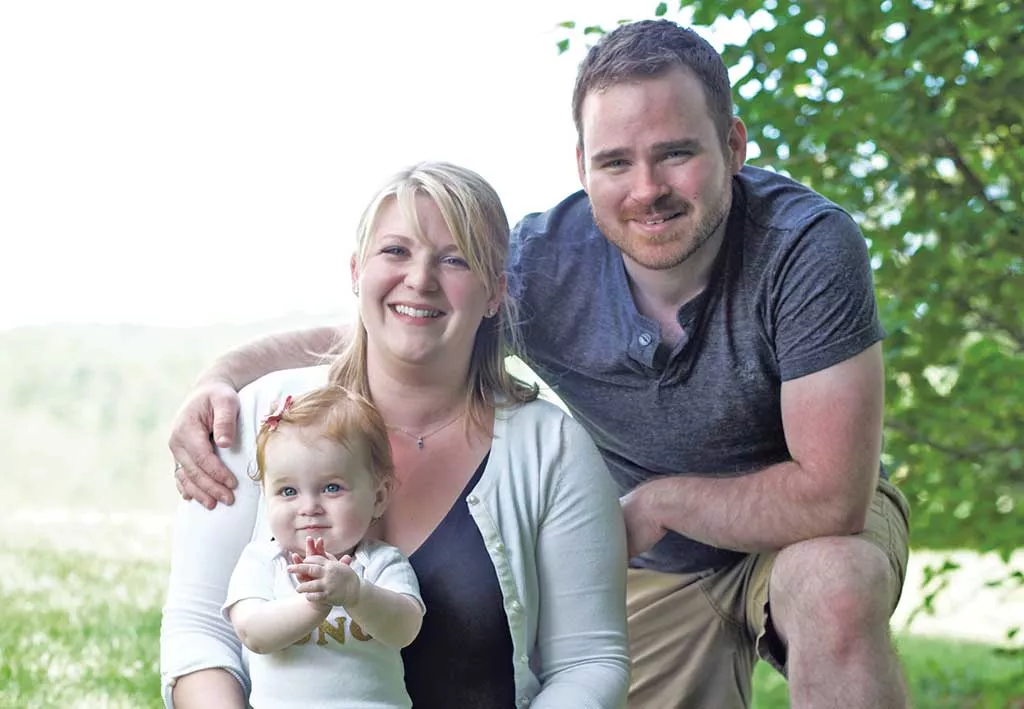 If you've been through the process, you know there's a learning curve, complete with near misses, drama and mystifying paperwork along the way. If you're starting to think about getting out of that rental and buying your own home, our House Hunters just might have some eye-opening tips for you. Think of it as a reality show, but in print.
Meet the Farrens, our newest wannabe homeowners. Ashley and Dan Farren, both 29, currently live in South Burlington with their 1-year-old daughter, Aria, and 4-year-old dog, Lucy. Ashley's a stay-at-home mom and daycare provider, and Dan is a Mr. Fix-It type who works at Lowe's. The couple's fourth-floor rental apartment is losing its luster — fast.
On top of the daily frustrations of navigating the stairs or elevator with a young baby and all of her gear, "Our rent is ridiculously high," says Ashley. "It's a great, awesome place, but we want to think about the future. We're not really building any equity ... We're ready for an actual home where we can nest, decorate and have a yard." And they'd like to move in soon. Their rent is rising in October, so the Farrens hope to relocate before December.
That said, they are keeping their expectations in check. "The market in Vermont is not ideal," Ashley acknowledges. "It's terribly difficult. We're trying to be realistic and know that our dream house is not really on the table, with our budget right now."
So the Farrens are on the hunt for a $200,000 starter house — a two- to three-bedroom fixer-upper with "good bones" that handyman Dan can whip into shape. "We try to be pretty open-minded," says Ashley. "We watch a lot of HGTV, so we always try to think about what they would do."
But the home has to have easy access to the bus route (they only have one car) and proximity to a good school. They're targeting a wide area: Williston, South Burlington, Essex and Shelburne.
"I can't even begin to tell you how many places we've looked at," says Ashley. "Houses are getting bought up super quickly." Even when they view a home the day after it's posted on the market, it will often already have several offers and be in a bidding war, she explains.
Lesson No. 1 of house hunting? "Be patient," says Ashley, "even though it is incredibly hard."
And Lesson No. 2? "You really have to find a real estate agent you can trust, that will look out for [you], that won't try to sell [you] on anything," she suggests. The Farrens are working with Patrick O'Connell of Four Seasons Sotheby's International Realty. He's married to one of Ashley's high school friends.
"Our real estate agent is fantastic," Ashley enthuses. "There are so many intricate processes, like appraisal and escrow and all these words I don't even really know. Our real estate agent recommended all these great people to help us through the process, [because] it's definitely a little scary."
---
Follow along!
We'll keep you posted on our House Hunters' progress on our website at sevendaysvt.com and in our biweekly e-newsletter, Nest Notes. (And if you haven't signed up for Nest Notes yet, you can do so at sevendaysvt.com/enews. It will arrive in your inbox every other Friday with tips on home, design and real estate.)
Would you like to be the next Nest House Hunter?
If you're a prospective home buyer, let us share your progress, learn from your experience and, ultimately, help you celebrate with a gift to "warm" that new house. All you'll have to do is keep a few notes, check in with us once a week and send photos!
Who's in?
Contact us at nest@sevendaysvt.com.