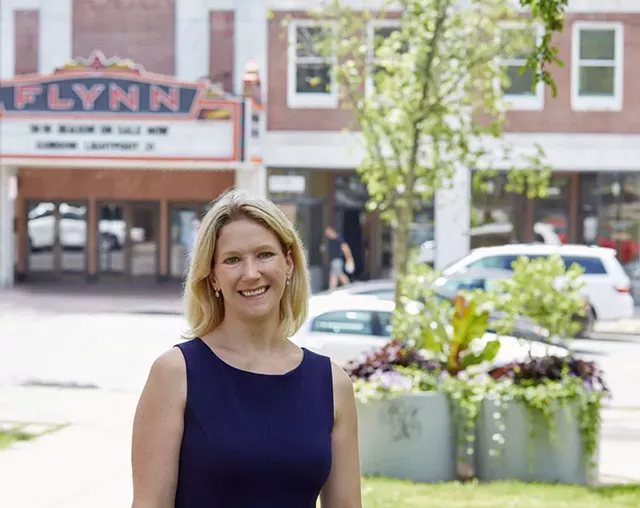 Courtesy Of Frédéric Silberman Photography
Anna Marie Gewirtz in front of the Flynn marquee
Most people rarely take the opportunity to play tourist in their own town. But when Anna Marie Gewirtz was interviewing for a new job in Burlington last spring, she and her family were able to view the city from a fun perspective: as visitors.
"When you're new to a place, you can experience it in ways that longtime residents might take for granted," Gewirtz explained of her numerous trips to the Queen City from her previous home in New Jersey. By the way, Gewirtz landed the gig. Since last July, she has served as the executive director of the Flynn Center for the Performing Arts.
"I'm thrilled to be called a local now," said Gewirtz, beaming.
Courtesy Of The Burlington International Airport
Sketch of the Flynn's installation at Burlington International Airport
The Flynn is a cornerstone of Burlington's vibrant performing arts community. Big-name acts such as jazz musician Herbie Hancock, singer Mavis Staples and comedian Jay Leno grace the stately art-deco Flynn MainStage, while offbeat and cutting-edge performances take place in the lower-level black box, FlynnSpace. The downtown nonprofit arts organization also offers classes and workshops in everything from dance and improv to storytelling and filmmaking.
Want to know more? Check out the Flynn's installation by the baggage carousels at the Burlington International Airport, anticipated to open early this spring. With its red stage curtains and miniaturized version of the Flynn marquee, it'll be hard to miss. And you'll find loads of info about must-see upcoming performances.
As a newly minted Vermonter, Gewirtz admitted that she still has a lot to learn about her home. She's been keeping a bucket list of things to see and do, based on recommendations from new friends. While she, her husband and their two kids have been able to cross a lot off, she said, there's still plenty she's excited to experience.
"Not only is Burlington beautiful, with all of these outdoor opportunities, there is this incredible arts scene," she said. "It's pretty spectacular."
BTV asked Gewirtz to share highlights from that bucket list, as well as tips for getting the most out of being a tourist in Burlington.
An ideal spring day in Burlington:
I'd start with a picnic lunch on the waterfront, followed by taking a boat tour on the lake. Then I'd spend some time shopping on Church Street and maybe relaxing at one of the coffee shops downtown — I love Muddy Waters and Onyx Tonics. For dinner, I'd want to sit outside at Leunig's, and then go to a show at the Flynn, of course. After the show — this is a long day! — I'd want to have a drink at Deli 126. It's got such a great vibe.
Other go-to spots for performing arts:
ArtsRiot is a great one. Nectar's is another good spot, but it really depends on what kind of music you're into. There's a lot of great comedy in Burlington, so the Vermont Comedy Club and even some of the standup that's happening in places like the Skinny Pancake.
Artists and performance groups that out-of-towners should know:
The Vermont Symphony Orchestra is fantastic. Lyric Theatre does an exceptional job. So, whenever they have shows, go see them. And there are so many individual practitioners in this city that I don't know if I would want to single any one out. Because that's the amazing thing about Vermont: We have so many different arts troupes — dance and theater and music and comedy. It is a place where creativity is really valued and fostered.
Courtesy Of Vermont Teddy Bear
Vermont Teddy Bear
Favorite family hiking spots:
The walking trails at Shelburne Bay Park are really nice. Also Red Rocks Park, which you can go to any season and it's beautiful. And Shelburne Farms is an awesome place to go and wander around the trails. You can go for an hour or spend the whole day. It's worth a visit.
Must-have Vermont souvenirs:
You can't leave Vermont without some cheese. You can go to Shelburne Farms for that. Or you can go to the Burlington Farmers Market on Saturdays and get some amazing local food as well as really cool local art and craft products — everything from engraved wooden bowls to photography that is really unique.
Places to go with kids:
A visit to the Vermont Teddy Bear Factory is going to be a big hit. The tour is free, and then they get to make their own teddy bear, so it's a magical experience for the kids. Going down to ECHO is great, especially if the weather is rainy and you're looking for something to fill up a morning or afternoon.
Do, See & Sample
Courtesy Of spirit Of Ethan Allen
Spirit of Ethan Allen
Food & Drink
Arts & Culture
Outdoors & Recreation
---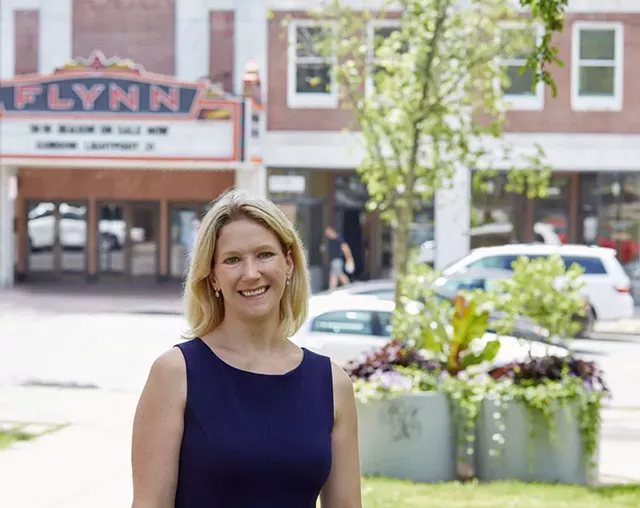 Courtesy Of Frédéric Silberman Photography
Anna Marie Gewirtz in front of the Flynn marquee
Rarement a-t-on l'occasion de jouer les touristes dans sa propre ville. Mais lorsqu'Anna Marie Gewirtz est venue passer une entrevue d'embauche à Burlington le printemps dernier, elle et sa famille ont pu voir la ville avec l'œil des visiteurs.
« Quand on arrive quelque part, on voit des choses que les habitants de longue date ne voient peut-être plus, dit Anna Marie des nombreux aller-retours qu'elle a faits entre Burlington et le New Jersey, où elle vivait à l'époque. En passant, Anna Marie a obtenu l'emploi en question. Depuis juillet, elle est la directrice exécutive du Flynn Center for the Performing Arts.
« Je suis ravie d'être considérée comme une Vermontoise maintenant », se réjouit-elle.
Courtesy Of The Burlington International Airport
Sketch of the Flynn's installation at Burlington International Airport
Le Flynn est un pilier de la scène culturelle florissante de Burlington. Les artistes établis comme le musicien de jazz Herbie Hancock, la chanteuse Mavis Staples et l'humoriste Jay Leno défilent sur la scène principale du vénérable théâtre de style Art déco, tandis que les performances plus excentriques et avant-gardistes ont lieu dans le FlynnSpace, une salle expérimentale au niveau inférieur. Cet organisme culturel à but non lucratif situé au centre-ville offre également des cours et des ateliers allant de la danse et de l'improvisation jusqu'aux arts oratoires et à la réalisation de films.
Pour en savoir plus, visitez le stand de Flynn près du carrousel à bagages à l'Aéroport international de Burlington, qui doit ouvrir ce printemps. Avec ses rideaux de scène rouge et sa reproduction en miniature de la marquise du Flynn, il sera bien en évidence. Vous y trouverez des tonnes d'information sur les spectacles incontournables à venir.
En tant que Vermontoise nouvellement établie, Anna Marie admet qu'elle en a encore beaucoup à apprendre sur la région. Elle a même dressé une liste des choses qu'elle souhaite absolument voir et faire, selon les recommandations de ses nouveaux amis. Jusqu'ici, avec son mari et leurs deux enfants, elle a réussi à en cocher beaucoup, mais il lui reste encore bien des expériences à vivre.
« Non seulement Burlington est belle, avec toutes les activités de plein air qu'on peut y faire, dit-elle, mais la scène culturelle est très riche. C'est assez spectaculaire. »
BTV a demandé à Anna Marie de lui faire part des faits saillants de sa liste, ainsi que d'offrir ses conseils pour tirer le meilleur parti de Burlington quand on est touriste.
Une journée de printemps idéale à Burlington :
Je commencerais par un pique-nique le midi au bord de l'eau, suivi d'un tour de bateau sur le lac. Ensuite, j'irais magasiner un peu sur Church Street en m'arrêtant peut-être dans un café du centre-ville — j'adore Muddy Waters et Onyx Tonics. Pour le souper, j'irais manger sur la terrasse de Leunig's, puis je me laisserais tenter par un spectacle au Flynn, bien sûr. Après la représentation — c'est une journée bien remplie! — j'irais prendre un verre au Deli 126. L'ambiance est géniale.
Autres hauts lieux des arts de la scène :
ArtsRiot est une institution. Le Nectar's est également intéressant, mais cela dépend vraiment de la musique que vous aimez. Le milieu de la comédie est très dynamique à Burlington. Au-delà du Vermont Comedy Club, d'autres endroits comme Skinny Pancake présentent d'excellents monologues d'humour.
Artistes et groupes d'interprétation à découvrir :
L'orchestre symphonique du Vermont est extraordinaire. Le Lyric Theatre fait un travail impeccable. Donc, s'il y a un spectacle durant votre séjour, ne le manquez pas. Sinon, il y a tellement d'artistes talentueux dans la ville que j'aurais du mal à en nommer un en particulier. C'est ce qu'il y a de la formidable au Vermont : les troupes artistiques sont très nombreuses – que ce soit de danse, de théâtre, de musique ou de comédie. La créativité est très encouragée et valorisée ici.
Courtesy Of Vermont Teddy Bear
Vermont Teddy Bear
Meilleurs endroits pour faire de la randonnée en famille :
Les pistes de randonnée de Shelburne Bay Park sont très belles. Il y a aussi Red Rocks Park, magnifique en toute saison. Sans oublier Shelburne Farms, où il fait bon déambuler dans les sentiers. On peut y passer une heure ou toute la journée. Ça vaut vraiment le détour.
Souvenirs du Vermont qu'il faut absolument rapporter chez soi :
On ne peut pas quitter le Vermont sans emporter quelques fromages. On peut s'en procurer à Shelburne Farms. Vous pouvez également visiter le Burlington Farmers Market le samedi et dénicher de superbes produits du terroir ainsi que des œuvres d'art et d'artisanat locales — allant de bols en bois gravés jusqu'à des photos vraiment uniques.
Où aller avec les enfants :
Le Vermont Teddy Bear Factory est toujours un succès auprès des enfants. La visite est gratuite et les enfants peuvent confectionner leur propre ourson en peluche, c'est une expérience magique pour eux. Vous pouvez aussi aller au centre ECHO, en particulier s'il pleut et que vous cherchez à remplir une matinée ou un après-midi.