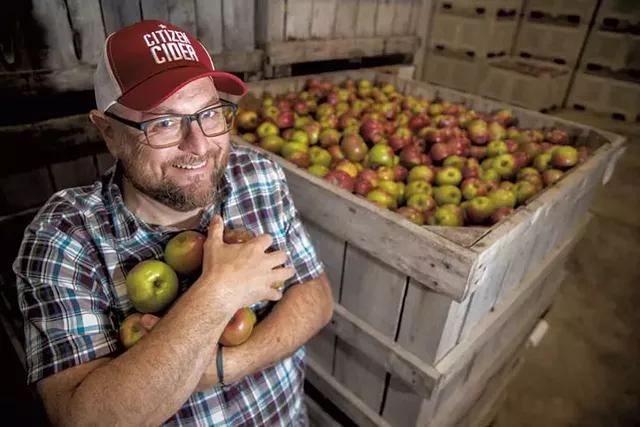 James Buck
Kris Nelson
There's something about fall air that makes Vermonters think of cider. OK, Vermonters think of cider pretty much year-round — but as apple season sets in, they have the perfect excuse to reach for a glass of something sweet and tangy.
It comes as no surprise that Citizen Cider cofounder Kris Nelson loves fall. A former wine salesman, he and friends Justin Heilenbach and Bryan Holmes founded the hard cider company in 2011, sourcing all their ingredients from orchards across Vermont and New York.
"As a business that relies on a harvested product in the fall, it's especially a meaningful time for us," Nelson says. "For us to have cider be the focus at that time of year, it's pretty awesome."
Their cider is available at Citizen Cider's tasting room on Burlington's Pine Street, but you can also get it immediately upon flying into town at the Burlington International Airport's Skinny Pancake restaurant, where it's the perfect thing to wash down a savory crêpe.
Nelson lives in Ferrisburgh with his wife and daughter. Read on for his tips for enjoying the season.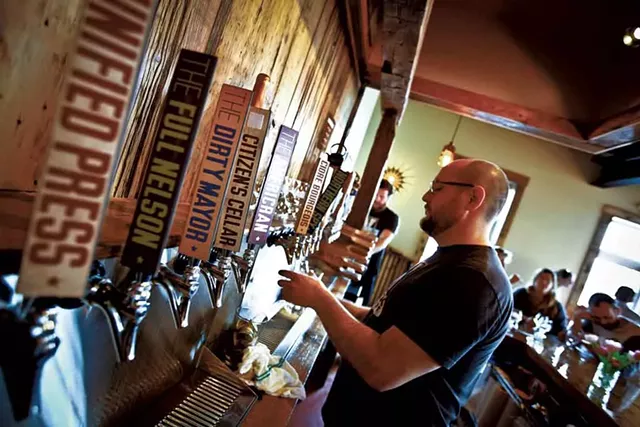 Courtesy Of Citizen Cider
Citizen Cider tasting room
Describe your ideal fall Saturday in Vermont.
Honestly, there are so many wonderful, fun things to do in the fall. I think that SIPtemberfest is always a blast on a nice day up in Mad River Glen. Oktoberfest on the Burlington waterfront is also pretty great. The FallFest [at Smugglers' Notch Resort] is awesome. It's disc golf and a whole bunch of other crazy activities.
The Vermont Cider Makers Association is holding an event at Cold Hollow Cider Mill in Waterbury on September 28. People will be able to taste ciders from all over the state, hang out, eat cider doughnuts.
Ever since Citizen Cider started pressing on Flynn Avenue, we've had our Ciderfest in that space. So it's kind of a more urban fall fest. And that's our little festival that we really get behind, on October 5.
Courtesy Of Chip Natvig
Roasted salmon with pappardelle at Black Krim Tavern
What orchards should folks visit?
Happy Valley in Middlebury is incredible. And also Shelburne Orchards is such an amazing scene. Every weekend they have some kind of crazy, fun activity going on. They've done a great job there to bring people in and offer more than just an apple-picking experience.
Just taking in that crisp, warm kind of air and picking apples and eating pie — I think that's my favorite thing to do. I love it.
What are the best driving routes to see rural Vermont and avoid the leaf-peeping crowds?
Driving around and seeing the leaves changing is so worth it. Setting yourself up with a weekend drive and picking out a spot to have dinner is pretty fantastic. It's cliché, but it's wonderful.
Typically, the leaves changing up by Jay are going to be a week or so behind what's going on in Bennington. Some places will be remarkably ahead. You can make a loop that basically goes around Jay, between Enosburgh and Burke. I also love to go on the Huntington Road, from Richmond to Huntington. And then take that down to Route 17, which goes through the [Appalachian] Gap back over into the Mad River Valley. It's pretty beautiful up there, and that's a nice spot to be as fall wanes. I've caught first snowfall right there.
Courtesy Of Shelburne Orchards
Shelburne Orchards
What are your favorite places to eat and drink as the weather cools off?There are so many amazing places. In my mind, ArtsRiot is more of a winter spot for me. I like going in there. I can't say Hen of the Wood, because everybody goes to Hen of the Wood all the time and knows it's amazing. But it is kind of amazing.
Out of town, I love Bar Antidote in Vergennes and Worthy Burger down in South Royalton.
And Black Krim Tavern in Randolph. The husband and wife own a farm and a restaurant. When fall's setting in, everything's coming in from the field. They're the best. I absolutely love what they're doing down there. It's probably one of my favorite restaurants in Vermont.
Do, See & Sample
Festivals
Citizen Ciderfest, October 5, Citizen Press House, 180 Flynn Ave., Burlington
FallFest, September 13-14, Smugglers' Notch Resort, Jeffersonville
SIPtemberfest, September 21, Mad River Glen, Fayston
Oktoberfest, September 20-21, Waterfront Park, Burlington
Vermont Cider Makers Cider Classic, September 28, Cold Hollow Cider Mill, Waterbury Center
Food & Drink
Orchards
---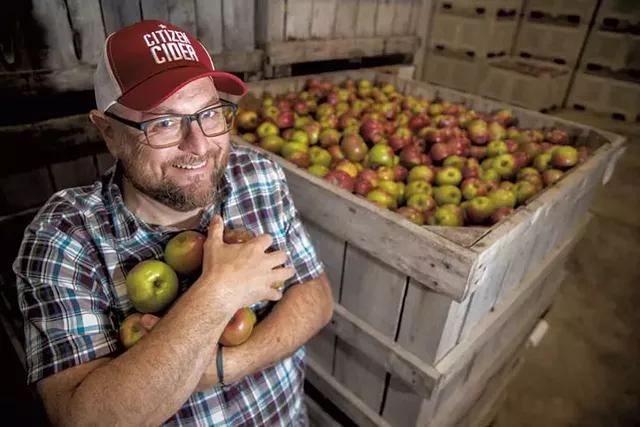 James Buck
Kris Nelson
Il y a quelque chose dans l'air d'automne qui rappelle aux Vermontois la douceur du cidre. Bon, d'accord, ici on pense au cidre presque toute l'année, mais le début de la saison des pommes est le prétexte idéal pour savourer ce nectar à la fois sucré et acidulé.
Rien d'étonnant à ce que le cofondateur de Citizen Cider, Kris Nelson, adore lui aussi l'automne. Cet ancien vendeur de vin a fondé la cidrerie en 2011 avec deux amis, Justin Heilenbach et Bryan Holmes. Depuis leurs débuts, ils s'approvisionnent entièrement dans les vergers du Vermont et de l'État de New York.
« Il s'agit d'un moment de l'année très spécial pour nous, car toute l'entreprise repose sur un produit récolté à l'automne, dit Kris. Le cidre est un produit vedette à cette période de l'année, c'est vraiment génial. »
Vous pouvez déguster le cidre Citizen Cider dans la salle de dégustation de la cidrerie, sur Pine Street à Burlington, mais aussi dès votre arrivée à l'Aéroport international de Burlington, au restaurant Skinny Pancake, où il se marie parfaitement à une crêpe salée.
Kris Nelson vit à Ferrisburgh avec sa femme et sa fille. Il vous propose ici quelques conseils pour profiter de la saison.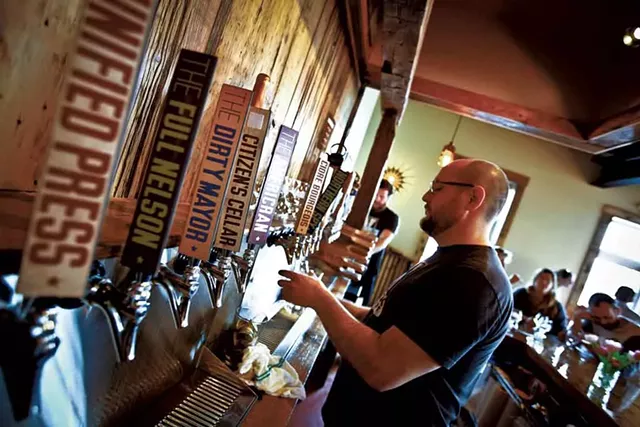 Courtesy Of Citizen Cider
Citizen Cider tasting room
Décrivez-nous votre samedi d'automne idéal au Vermont.
Honnêtement, il y a tellement de choses merveilleuses et amusantes à faire à l'automne. Par une belle journée, le festival SIPtemberfest, à Mad River Glen, est toujours un pur plaisir. L'Oktoberfest au bord de l'eau à Burlington est aussi super. Le FallFest [du Smuglers' Notch Resort] propose des parties de disque-golf et tout plein d'autres activités absolument géniales.
Le 28 septembre, l'Association des producteurs de cidre du Vermont organise un événement à Cold Hollow Cider Mill, à Waterbury. Les amateurs pourront goûter à des cidres produits un peu partout dans l'État, profiter de l'ambiance et manger des beignes au cidre.
Le 5 octobre, Citizen Cider organise aussi le Ciderfest dans ses installations de Flynn Avenue. C'est un événement d'automne un peu plus urbain et c'est notre petit festival du cidre, dans lequel nous nous investissons beaucoup.
Quels sont les vergers à visiter?
Happy Valley à Middlebury est incroyable, tout comme Shelburne Orchards, qui est situé sur un domaine magnifique. Ils organisent des activités amusantes toutes les fins de semaine et ils ont fait un excellent travail pour attirer les visiteurs et leur offrir une expérience qui dépasse la simple cueillette de pommes.
Profiter de l'air frais et du soleil, cueillir des pommes et manger de la tarte, il n'y a rien de tel. J'adore ça.
Courtesy Of Chip Natvig
Roasted salmon with pappardelle at Black Krim Tavern
Quels sont les meilleurs itinéraires pour voir la campagne vermontoise et éviter les foules venues pour les couleurs?
Ne manquez pas de faire une balade en voiture pour admirer les couleurs d'automne. Surtout si vous partez durant la fin de semaine et que vous réservez un restaurant pour le souper. C'est cliché, mais c'est merveilleux.
Habituellement, le changement des couleurs près de Jay Peak s'amorce environ une semaine plus tard qu'à Bennington. À certains endroits, les couleurs commencent beaucoup plus tôt. Je suggère de faire une boucle autour de Jay Peak, entre les villes d'Enosburgh et de Burke. J'aime aussi emprunter Huntington Road, de Richmond à Huntington, jusqu'à la route 17 qui traverse l'[Appalachian] Gap et nous ramène dans la Mad River Valley. Les paysages sont magnifiques là-haut et c'est un bel endroit pour admirer le passage de l'automne. J'y ai même déjà vu la première neige de l'année.
Courtesy Of Shelburne Orchards
Shelburne Orchards
Quelles sont vos adresses préférées pour manger et boire quand le temps se rafraîchit?
Il y a tellement d'endroits formidables. J'aime ArtsRiot, mais c'est davantage un établissement d'hiver pour moi; il a un côté réconfortant. Je ne parlerai pas de Hen of the Wood parce que tout le monde y va constamment et sait à quel point cet endroit est incroyable. Mais c'est vraiment fabuleux.
À l'extérieur de la ville, j'aime beaucoup Bar Antidote à Vergennes et Worthy Burger à South Royalton.
Oh! Et Black Krim Tavern à Randolph. Le couple de propriétaires possède une ferme et un restaurant, alors à l'automne ils nous servent les fruits de leurs récoltes. Ils sont géniaux. J'adore ce qu'ils font là-bas. C'est certainement l'un de mes restaurants préférés au Vermont.