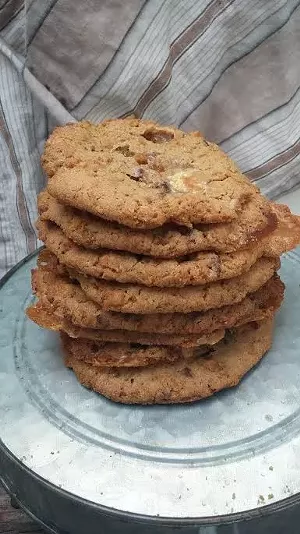 Erin Simon
Before editing with the VSCO Cam app.
The internet is teeming with photos of food. It seems like everyone who likes to cook — or eat — posts the occasional food pic on Facebook, Pinterest, Instagram or other social media.
Fortunately, these photos won't just make you hungry — they can also inspire you to try cooking something new. Checking out food-focused feeds will give you ideas for family dinners, and posting your kitchen successes is a fun way to connect with other foodie parents.
But it can be tricky to get a good shot. How can you make your delicious dish look as good as it tastes?
Most smartphones double as decent digital cameras, so taking a great photo of your kitchen creation is easier than ever. I've learned a few things from my professional photographer husband, Sam. Even though he generally shoots with a pair of Nikon digital SLRs, he knows how to snap the best possible pic with his phone. Luckily for me, he's usually willing to share his secrets.
Sam's Food Photo Tips:
Get close. Close-ups make for striking photos. Most phones can focus quite near to your subject, so go ahead and get as close as you can for a couple of shots.
Erin Simon
After editing with the VSCO Cam app.
Get low. Instead of standing over your dish, bring your phone down beside it and shoot straight at it from the side for a fresh perspective.
Try for natural light. It's usually the best. If that's not possible, try using an extra light or two to brighten up your plate — and make sure to position yourself so you don't cast a shadow over your dish!
Use the rule of thirds. Instead of positioning your dish dead center in the photograph, try it in the bottom, left or right third of the frame.
Erinn's Favorite Photo-Editing Apps:
vsCO Cam: It's easy to use and offers a wide range of filters. Great for giving your pictures that cool, moody, faded look that's popular with many food bloggers right now.
Instasize: It maintains your rectangle pic shapes, with a white or black border. But it also offers many unusual filters and editing tools, as well as text, sticker and overlay options.
Retrica: This app is most popular for selfies, but I love its retro-feel filters for pics of desserts and treats. It has many filter options and lets you position your photos in unusual ways.
Chocolate-Chip-Cornflake-Marshmallow Cookies
This recipe is from the wonderful Momofuku Milk Bar cookbook by Christina Tosi — and these cookies are amazing. They're like a delicious mashup of Rice Krispies treats, chocolate-chip cookies and s'mores. The recipe is a little involved, but it's worth the effort. Just don't start eating the cornflake crunch before you make the cookies; you might not be able to stop.
For the cornflake crunch
5 cups cornflakes, crushed to about 1/4 their usual size
1/2 cup powdered milk
3 tablespoons brown sugar
1 teaspoon kosher salt
9 tablespoons butter, melted
Directions:
Preheat oven to 275º F.
In a large bowl, mix the cornflakes, milk powder, sugar and salt with your hands. Add the melted butter, and toss to combine.
Spread the mixture on a parchment-lined baking sheet and bake for 20 minutes, until golden brown with caramelized bits. Set aside to cool while you make the cookie dough.
For the cookies:
2 sticks unsalted butter, at room temperature
1 1/4 cups granulated sugar
2⁄3 cup tightly packed light-brown sugar
1 egg
1/2 teaspoon vanilla extract
1 1/2 cups flour
1/2 teaspoon baking powder
1/2 teaspoon baking soda
1 1/2 teaspoons kosher salt
2⁄3 cup mini-chocolate chips
1 1/4 cups mini-marshmallows
Directions:
Using a stand or electric mixer, cream the butter and sugars for 3 minutes, until very light and fluffy. Add the egg and vanilla, and beat on medium-high for another 7 minutes. (Don't rush this step; it's the secret to making these cookies come out right.)
Sift together the flour, baking powder, baking soda and salt, then add it gradually to the creamed butter and sugar. Beat on low, just until incorporated. Do not overmix.
Fold in the cornflake crunch, chocolate chips and, finally, the marshmallows. When everything is folded in, use a 1/4-cup scoop measure to make little mounds of dough on two parchment-lined cookie sheets, about 3 inches apart. Use the back of the measuring cup to flatten them a bit.
Cover tightly with plastic wrap and refrigerate for at least an hour, up to overnight, before baking. When you're ready to bake, preheat your oven to 375º F and place two racks as close to the center of the oven as possible.
Bake for 16-18 minutes, until the marshmallows are melted and the cookies' edges are golden brown. Watch carefully, you want to make sure they're chewy in the middle!