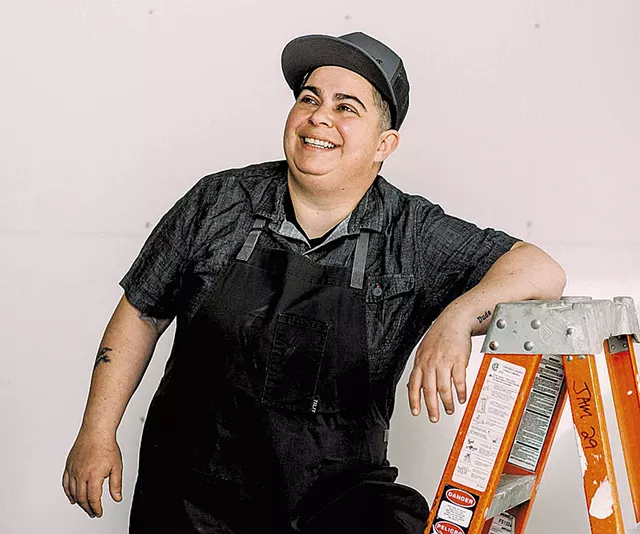 Courtesy Of Montgomery Sheridan
Deep City executive chef Christina Scifo
In April 2016, when Foam Brewers launched its brewery near the Burlington waterfront, a pale ale called Deep City was one of the first eight brews on tap.
In March, Foam will open a restaurant called Deep City in its building at 112 Lake Street, co-owner Jon Farmer told Seven Days. The phrase is what the folks at Foam have called their neighborhood near Waterfront Park since before the brewery opened, he said.
It describes "the identity of this place," Farmer added. "The deep city: below and deeper down than the heart of the city."
Deep City will share a building with Foam, but each business will have its own entrance. Future plans call for an indoor passage between the two, Farmer said.
The table-service restaurant with seasonal outdoor seating will serve "the butcher to the vegan and everything in between," in Farmer's words. The owners intend to offer cocktails in addition to beer and wine.
Executive chef Christina Scifo plans to develop a menu that will change with seasonal availability. "We want to keep it fun, not stagnant," she said.
A "focal point" of the kitchen will be food prepared on a wood-burning grill. "Vegetables will be done in a really cool way," Scifo added, "to keep vegetarians interested and engaged."
Scifo is a Florida native and 2006 graduate of the New England Culinary Institute who lived and worked in New York City for about five years before moving to Burlington in June. She was executive chef of Manhattan steakhouse Maxwell's Chophouse and opened about half a dozen restaurants with different concepts over two and half years as part of her job with a consulting group, she said.
In Vermont, Scifo has been teaching cooking classes at the Essex Culinary Resort & Spa. She'll start her job at Deep City early next year.
"I've always been a fan of good beer," Scifo said. "I got turned on to that when I first came here for college."
She praised "the amount of amazing food that's in Vermont: everything from cheese to bread to beer to produce and meat. The plan for Deep City is really just to use as much local ingredients as possible, good-quality stuff."